Clinicals are the most exciting and most terrifying part of nursing school. You will be taking care of real patients with real medical issues, in real life. Of course, you will have guidance and help every step of the way, but this is your chance to practice being a nurse before becoming a nurse.
Nursing school clinicals will better prepare you for what lies ahead. They are useful because they will help you gain experience working with patients in a variety of healthcare settings. Also, they are a way to practice the information you are learning in class. In general, each class in nursing school will have required clinical hours (except for pharmacology). 
Read on for answers to common questions about nursing school clinicals. 
What are clinicals?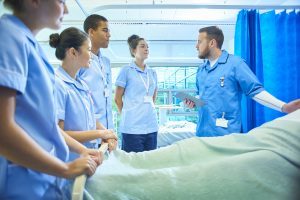 So, what are clinicals, exactly? Nursing clinicals have students go to different types of healthcare settings to shadow a nurse and provide care for that nurse's patients. Depending on the unit, you may be responsible for one or two patients out of the nurse's assignment, or you may be responsible for helping with them all. This depends on the clinical site and the expertise of the unit you are on. 
You will have a clinical instructor (CI) who will be your point of contact and act as your chaperon. Your CI is a member of the staff at your nursing school. They are there to help you learn. The CI will answer your questions and force you to think critically about how to care for your patients. At the end of your shift, you will debrief with your CI. You will be grading you based on how you do during your clinical rotations. 
What types of clinicals do you complete during nursing school? 
Every school will have slightly different names, but for the most part, you can expect the following clinical rotations:
Medical/surgical 

Advanced medical/surgical

Pediatrics 

OB/GYN

Mental Health/Psych

Community Health 

Leadership 

Preceptorship 
How long and how often are they?
The frequency and the length of clinicals depends on your nursing program. Also, each state has a minimum number of required clinical hours needed to receive a nursing license. Usually, you will have one clinical day per week for each class. These can be any day of the week, including weekends, and sometimes overnight shifts (7 pm to 7 am). Typically, they are twelve-hour shifts. However, your instructor may have you leave the unit early so you can debrief at the end of your day. Some are office or clinic-based, like community health or leadership, which means they will keep normal business hours (9 am-5 pm). 
What is the difference between clinicals and simulation lab?
Think of the simulation lab (sim lab) as the practice run before the real thing. Sim lab can be a great opportunity to work through scenarios, but not in the high-stress, real-time environment of the hospital. Even if your school doesn't have access to a sim lab, you can still practice and get the same results! Get together with classmates and talk through scenarios, practice skills, or role-play different assessments.  
How are clinicals graded? 
Often, nursing clinicals are graded based on participation and your nursing care plan. You will prepare a nursing care plan from information gathered about your patients, and that is essentially your homework for clinicals. Each CI will have different expectations for what they would like to see in your care plans.  Be sure to ask your instructor questions during your rotation, so that you're able to address all of their expectations. 
Are they hard? 
Nursing clinicals are very different from in-person or online classes. They are even different from simulation labs, where you work with a mannequin and a simulator to help you prepare for caring for an actual patient. Clincals are a subjective experience, you will have plenty of support and instructor interaction, so it is uncommon to fail. However, with clinicals, the stakes are raised now that you are dealing with real-life consequences for your decisions and actions; therefore it is wise to seek as much support as possible until your confidence matches your efficacy. 
What is the best way to prepare for clinicals?
Clinicals are just another part of nursing school, so whatever you have done to prepare for nursing school, in general, will also benefit you for clinicals. It can help to try and have a job that puts you in a patient care setting before nursing school. This will help you when seeing patients, understanding the flow of a given setting, and learning medical terminology. Things move fast during clinicals, so having an upbeat, never-quit attitude will help prevent you from feeling overwhelmed or burned out. You are there to learn and be helpful to the nurse you are shadowing. 
Final Thoughts 
Clinicals can feel like drinking water from a firehose. But the experience will also give you a taste of your future as a nurse. They help prepare you for real-life nursing as a sort of on-the-job training under the supervision of your CI. Clinicals will allow you to try out different healthcare settings to help you get an idea of what setting you are most interested in. With the right attitude, THEY can be one of the best parts of nursing school.
Alexandra Prabhu RN BSN lives in Southern California and has spent her decade-long nursing career in cardiac critical care and loves all things heart related. She's currently a pediatric ICU nurse in Los Angeles and has worked in both adult and pediatric cardiac surgery as well as the cardiac cath lab. After getting her degree in immunology and genetics from UCLA, she studied nursing at Mount St. Mary's University. As a mom to five in her blended family and married to her firefighter husband, her house is generally chaotic. When not at the hospital Alex loves traveling with her family, surfing and doing her kids' laundry.