School of Business & Technology
---
The School of Business and Technology provides a unique offering of online educational programs in business and technology. The degrees prepare graduates for leadership in the rapidly evolving global business and technology communities, as well as highly technical jobs related to computer science and information systems.
Students apply modern business and technology management practices to real-world organizational challenges and hone their competitive edge by gaining applied organizational skills in team collaboration, conflict management, project management, process improvement, and technology deployment.
The School of Business and Technology at Aspen University has been awarded the status of Candidate for Accreditation by the International Accreditation Council for Business Education (IACBE) located at 11374 Strang Line Road in Lenexa, Kansas, USA. For a listing of the degrees eligible for accreditation, click here. Aspen University has been reviewed and approved as a provider of project management training by the Project Management Institute (PMI).

Business Degrees
Technology Degrees
Dean:
Jimmie Flores, Ph.D., D.M.
Do what you can, with what you have, where you are.
Theodore Roosevelt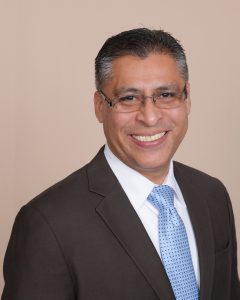 Dr. Jimmie Flores has held management and leadership positions in major companies including Shell Oil Company, The Prudential, and USAA. At USAA, he managed the $11.5 million budget for the IT department. He has extensive experience developing and teaching courses for organizations in the disciplines of Project Management, Human Resources, and Information Technology. Dr. Flores founded a global IT enterprise, and has operations in India and The Philippines. Dr. Flores has written several books including How to Become a Proficient Online Learner.
He has earned two doctorates and seven master's degrees, consisting of a Doctor of Management in Information Systems and Technology (University of Phoenix), Ph.D. in Human and Organizational Development and M.A. in Human and Organizational Systems (Fielding Graduate University), M. Ed. in Curriculum, Instruction, & Assessment (Using Web 2.0 Technologies in Higher Education), M.S. in Nonprofit Management, M.S. in Management (Area of Emphasis: Organizational Leadership: Project Leadership & Management), M.S. in Computer Information Technology- Area of Emphasis: Management of Technologies (Regis University), M.S. in Educational Technology (DeVry University), M.B.A. Areas of concentration: Finance and Marketing (University of St. Thomas), and B.B.A. Major: Corporate Financial Management (St. Mary's University).
Dr. Flores is a member of the Project Management Institute (PMI), the Scrum Alliance, and the Society for Human Resource Management (SHRM). His research interests involve investigating the benefits of project management to small business owners, the implementation of Agile Scrum in a global environment, and the review of technological tools that improve individual performance.
Program Director:
John Kilroy, Ph.D.
Whether leaders articulate a personal philosophy or not, their behavior surely expresses a personal set of values and beliefs.
Max DePree
Dr. Kilroy brings extensive experience in leadership development, strategic management, change management, consulting, and launching start-ups in profit, non-profit, and NGO organizations to the classroom.
Dr. Kilroy taught undergraduate, graduate, and doctorate level course for community colleges, state universities, and private universities. He's held a various leadership positions including, AVP for Academic Innovation, Dean for the School of Business, and Director of Doctoral Learning Communities.
Prior to a career in higher education, Dr. Kilroy was in the Aerospace industry for over twenty years as Program Manager for Advance Research and Design. He held a variety of positions during his tenure including Director for Business Development, Contract Manager for commercial and government programs, and Training Director responsible for executive leadership and international development.
Dr. Kilroy holds a BS in Business Administration, MMA in Human Resources & Organizational Behavior, and Ph.D. in Organizational Leadership.