With the help of Aspen University's Assistant Dean of Nursing, Dr. Marcos Gayol, we break down the important differences between the two nursing roles.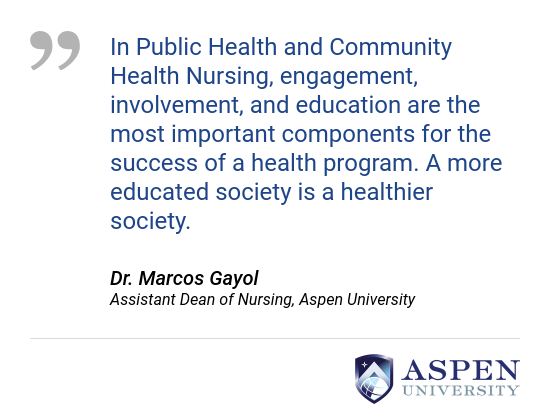 History of Public Health Nursing
Public health nursing began in the mid-1800s in England when Florence Nightingale trained nurses in the district nursing concept. Nurses were assigned and responsible for the health of the people in specific London neighborhoods. These nurses helped improve patient health by providing community channels and information on topics like sanitation and education.
This model of nursing popped up in the U.S. in New York City in 1877. Around this time, Lillian Wald — who coined the phrase "public health nurse" —  emerged as a leader in the field. She realized that sickness found in the home originated as societal problems and directed nursing efforts toward employment, sanitation, and education.
Ward served as the first president of the National Organization of Public Health Nurses, formed in 1912. In 1913, the first public health nurse for the U.S. Public Health Service was appointed.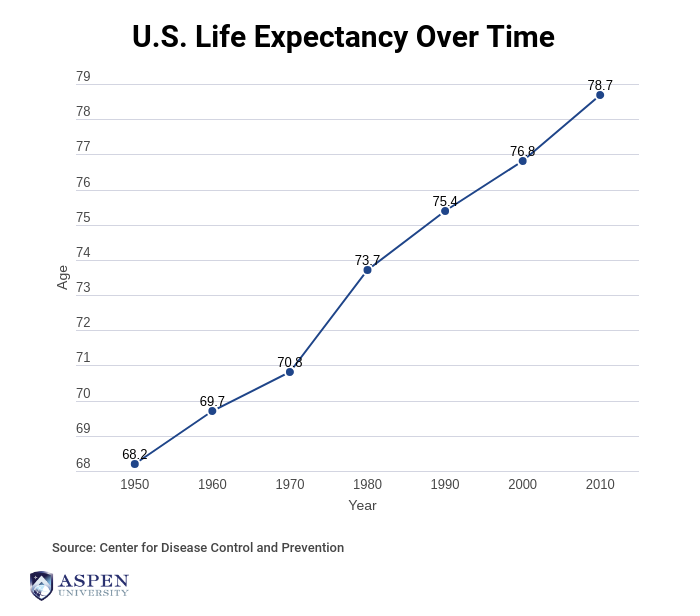 The United States has improved population health through public health intervention and quality clinical care. As a result, life expectancy rose to 78.8 in 2015, a decade longer than in 1950. However, racial, cultural, and economic disparities persist across many health outcomes and conditions. A lot of these challenges require community-based intervention. 
Different types of nurses help monitor and treat public health issues. "Think of a spectrum," says Dr. Marcos Gayol, Assistant Dean of Nursing at Aspen University. "Directly in the middle of the spectrum is Public Health. On the one end is Community Health, and on the opposite end is Global Health."
"Global Health is a broad focus on issues that can impact the health of a nation, economies, and the interconnectivity countries have with other countries." Dr. Gayol adds, "However, the line between Community Health and Public Health is a source of confusion for many people. The two roles are often used interchangeably, but there are distinct differences."
Public Health Nurse
The American Public Health Association (APHA) defines public health nursing as "the practice of promoting and protecting the health of populations using knowledge from nursing, social, and public health sciences." 
The public health nurse's scope of practice includes policy reform, system-level changes, and health promotion. This nursing practice includes advocacy, policy development, and planning. Dr. Gayol adds, "It is the balance where health professionals work toward health promotion and illness prevention with a focus on identifying the origins of disease then determining how policy, education, and health systems can work together toward improved health outcomes." 
For example, if an illness outbreak such as measles, tuberculosis, or hepatitis B occurs, the public health nurse will evaluate the need and develop a program for an immunization clinic. 
Public health nurses often work for the government — usually county though can be state or federal. They work in health departments, correctional facilities, worksites, and other locations where population-specific nursing care is in need. For example, they monitor for trends in disease outbreak and prevention, run flu clinics, and work to reduce illnesses like heart disease by providing education to their town.
Community Health Nurse
Community health nurses maximize the health status of individuals, families, groups, and the community through direct approach with them. A community health nurse combines facets of direct care and public health practice to a target population of patients who may not have access to — or be able to afford — health services. 
The community health nurse's scope of practice includes educating and developing intervention plans for individuals, families, or groups about illness and disease prevention, safe health practices, nutrition, and wellness, among other topics. 
For example, a community health nurse might meet with young mothers to provide valuable immunization information or teach a new diabetic how to give insulin injections by practicing with an orange. 
Community health nurses work within the community. This can be for a public entity such as a school district or community clinic. The types of communities these nurses serve will vary; economic situation, school, and culture all play a part in dictating community needs. "What may be a health issue in downtown Atlanta, GA may not be a health issue in rural Tennessee – therefore Community Health is specific to a location, as well," says Dr. Gayol. 
Many work in Community Health Centers. Similar to those who work in primary care offices, these nurses provide preventive care, immunizations, treat urgent illnesses, education, and medication refills — to name a few. Community nurses can also work for public health departments or parishes.
Specializations
Public health or community nurses may specialize in:
Home care

Case management

Clinical nursing

Corporate nursing – most often called Occupational Nursing

School nursing

Pharmaceutical nursing
Community health nurses might focus on a particular aspect of health care like HIV/AIDS or mental health treatment. Advanced community health nurses can also find opportunities in higher education or clinical research. 
Becoming a Public Health (or Community Health Nurse)
To become a public health or community health nurse, you first need to enter a Public Health education track toward that career goal. 
A Bachelor's of Science in Nursing (BSN) is recommended for entry-level public health nurses. A BSN program covers fundamental concepts for public health nursing, such as "clinical prevention, population health, healthcare policy, finance, and regulatory environments, and interpersonal collaboration."
The Master's of Science in Nursing (MSN) with a specialization in public health or higher provides specialized knowledge required for leadership positions. "Competencies include mastery of interprofessional collaboration, health policy and advocacy, population assessment, prevention strategies, and program planning and evaluation."
Some nurses pursue the Doctor of Nursing Practice (DNP), PhD, or other researched-focused doctoral degrees. In some states, public health nursing registration is required to validate specific competencies. 
What Now?
The role of the public health nurse — and the ways they work to maintain healthy populations — has continued to evolve. Today, public health nurses "comprise the largest segment of the professional public health workforce."
There is a call for public health to meet 21st-century challenges — such as rapid fluctuation in staffing and funding and America's aging population. "In Public Health and Community Health Nursing, engagement, involvement, and education are the most important components for the success of a health program," says Dr. Gayol. "A more educated society is a healthier society."