Most schools will tell you that it is impossible to work while in nursing school. But is that true? Many students need to work during school, whether to pay for classes, support their family members, or continue to support themselves – they have responsibilities that persist throughout the duration of the program.
It's estimated that around 25% of all nursing students in the U.S. continue to work in some capacity. It's possible, but how can we make it easier for ourselves? 
This article will discuss how you can work while in nursing school.  
10 Tips on how to work while in nursing school
Working during your nursing program may be possible; however, it may not always be feasible. Mastering the use of your resources, time, and skills will facilitate your success as a student and future healthcare professional. Here are some ways you can accomplish this: 
1. Have a reliable support system 
The support from friends and family is an essential first step. Maybe your partner needs to adjust their routine to better support your goal – have a deep talk with them to make sure they are on board. A reliable support system can make the process of attending nursing school more sustainable and run smoother in general. 
2. Create your designated study space and set aside time to study

Designating space in your home and allocating time each day from your schedule for studying will help you be a more successful student. If you don't study, you risk failing, which can be a waste of time and money. Make sure your study area is suitable for extended periods of concentration. Ensure there is ample lighting and no loud noises. Also, try to invest in quality office equipment, it is important to be comfortable when studying for long hours. Utilize plants or decor to make the space cozy. Think of hanging pictures of your loved ones for inspiration. Also, it is important to ensure that your support system knows about your designated study times so they do not interrupt or distract you. Be sure to set boundaries.  
3. Commit yourself to organization
Stay organized with everything. This includes your schedule, schoolwork, clinical schedule, work schedule, self-care routines, and social plans with your family and friends. Take time to plan out your week, write it down and be sure not to miss anything. Detail all your assignments in your planner or calendar early on so they don't sneak up on you. 
4. Set goals regularly (for work and school!) 
During these planning sessions, you can also set short and long-term goals. This should be for work, school, and even your social life while you're at it. Documenting goals will keep you on track and help you assess your progress throughout the semester. 
5. Prep healthy meals in advance
Healthy meal prepping and planning can help you save time throughout the week (and money). While transitioning from school to work, you can have a healthy meal along the way. Try packing a variety of easy-to-grab veggies and some hummus for dipping, or roll-up slices of deli turkey, mozzarella cheese, and sliced cucumbers for a convenient, tasty, and refreshing snack. When it comes to meal prep, it is important to get organized, as you will need to anticipate your energy needs for the week. A good rule of thumb: pack more food than you think is enough, therefore you won't have to deal with the effects of hunger while you're on the go. This will help you maintain a healthy lifestyle and ensure you have enough energy for your busy days. 
6. Create a budget and stick to it 
Creating a budget also requires planning. Hold yourself accountable with a budget tracking app, and be sure to check it routinely to see how you're doing. It is helpful to automate any payments or deposits, which will help keep your mind focused on your nursing classes so you don't stress later when trying to remember if you are squared away with your bills. 
7. Prioritize resting, exercising, and eating healthy 
When planning out your week, dedicate time to resting and taking care of your mind and body. This is essential. Prioritize it, and don't neglect it! You will be less likely to burnout from work or school when you're consistently and responsibly taking care of your mind and body. This includes resting, but also seeking outlets to turn to for leisure and self-care activities, like meditation, cooking classes, or joining a book club. 
8. It's OK to ask for help 
Don't be afraid to ask for help. Whether it's your nursing professors, a fellow student, or your employer, if you're struggling, let them know. They can help you ensure success in all that you do. 
Rawsi Williams, RN, JD, BSN, PhD, shares insights from her time as a nurse.
To do what nobody else will do, in a way that nobody else can, in spite of all we go through, is to be a nurse." —Rawsi Williams, JD, BSN, RN, PhD
9. Avoid procrastinating – plan your days responsibly 
Make daily to-do lists and set constant reminders if needed. Work ahead on your school assignments. Don't save them for the day before or while you're working – this is not conducive to success. Try your best to stay ahead of your planning – always be proactive and do not procrastinate if you can help it. You need to eliminate distractions and learn to prioritize and hold yourself accountable.  Usually, procrastination happens when there is no set plan, therefore it is wise to come up with a plan of attack for each assignment, as soon as you can.   
10. Keep your communication open and honest with your employer 
Tell your employer up-front that you are attending school, and it will include clinicals. Announcing this information early will prevent them from being surprised if you have to call off or change your schedule due to school needs. Let them know what you need from them to continue to be successful. 
You have gathered a better idea of how to work while in nursing school, now let's discuss where to work so that you are as successful as you can be! 
Do you know where to work while in nursing school?
Now that we've reviewed some essential tips for working while attending school, how do we pick the right job? It is important to research where to work during nursing school so that you can align yourself with work that is relevant to your education and career goals. Here, we review ways to find the right job while you are enrolled in classes.  
Seek a job with flexible working hours 
A job that allows you to set your own schedule can be helpful while in a nursing program. Clinicals are often unexpected and schedules shift a lot, so having a different schedule based on your work schedule can help prevent conflicts and minimize additional stress. 
Find work that relates to your education
If you decide to work during school, try to get a job that is related to your classwork, where you can learn or practice healthcare-related skills, like: 
Phlebotomist
Front desk in a hospital unit
Transporters in the hospital
Certified nursing assistants or patient care technicians
Tutor or preceptor for pre-nursing students/classes
These are just a few examples of some jobs in the healthcare field that will provide invaluable training and information while you study nursing. It will also provide the income you need. Win-win!
Decide which shift works best for your schedule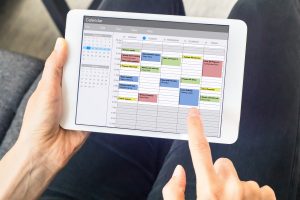 This will vary based on the person. If you have kids, maybe night shifts work best for you so your partner can stay home with them while you work, and you can stay home during the daytime. Or maybe you prefer weekends. Then, decide if mornings, afternoons, evenings, or nights would be better for you. Perhaps it's a combination of all these options. Look at your school schedule and fill in work shifts that could function inside that schedule. 
Choose whether or not you can work full or part-time 
Once you have your school schedule, clinicals, study time, and any other obligations in your calendar, decide how many hours you can work per week.  Is it full-time? Is it part-time? Maybe it's temporary or PRN where you aren't tied to a number of hours per week, rather you're on-call as needed. Pick what works best for you in this situation, and remember, it can always be adjusted later. 
Ready to become a nurse? 
So, now you know that it is possible to work while in nursing school, tips on how to facilitate success, and how to pick the best job for you. This is a game changer for many people who need to continue working while attending school since a fourth of us already do! 
Check out Aspen University's nursing programs today if nursing school sounds exciting to you. They support nurses and students who need to work and understand everything you may need in that situation.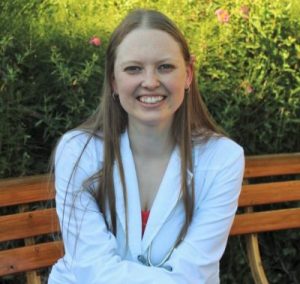 Alison Shely, DNP, FNP-C, is a nurse practitioner, nurse coach, and content writer specializing in articles, guest blogger, and healthcare worker wellness. She has been in nursing since 2014, working in intensive care, women's health, and primary care as a registered nurse and family nurse practitioner. Her specialty topics include mental health, health and wellness, yoga philosophy and practice, and community health. She also serves as a health coach and mentors to other nurses and healthcare workers concerning healthy lifestyles and mental health.