As we kick off 2022, we can't wait for the new beginnings and achievements this year has in store for Aspen University and our students. But with New Year's resolutions and goals all on our minds, we also wanted to look back on the amazing milestones the Aspen community reached in 2021.
This past year both the University itself, as well as our staff, students, and alumni triumphed. With all that we've endured with the ongoing pandemic and public health obstacles, Aspen is exceptionally proud of all the accomplishments and academic degrees our community achieved despite unprecedented challenges. Let's look back on five remarkable moments from 2021.
Aspen's Largest Commencement Ceremony Ever
402 students walked across the stage at our Phoenix commencement ceremony in October, in front of nearly 1,000 guests—along with hundreds of additional graduates watching virtually from home. These students, representing doctoral candidates, those earning master's degrees, and finally baccalaureate graduates, marched proudly into the ballroom in Aspen's largest-ever class of graduates. The day was filled with emotions, pride, and inspiring speeches from our three student commencement speakers.
"When each graduate received their diploma, I could tell it was an emotional moment for everyone," Diana Reinhardt Paradis, Aspen University's Sr. Marketing Communications Manager, recalled in her heartfelt graduation recap. "Some cried tears of joy upon reaching the apex of their profession, and others pumped their fist in the air in celebration. Families cheered for their graduates, clapping and making shouts of merriment."
Our BSN Pre-Licensure Campuses Continued to Grow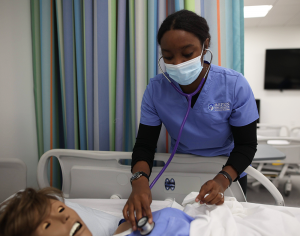 Hands-on coursework, skills labs, and clinicals are a vital part of our hybrid BSN Pre-Licensure program for aspiring registered nurses. Increasing student access to our campuses that offer these in-person components is part of Aspen's mission of offering any motivated student the opportunity to receive a high-quality education. That's why we're thrilled our campus locations continue to grow and welcome students.
This year we successfully launched our new pre-licensure campus in Nashville, Tennessee, with clinical partnerships with NorthCrest Medical Center, Trust Point Hospital, and Nashville General Hospital. Additionally, our Tampa, Florida campus enrolled students in our PPN and core nursing courses for the first time. Aspen's Austin, Texas campus held a celebratory ribbon-cutting ceremony in August, marking the official campus opening, and students met their peers and grew their professional networks at this location's first-ever networking event in October.

We Welcomed More Incredible Students and Celebrated Alumni Through Our Spotlight Series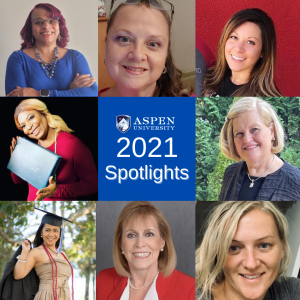 Aspen University is home to students and alumni from unique backgrounds and with diverse experiences. Our community is built on dedicated nurses and frontline workers, academic go-getters, inspiring leaders, and achievers who persevere through the face of adversity. We love sharing your personal stories and celebrating all your success through our ongoing Spotlight blog series and social media highlights.

Revisit all of our Alumni and Student Spotlights from the year—from Alona who earned her BSN after a 17-year break, to Phoenix Scholarship recipient Jaclyn—here on the blog or on Aspen University's Facebook, Instagram, and LinkedIn pages. 
Aspen Gained New Academic Leadership and Made New Appointments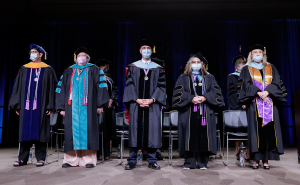 Aspen faculty and leadership is comprised of experts and inspiring mentors who are committed to teaching real-world expertise in our schools for Nursing & Health Sciences, Education, Business & Technology, and Arts & Sciences. 
This year, we were honored to welcome new leaders to our schools and appointed new leadership positions to familiar Aspen faces. The School of Business and Technology welcomed a new Dean, Daniel Zimmerman, D.M., M.B.A., while the School of Nursing & Health Sciences proudly hired Dr. Anne-Marie Coleman, Ph.D., MPH, as the new Program Director of Health Sciences. In addition, the School of Nursing & Health Sciences made the following excellent appointments:
Our beloved former Dean, Dr. Nina Beaman, Ed.D., CNE, RN-BC (PMH), RNC-AWHC, CMA (AAMA), was appointed as Chief Nurse Administrator for Aspen University

Former dedicated Assistant Dean, Dr. Marc Gayol, Ed.D., MSN, MPH, RN, CNE, CPH, was appointed to Dean

Dr. Tracy Lookingbill, DNP, MSN, RN, was appointed as the new DNP Program Director after successfully serving as the MSN Program Director

Longtime Aspen leader Dr. Jeannie Randall, DNP, MSN, RN, has held many different roles and was appointed as the new MSN Program Director
Celebrated Our Nursing Community and Nurses Week With a Series of Live Virtual Events
Each May, we honor the selfless contributions of all nurses during National Nurses Week. 2021 was especially significant in recognizing the hard work and leadership which demonstrated the professionalism and dedication inherent in this profession. Here at Aspen, we're grateful for all the devoted and compassionate nurses that make up our faculty, student body, alumni, and community. 
In celebration of 2021 National Nurses Week (May 6 to May 12), Aspen faculty hosted a five-day virtual series, A Salute to Nurses, that featured insightful conversations and engaging presentations on nursing history and the profession's current state.

Are you feeling inspired to continue your educational journey in 2022? Learn more about Aspen University's programs.