When Aspen University invited me to attend the October 2021 Commencement Ceremony, I was honored and excited. As a non-faculty member of the Aspen team, I was curious to meet Aspen students in person and hear directly from them about their experiences.
Phoenix is a beautiful city with a sparse desert landscape complimented by incredible public art. With so many students from across the country flying in for the ceremony, I can only imagine how excited they felt when they arrived for this special celebration.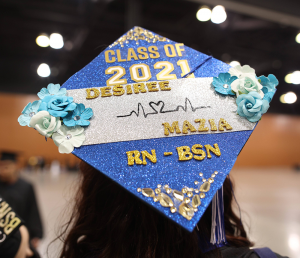 The day before graduation, I visited one of Aspen's campus locations in Phoenix for the BSN Pre-Licensure program. It was my first time seeing the location. Any prospective student and their family can take a tour of Aspen's educational facilities. I was immediately impressed by the different hands-on nursing stations where students practiced on high-tech mannequins. One of the highlights for me was seeing the "home care" practice room, where students train for the difficult job of caring for the homebound. I could feel all the compassion these students were learning to harness in service of their future patients. 
Our tour was led by Dr. Joanne Weiss, who is Aspen's Interim Provost. She also introduced our group to several of the professors and directors who work directly with students. I was instantly struck by their passion and dedication to teaching. Seeing the students themselves on campus made an impression on me. Earning a degree is sometimes as much about the community you form as it is about the material, and I was glad to see this group blooming as they discussed the clinical skills they learned or shared a coffee together in the courtyard. 
Commencement prep started early the next day. Fueled by strong coffee and a few doughnuts, the Aspen graduation team watched the sun come up as we moved tables and made sure that the backdrop for the first event, the nursing pinning ceremony, was placed just right for some fantastic photos. Once everything looked perfect, we opened the doors to let in the first group of eager grads.
It was emotional to see all the families arriving to support their graduates. Aspen students come from all backgrounds, and their families were wearing everything from their Sunday Best to cowboy boots and hats. Many children were in the audience cheering on their parents, inspiring the next generation to achieve just like their moms and dads. I asked the kids if they helped their parents study, and one teenager reflected on how he and his mother would do their math homework together.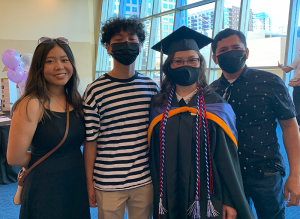 Finally, it was time for the main commencement ceremony. The faculty led the line of graduates stretching far down the hall. First, the doctoral candidates, then those receiving their master's degree, and finally baccalaureate graduates marched proudly into the ballroom. Dr. Weiss welcomed the grads and their families alongside the other deans, and we heard from the inspiring student commencement speakers. There were 402 students that walked across the stage, in front of nearly 1,000 guests—along with hundreds of additional graduates watching virtually from home.
When each graduate received their diploma, I could tell it was an emotional moment for everyone. Some cried tears of joy upon reaching the apex of their profession, and others pumped their fist in the air in celebration. Families cheered for their graduates, clapping and making shouts of merriment. "That's my momma!" cried one young girl. It was a heartfelt communal moment of celebration.
I had the opportunity to speak with some of the graduates afterward. One told me his wife inspired him to return to school when she received her degree from Aspen University two years ago. Another said that despite the pauses and breaks in their program—sometimes life just gets in the way—she never doubted she would complete her degree. Almost every graduate raved about Aspen's supportive faculty and administration, knowing that their professors were walking with them every step along their educational journey.
While many grads have reached the pinnacle of their education, many told me they plan to return to Aspen for their next degree, and several are already hitting the books hard. That's the wonderful thing about Aspen University—all of our students hold a passionate and inspiring drive. And Aspen's flexibility means you can start your next degree and take classes when it's the right time for you. Maybe I should start thinking about my next degree?
Written by Diana Reinhardt Paradis, Aspen University's Sr. Marketing Communications Manager
Feeling inspired to continue your educational journey? Learn more about Aspen University's programs.