At Aspen University, we're always amazed by our students and their accomplishments. Working toward a university degree presents a unique set of challenges and goals, especially for those pursuing education during the pandemic. The faculty and administration of Aspen University commend all our graduates for persevering through it all to reach their dreams and anticipate even more success lies ahead.
In honor of Aspen's 2021 Commencement Ceremony in Phoenix, we proudly present our student speakers who, as representatives of the graduates, will take the stage and share their inspirational stories. Learn more about them and what advice they have for their fellow grads and future students. 
Dr. Angela (Angie) Holzer
Doctorate of Education in Leadership and Learning (Ed.D.) with a specialization in Organizational Leadership
Born and raised in Utah and Germany, Angie has lived in Northern California for the past 18 years and recently moved back to Utah. With a passion for humanitarian work, she's been in the nonprofit sector for over 20 years and is a leading expert in nonprofit management. She's also been an Executive Director at Given Tree, a US-based nonprofit where she led and supported medical and humanitarian expeditions throughout Africa, Dominican Republic, India, the Philippines, and Central America.  
For her doctoral research at Aspen, Angie focused on understanding the challenges nonprofits face as they work to fight human trafficking in their communities. Through her astounding research, she developed and launched her own nonprofit, WikiCharities, to help improve the nonprofit sector by providing a place where charities can connect and work together. She also hopes WikiCharities will be a tool to help victims and survivors of human trafficking find resources faster and more effectively. 
"I encourage students to enjoy the journey of learning and make the assignments applicable to your interests," she tells Aspen. 
And Angie's work doesn't stop there. She's been teaching yoga at Stanford University for the past five years, specializing in yoga for mental health, and is certified in yoga for cancer survivors, trauma-informed yoga, and applied adaptive yoga. Angie's educational journey continues as she pursues a Master of Business Creation (MBC) in entrepreneurship and strives to make a transformative impact with her amazing nonprofit work:
"My nonprofit pursuits motivated me to pursue my doctorate, and it continues to motivate me to find solutions to global problems faster and more effectively. I love the following quote by Hana Rose Zadra, 'Reach for your dreams, and they will reach for you.'"
Cherish Ingalls
Bachelor of Science in Early Childhood Studies (BS-ECE)
Going back to school is a big commitment for any adult. But for Cherish, it also meant balancing Aspen's BS-ECE program while teaching full time, raising her children, and starting a cookie business on the side. While her friends call her supermom, Cherish's superpowers come from her family. She resides in Texas with her husband, Nathan, and their four beautiful children, Carsten, Amelia, Madelyn, and Andie, and says being a mom and wife is her biggest motivation.
"These five people make me want to be my best self. I have so many people in my life that have motivated me and inspired me to complete my degree and strive for more afterward," she tells Aspen. 
Cherish currently works as a math and history teacher at Little Cypress Christian Academy, and her next goal is to write a book on motherhood. Before finding Aspen, Cherish harbored years of doubt and thought she would never walk across a graduation stage. Now she's commanding the Aspen commencement stage as a student speaker and encourages others to take the next step in achieving their education dreams:
"To those who may be interested in starting a program at Aspen University, I say do it. It was truly one of the best decisions that I ever made. Any time I called or emailed instructors, I was met with kindness and understanding. Aspen also gave me the ability to go at my own pace and take breaks when some of life's biggest events were taking place."
Judith (Judy) Evans
Bachelor of Science in Nursing (RN to BSN program)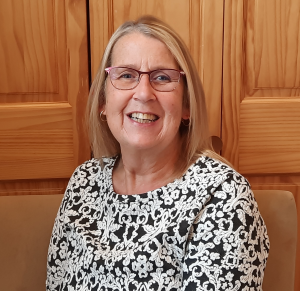 With over 24-years of experience in healthcare, Judy is proud to be a nurse serving her community in Northern Michigan. She has worked with patients spanning from newborn to geriatric and loves working as a float resource RN in all inpatient and emergency departments and as a casual supervisor. 
Her nursing career started in 1997 when Judy became an LPN and then earned her ADN (RN) in 1998. Judy's commitment to her community and to nursing was even more evident as she worked full-time hours and overtime during the COVID-19 pandemic while attending Aspen for her BSN. The Aspen community is immensely grateful for nurses like Judy, who continue to work on the frontlines of the pandemic to care for us all compassionately.
Judy has been married for 37 years to her husband Scott and is the mother of two brilliant young adults. She is also blessed with three amazing grandchildren and loves to attend their sporting events. Her ultimate bucket list includes "Glamping" at Disney World in her new travel trailer, her 60th birthday gift. 
These days, she continues to work as a dedicated nurse while pursuing a Medical-Surgical Certification and wants to get more involved with public nursing for healthier communities. Going back to school for a BSN can be overwhelming for any nurse, but Judy has some words of wisdom for fellow students: 
"Self-care is essential, breaks are necessary, and sleep deprivation jeopardizes health and safety. Use time off from work to recharge. And do not let age threaten your career goals."
Check out Aspen University's graduation page to learn more about the 2021 Commencement Ceremony. Feeling inspired to continue your educational journey? Learn more about Aspen University's programs.