The first few years of working as a nurse are equal parts challenging and exhilarating. After countless tests, papers, and simulation labs, you finally get to put your hard-earned nursing education into action. Nursing school may have taken you to the brink of insanity at times, but all of the madness finally made sense once you earned your degree and began your nursing career.
Fast forward several years and that scary "newbie-nurse" feeling has dissipated and been replaced with confidence and expertise. This is the point when many nurses find themselves struggling and asking themselves, "What's next?" 
One of the greatest things about the nursing profession is that there are so many different nursing career options. Before you determine what comes next in your nursing career, it is critical to reflect on your past experiences. Unfortunately, it's all too common for nurses to get so busy that they forget to acknowledge and analyze their feelings and preferences. 
I have been a nurse for nine years, and have already made several nursing career changes. First, I went from being a neuroscience nurse to an emergency room nurse because I wanted to work with more critical patients. Essentially, I sought out specific skills that I didn't have yet.
More recently, I became a nurse freelance writer. I decided that I wanted to spend more time with my kids, and 12-hour shifts were not allowing me to do that. Therefore, this was more of a family-driven decision that I needed to make for myself.
While I have never regretted changing my nursing career direction, I have regretted waiting too long to make the changes that I knew I needed. After all, change can be hard – even for nurses! 
There are so many enriching experiences available in nursing, and not enough time to waste feeling dissatisfied with your current work-life balance. A career change for nurses should not elicit fear, rather, a changing nursing career should bring excitement! Here are five signs that it may be time for a career change in nursing.

5 signs that it may be time to make a nursing career change  
1. Physical Limitations 
Being a nurse can be physically grueling at times, particularly on med/surg, ICU, ER, pediatric, or other units that require a certain level of fitness and movement. Repetitive movements such as working on your feet all day, lifting patients, and bending forward to deliver care can ultimately cause back, knee, foot, wrist, and other types of chronic pain.
During my tenure as a neuroscience nurse, six nurses were put on medical leave one year due to workplace injuries. The injuries varied from chronic back pain and herniated disks to broken legs and sprained ankles. There was even a pregnant nurse who began having contractions at four months gestation.  
A few of these nurses eventually returned to the same unit, but others didn't as they grew concerned about the physicality that the job required. They had enjoyed the job, and it worked well for them for many years, but it didn't make sense anymore from a health perspective.
Never risk your health for a nursing job. There are so many other opportunities where you can help patients without sacrificing your health.
2. You no longer feel challenged.
The learning opportunities as a novice nurse can seem endless, with starting IV's, drawing labs, conducting patient assessments, understanding electronic medical charting, working with ancillary specialties, and many other neverending to-dos. It often feels like each of these tasks takes 110% of your brainpower to complete.  
Years later, you may become so comfortable with these tasks that it feels like you're operating on autopilot. If this occurs and your passion starts to dwindle, it may be time to find new intellectual stimulation in another setting. Consider a fresh start within a new specialty or management position. This may be a great time to reignite your nursing career by stepping outside of your comfort zone once again.
3. You dread going to work.
Dreading work is a red flag that it's time to make a change. First, examine why you feel this way. Are you bored? Are you burnt out? Do you need a new challenge? Is there another specialty that you have always wanted to pursue, and this just isn't it?  
I once worked with a new grad nurse who dreaded coming into work around the six-month mark. After several conversations, I learned that she never really wanted to work at the bedside. She took the job because she felt it was a "right of passage" that all nurses had to endure. 
About a month later, she decided that she could no longer handle the misery and took a case manager position in a different unit. She later told me how much she loved helping coordinate post-discharge care for patients and that she had never been happier and is still working in the same position today.  
4. You want to make more money.
While nurses don't always choose a career based on money, it's certainly a factor to consider. I personally think that nurses should talk more openly about earning money within the profession. We work hard and deserve to make what we feel we are worth.
If you want to make more money, consider alternative nursing careers that offer higher pay. This may or may not require leaving the hospital setting. Today, many businesses are looking for nurses to help employees take better care of themselves and boost their work performance. Medical and pharmaceutical sales jobs are another alternative, offering a way to help patients and potentially earn a higher salary.  
5. You earned a higher nursing degree, but are still working in the same position you were in before. 
I'm surprised by how many nurses advance their education to earn an MSN only to stay in the same position for months or years after they graduate. However, the most significant benefit of advanced nursing education is that it opens up new career opportunities that you would have never had before.  
Nurses are needed in education, management, and advanced practice roles all over the country. There has never been a better time to update your resume and look for opportunities that fit your new skill set.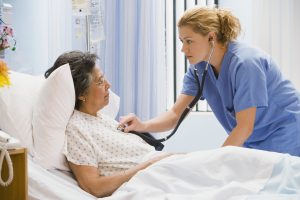 Tips for transitioning careers as a nurse:
A career change from nursing may reignite your passion, redirect your purpose, and elevate your days.
Ask yourself tough questions.
Pull out your journal and jot down your answers to the following questions.
What is best for me/my family at this time?

Why do I like/not like my current specialty?  

Do I want to stay within my current organization or work someplace entirely new?

What am I looking for in a nursing career that will make me happy?

What am I most passionate about?

Why am I unhappy with my current nursing job?

How do I need to plan to make my dream career a reality?

What is holding me back from change?
Make a list of top career goals.
Where do you see yourself one, three, five, and ten years from now? It's nearly impossible to make a meaningful career change without having specific career goals in mind.  
Talk with a nurse career coach or mentor.
Consider speaking with an RN career coach or connecting with a mentor to help you unlock your authentic career passion and create a plan that can help you get there. It is essential to find a nurse career coach instead of a generalized coach because they will better understand the challenges you're facing in today's healthcare environment.    
Thoroughly research other nursing specialties and positions.
One of the best ways to learn about other nursing careers is to speak directly to nurses who already work within that particular area. If possible, you may consider shadowing a nurse for a day to gain a clearer snapshot of the job. 
Consider advancing your education.
Nurses are advancing their education to find higher-level career opportunities more than ever before. According to the US Bureau of Labor Statistics, the job outlook for advanced practice nurses is expected to increase by 28% from 2018 to 2028. This is much higher than the 5% average rate for all other occupations.  
These are a few RN educational paths to consider:
Update your resume.
While you're at it, refine your LinkedIn profile as well. It's important to highlight your specific skills, training, and experience so that hiring managers can easily find you. Keep in mind that when you start interviewing, your potential employer will likely ask for references. Therefore, maintain a list of co-workers and managers who have plenty of wonderful things to say about you.
Make it happen.
At the end of the day, the only person who can make you change your nursing career is you. Take things one step at a time as you work toward finding a nursing path that motivates and excites you. Best of luck on your journey!
Aspen University offers online RN to BSN, specialized MSN, and DNP (Doctor of Nursing Practice) programs to help you make a nursing career change. Seeking an RN license? Check out the BSN (Pre-Licensure) program. 
Guest author Sarah Jividen, RN, BSN, SCRN is a second-career nurse, freelance writer, mother of two, and founder of Mother Nurse Love, a resource for busy mom RN's. Her nursing specialties include emergency room, neuro/trauma, and critical care. In a rare moment of spare time, you might find Sarah practicing yoga, writing, or attending a local concert venue with her husband.