Just as culturally diverse healthcare providers are important for reducing health disparities among Black patients, diverse nursing educators and leaders are vital for underrepresented nurses facing disparities within the nursing industry. 
With only 10% of nurses in the United States identifying as Black or African American, Black nurse leaders support Black nurses in ways other nurses can't. Their lived experiences and cultural competence foster inclusion and diversity among nurses while providing valuable mentorship and guidance. 
Social media is a powerful way to connect with nurses who use their influence to uplift new generations of nurses and promote inclusion and advancement in nursing. Here are 12 inspiring Black nurse educators and leaders to follow on social media—as they share valuable nursing knowledge and facilitate the success of Black nurses.
Alvionna Brewster, MSN-Ed, RN
Alvionna Brewster is the founder of Black Nurse Entrepreneurs (BNE), the premier networking organization for black nurses who want to launch, build, or grow a business. BNE has helped some of the most successful Black entrepreneurs start and scale their businesses. From CNA schools and staffing agencies to coaching and mobile labs, BNE nurses are at the forefront of nursing entrepreneurship. 
Alvionna has also fostered an environment of learning and growth for Black nurses through events, webinars, and daily Clubhouse rooms.
Instagram: @blacknurseentrepreneurs
Victoria Randle, MSN, NP-C
Victoria, a nurse practitioner with over 17 years of nursing experience, uses her platform to help nurses start CNA schools across the country. Her YouTube channel is full of informative videos for nurses who aspire to open allied health schools, including videos on how to create a syllabus and marketing tips for CNA schools. Check out her Instagram for more tips and information on her upcoming speaking events. 
YouTube: TheSecretCocktail
Instagram: @victoriarandlethenp
Dr. Margarita David, DNP, RN 
An award-winning doctoral coach, Dr. David is a YouTube and TikTok influencer who uses videos to educate nurses. With over 20 thousand YouTube subscribers and over 32 thousand TikTok followers, Dr. David teaches nurses and nursing students everything from dosage calculations and heart sounds to wound care and NCLEX test-taking strategies. 
When she's not going viral on social media, Dr. David works as a DNP (Doctor of Nursing Practice) coach, teaching doctoral candidates how to successfully navigate their education journey. She's also contributed insightful nursing articles to Aspen University, ranging from HESI Exam tips to DNP project advice. 
YouTube: DrRegisteredNurse
TikTok: @drregisterednurse
Dr. Wallena Gould, EdD, CRNA
Dr. Gould is the founder of The Diversity in Nurse Anesthesia Mentorship Program (Diversity CRNA), a non-profit that promotes diversity initiatives to mentor critical care nurses who want to enroll in graduate nurse anesthesia programs. Dr. Gould uses her career and organization to motivate CRNAs, encourage professional development, give valuable tips, and recognize CRNAs doing exemplary work.
Instagram: @enagould
Dr. Sylette DeBois, DNP, MSN-Ed, RN
Dr. DeBois is an all-things nurse educator. With more than 20 years of experience as a nurse and educator, she's now a professional healthcare and education consultant who coaches and mentors nurses to become successful leaders. Whether you want to become a leader in your organization or start your own business, Dr. DeBois' Nursing First program can support you.
Instagram: @drsylette
Kimberly Ellis, MSN, FNP-C
As a certified diabetes educator and Family Nurse Practitioner (FNP), Kimberly Ellis uses her social media platforms to educate nurses on caring for patients with diabetes. Throughout her social accounts, you can find tips on navigating family-patient conflict, educating patients, and even building a rapport with patients. If you work or live with a person with diabetes, follow Kimberly to learn how to best support them.
Instagram: @thediabetesnp
Juju Rose, RN 
Registered nurse Juju Rose is a lactation and postpartum educator who uses social media to educate nurses and mothers on breastfeeding. With eye-catching graphics and easy-to-understand explanations, nurses who work in labor and delivery, mother-baby, or pediatrics will find her platform resourceful. Her posts also debunk common breastfeeding myths and have cultivated a community with inclusive highlights of mothers. 
Instagram: @the_melaninmilk
Dr. Donté Flanagan, DNP, CRNA
Nurse anesthesiologist, lecturer, and learner, Dr. Flanagan is the founder of the Bigger Dreams, Better Tomorrow Foundation, dedicated to increasing diversity and leadership within the nurse anesthesia profession. The foundation's services include the Dream Big Mentorship program, a faculty fellowship program, and a wellness group dedicated to mental health support for Black nursing students and CRNAs.
Instagram: @doc.flanagan
Dr. Beverly Malone, Ph.D., RN 
Dr. Malone is the CEO and President of the National League for Nursing. She has truly led an inspiring career as a leader in nursing policy, education, administration, and clinical practice. A former president of the American Nurses Association (ANA), Dr. Malone also served as the Deputy Assistant Secretary for Health within the U.S. Department of Health and Human Services and was the general secretary of the Royal College of Nursing. 
Throughout her career, she's been a vocal advocate for safe, culturally competent care to diverse patient populations, and has participated in policy and program development and other issues related to the nation's public health.
Twitter: @DrBevMalone
Renee Dyson, RN
Renee is the founder of New Nurse University, a tutoring service that aims to improve academic performance and help new nurses jumpstart their careers. New Nurse University also offers NCLEX prep, test-taking strategies, and mental health support. With her platform and services, Renee is on a mission to bridge the gaps in nursing education through educational training and quality improvement planning.
Instagram: @newnurseuniversityinc
Tola Ola, RN
Tola is the founder of Nurses of Faith, where she provides coaching, career tips, and community resources for nurses. As a life coach and career strategist, Tola's unique faith-based approach supports nurses' growth in their careers and life. You can also join her daily 7 a.m. EST calls to start your day off with positive and motivational prayer. 
Instagram: @nursesoffaith
Dr. Scharmaine Lawson, DNP, FNP, PMHNP- C
Dr. Lawson is an award-winning nurse practitioner and entrepreneur who thrives on empowering others through motivational speaking and education. She created The House Call webinar course series to teach nurses practitioners how to start and maintain a household practice. Dr. Lawson is also the author of the children's book series Nola the Nurse, which gives kids an inside look into different nursing specialties while using characters and storylines that encourage cultural sensitivity. 
Instagram: @dr_lawson_np
Aspen University can help you advance your career with our affordable online RN to BSN, MSN, and DNP degree programs. Looking to become an RN? Consider the BSN Pre-Licensure program.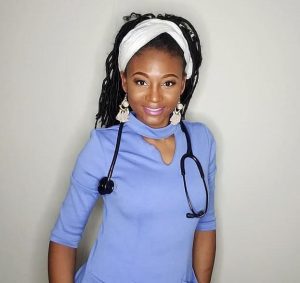 Portia Wofford is an award-winning nurse, writer, and digital marketer. After dedicating her nursing career to creating content and solutions for employers that affected patient outcomes, these days, Portia empowers health practices to increase growth opportunities and become the number one providers in their communities through engaging content that connects and converts. Follow her on Instagram and Twitter for her latest.