If you are a new nurse graduate about to enter the job market for the first time, or an active nurse looking to transition into a different role, you will need your nursing resume to be excellent if you want to give yourself a chance to stand out and compete.
Resume-reading robots, highly-coveted career opportunities, high salaries, increasing demand nationwide, and continuously changing application requirements are just a few factors that influence the highly competitive job market for nurses. With a strong nursing resume, you will be able to communicate all of your skills, expertise, and accomplishments concisely to your employers, helping you put your best foot forward.
This article will help guide you through the resume-building process, including what to do and what not to do, tips and tricks, standard formatting requirements, and much more!
Before delving into the necessary components of an intense nursing resume, it is important to highlight some helpful information, like ATS systems and formatting styles, that you will need to keep in mind and, in some cases, adhere to while crafting your resume.
Table of contents
TLDR
Your nursing resume can have a huge impact on your career opportunities; crafty wisely, and adjust each resume to the job description of every job you apply for.
Resume-reading software exists that screen applicants, but they come with flaws you need to be aware of so you don't get DQ'd over a technicality.
You will need to be intentional with your wording, and adhere to specifications while crafting your resume.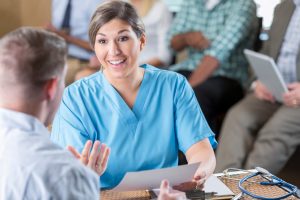 What is a master resume?
It is wise to begin with a "master resume" that will act as the starting point and base for your other resumes. Your master resume will include all of your essential information; however, you should be able to cut and edit sections while maintaining the resume's integrity. The idea is to afford yourself the ability to edit sections of your resume that are consistent with the job details of the position for which you are applying.
Using a master resume will allow you to "recycle" and reuse it many times, customizing it for each posted position instead of preparing a new resume each time.
Navigating the online application process
Advancing technologies bring pros and cons to the application process. The days of going door to door handing out resumes to prospective employers are far gone. Now, it is as simple as uploading your resume, finding an employment opportunity, and clicking send.
Resume-reading software (ATS)
It is important to note that many companies now utilize resume-reading robots (really, it is just software) to screen applicants. The software is called Applicant Tracking Software (ATS), and it can be programmed to scan for specific keywords or to include or disclude certain criteria. For example, an employer can ask the ATS to filter candidates with an active nursing license or candidates who have a BSN, disqualifying candidates with only an ADN or whose nursing license is not active.
ATS programs collect data, and the software is only concerned about where a keyword is located and how it is used, not with aesthetics or crafty language. These programs are notorious for confusing abbreviations, fonts, and symbols, so be sure to spell everything out and use a traditional, academic font (see below for more details). The last thing any job seeker wants is to be DQ'd because of technicality.
Our tip: read the job description and use the same exact phrasing from the job listing in your resume for the qualifications and skills section.
When applying for a job online, it could be difficult to distinguish yourself, especially with an ATS! The following are lists of things you must and must not do to give your resume a chance to get past the ATS.
To get past the ATS, do this:
Customize your resume to the specific job posting by carefully reading each job description and including essential keywords found in the 

qualifications

, 

expertise

, and 

experience

 sections.

Align your skills and abilities with the keywords, qualifications, and requirements outlined in the job posting to demonstrate that you have what it takes for this role.

Carefully study the employer and customize your resume to the organization's principles and culture.

Bolster your resume with confident statements within the upper third (1/3) of the document.

Strengthen your claims by providing supporting evidence.

When applying for a role, make sure you meet all of the "Required Qualifications," as your experience and skills must be an ideal fit.

Choose the most readable fonts, such as Times New Roman, Arial, or Calibri.

Font size should be kept between font sizes 10 and 12.

Use simple symbols, like black dots for bulleted lists.

Save your resume as a .doc, .docx, or .pdf format.

To ensure that the abbreviation or acronym is correctly captured in an ATS system, always spell out the words before using them.

Use straightforward titles such as "Work Experience" or "Education" for each section.

List specific skills, including:

Settings in which you've worked

The patient population you have cared for

Healthcare system software in which you are proficient (EMR/EHR)

Type of medications administered

Equipment used
Do NOT do this – ATS will likely disqualify you
Use the title in the job description; do not include your title from your previous employer if it is different from the title of the position for which you are applying. 

Do not overdo the keywords. Overuse could trigger the ATS system to grade your resume lower – and using keywords without context will not help you either.

To ensure your contact information is seen, refrain from placing it in the header section, as ATS may not be able to detect it.

Do not include tables because many ATS systems cannot read the table unless programmed.

Keep header titles basic and simple.

Do not include headshots, photos, special fonts, graphics, etc.

Do not include "references available upon request."

Most ATS only scan the top 1/3 of a resume for keywords – therefore, do not put any important keywords at the bottom of your resume.

Resumes should be written in the third person, and avoid using "I" statements.

Do not rely on a resume builder; they are not dependable.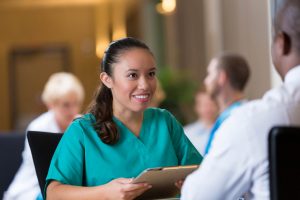 Examples of nursing resumes
Before you create your resume, it is essential to determine which type of nursing template or format would be the most suitable for your needs. There are many nursing resume templates, and although the reverse-chronological structure is considered ideal for nursing professionals, it ultimately comes down to what works best for you.
The three most popular nursing resume templates
1. Reverse chronological format
Most healthcare professionals should consider using the reverse chronological format for their resumes, as this example of a nursing resume prioritizes career history and lists roles in sequential order. This format is ideal for:
New nursing school graduates

Nurses with less than 5-7 years of experience

Nurses attempting to show career progression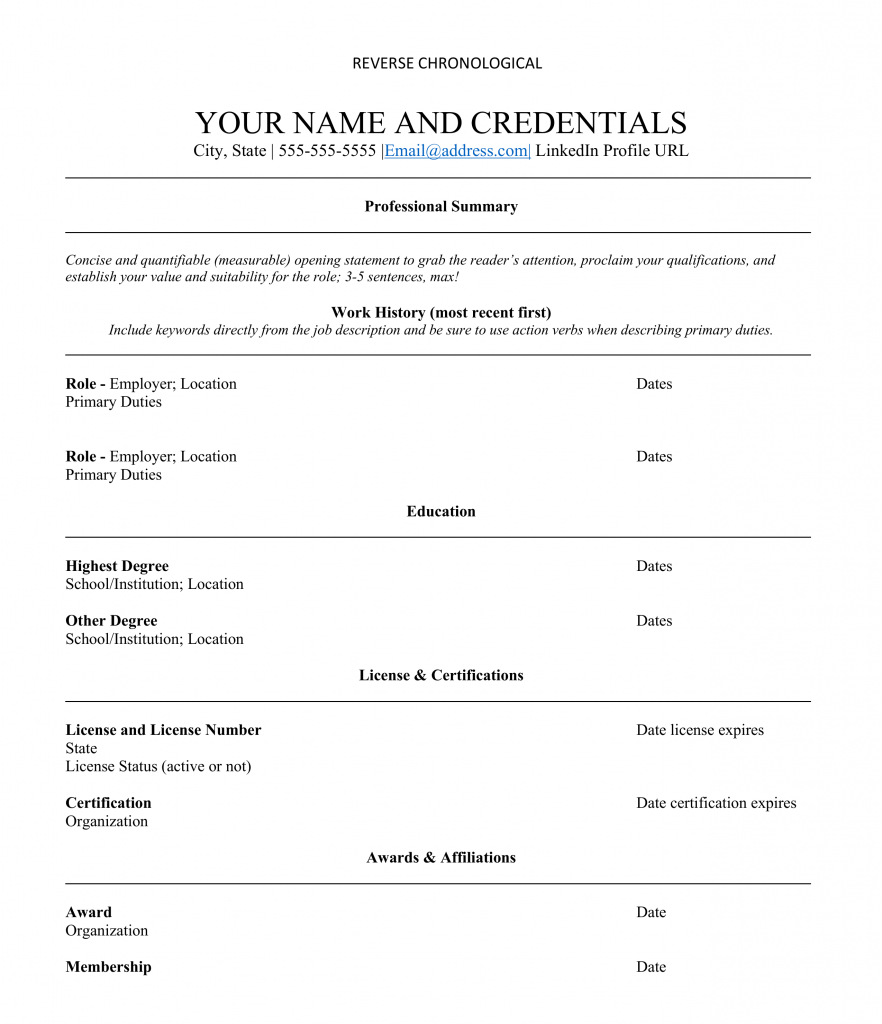 Reverse Chronological Resume Example PDF
2. Functional
format
Although this format highlights your skills and downplays work experience, it does not pass well in automated ATS systems. Also, most hiring managers prefer something other than this layout too. Many strongly advise against using this design for a majority of nurses' resumes; those who opt to use it tend to be:
Transitioning to a new career

Experiencing prolonged periods of unemployment

Experienced in the role that they are applying for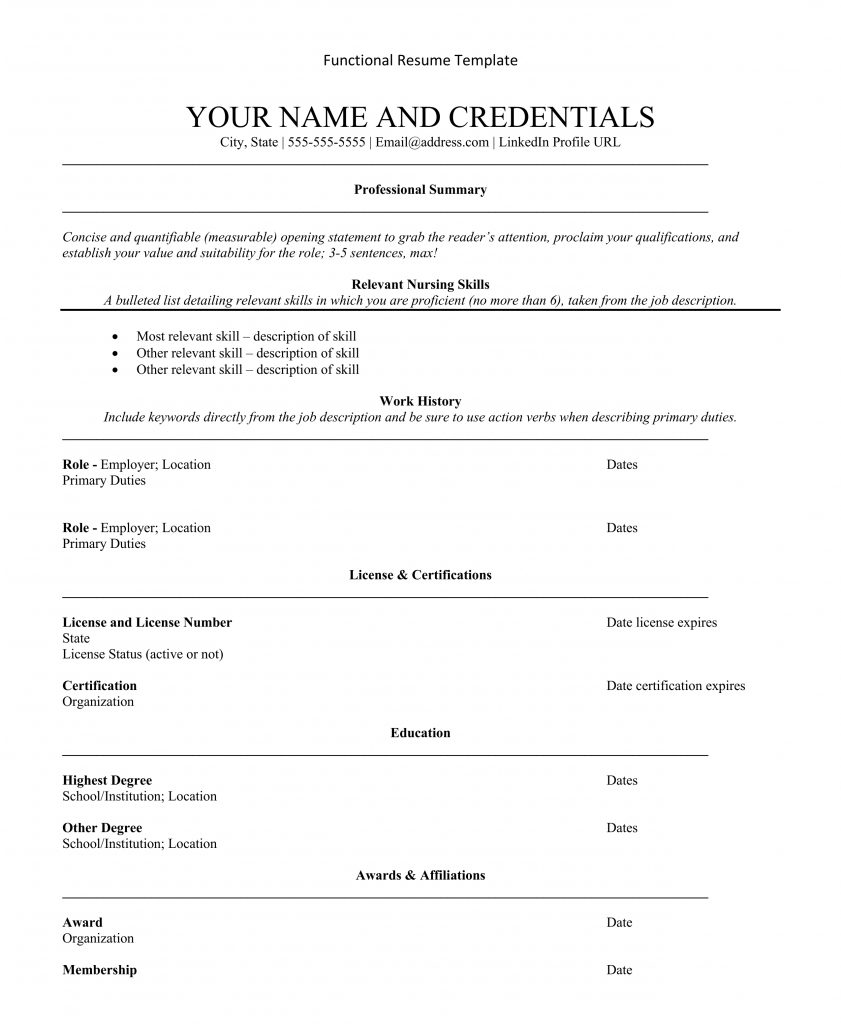 Functional Resume Template Example PDF
3. Combination layout template
If you are a nursing professional with a unique background, objectives, and challenges to overcome, this layout is the perfect combination of a reverse chronological and functional resume. It emphasizes your essential skill sets, capacities, and accomplishments while displaying pertinent work history.
Nurses with multiple specialties

Veteran nurses

Nurses who have experienced brief periods of unemployment

Nurses who want to change careers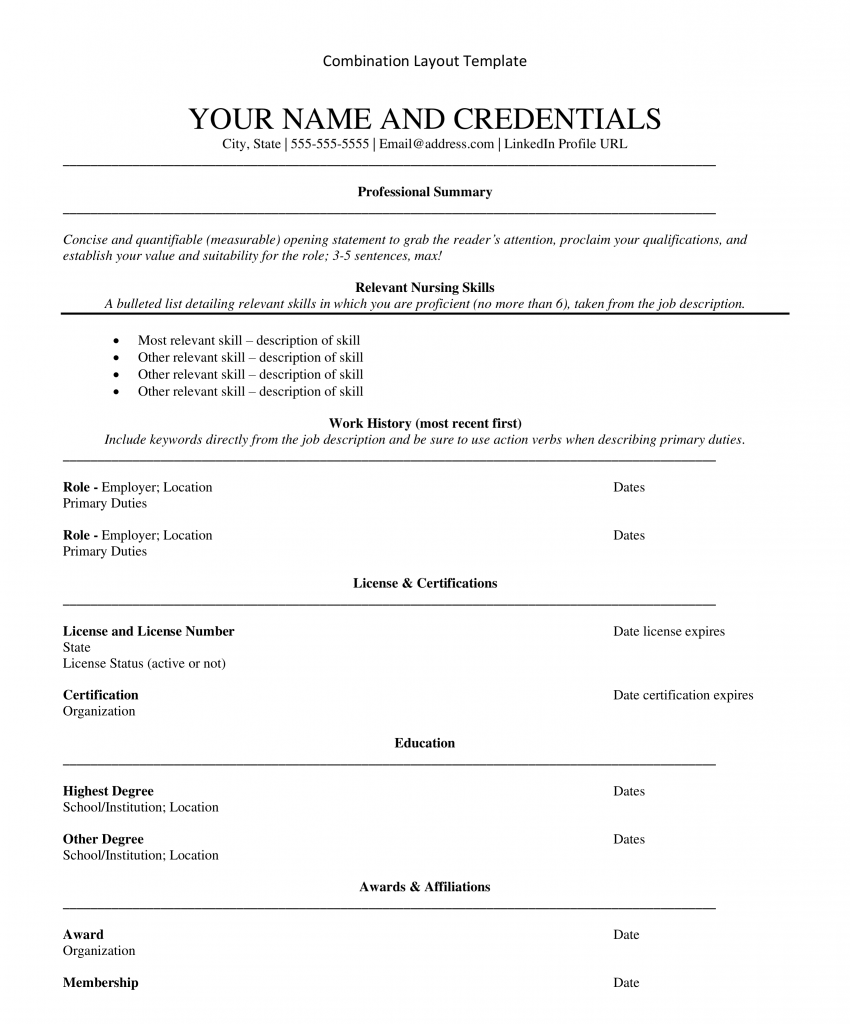 Combination Layout Template PDF
Nursing resume specifications
To guarantee your resume passes an ATS, it must be crafted thoughtfully nd formatted according to the guidelines. Here are some features that can help you in this endeavor:
Margins 
For optimum readability and aesthetic balance, we suggest setting the top margin to 1", with side margins at .63". This is a widely-accepted practice endorsed by many professionals in the industry who believe it creates an ideal ratio between text and blank space.
Alignment
Left alignment is the commonly accepted choice since it's how we (and machines) usually read. Although justified formatting may look neater, this could leave large spaces between words and make your text more challenging to comprehend.
Length
The recommended length is 1-2 pages. But do not fixate on the number of pages too much. Even if it is slightly more than the recommended page count, you can still make adjustments, like changing margins and fonts or rewriting sentences to bring it back into that range. The most important thing is ensuring your resume looks visually pleasing and includes industry keywords in the right places.
Font style
To optimize the ATS's functionality, you should use Times New Roman or Arial fonts. Ultimately, though, this is your decision to make. Just be aware that selecting a font size lower than 11pt for Times New Roman can become hard to read. If you are aiming for an eye-catching resume on paper without overdoing it with design elements – there are options available. However, remember that varying font styles can take up different amounts of space, even when adjusted to the same size. Also, always use black ink.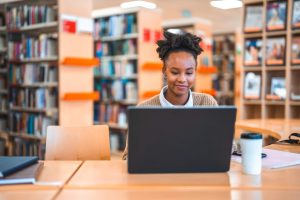 Nursing resume overview – section breakdown
You now understand that ATS systems scan resumes for specific information in a specific order. Keep this knowledge in mind when restructuring or creating your resume because many employers use it. Incorporate the following categories and section headers into your resume to maximize your chances of passing through an ATS.
Contact info
Start your resume off strong by placing your name as the focal point. Make sure it is the most prominent and largest font on the page, making it easy to find for recruiters. There are multiple ways to format this section, but we advocate a classic version that adheres with these suggestions:
Name: 

For an optimal display, we suggest formatting the name in a bolded font size of 18-22. If you go by another alias or nickname, include both versions on your resume for clarity and visibility.

Nursing credentials: 

The American Nurses Credentialing Center (AACN) recommended order is: Highest academic degree attained, Professional license obtained, National certification held.

City/State: 

We highly recommend omitting your street address as a security measure, though it is ultimately up to you. But certainly, do not omit this information since that could lead to the ATS rejecting your resume.

Phone number: 

For potential employers, texting is a great way to communicate with job candidates. Ensure that you have made clear whether your contact number is for either a cell phone or a home phone; furthermore, ensure that your voicemail is professional and contains your full name. 

Email address: 

To avoid age discrimination in your job search, it is strongly recommended that you have a professional email address that does not divulge any personal information, such as your birth year. A great option would be to create an email with a variation of your name and some numbers if needed. You can create an entirely new account and use it exclusively for job hunting.

LinkedIn profile: 

If you already have a LinkedIn profile, include it. If you still need to, take advantage of the many possibilities this platform can open up for you. Now is the time to create one, and in your settings, you can quickly generate a concise URL without all of those pesky numbers and letters.
A note regarding social media: Prospective employers will most likely investigate you online, and recruiters have expressed that they often start by examining candidates on Facebook, LinkedIn, Instagram, and Twitter. So, it is essential to ensure that everything posted is something you would be comfortable with an employer seeing or reading. However, your online presence could benefit you – if you have accomplished a successful online blog, website, Youtube channel, etc., and it relates to the job that you are applying for, then by all means, include it in your resume!
Professional summary
Do not leave your employer or ATS in the dark; make it clear from the beginning why you are indisputably the best candidate for this role.
This is your chance to make the most of your resume and appeal to automated tracking systems (ATS) and potential employers. Take some time fine-tuning your professional summary so that you can truly showcase your qualifications and achievements in a way that stands out amongst other applicants.
When deciding how to present your resume, a professional summary over an objective statement is highly recommended. The summary can either be presented as a brief paragraph or in bullet-point form and should effectively communicate your qualifications and career experience in one succinct snapshot.
Crafting a professional summary unique to you and applicable to the role listed is essential, just like you would with a customized cover letter. It is scientifically proven that this precision increases your chances of success.
Nursing skills and areas of expertise
Relegating your skills section to the bottom portion of a resume could cost you an interview. This is particularly relevant for individuals like nurses with specialized positions, where particular abilities are mandated and presented within the top ⅓ area of your nurse resume.
Ensure that every skill listed (bulleted lists are fine) on your resume directly correlates with what is in the job description; this way, employers will recognize how suitable you are for their role.
Licensure
While nurse resumes often include their licensure titles, they may neglect to mention two very important details – whether the license is active and valid and its expiration date. Not listing this information can leave employers in the dark when determining a nurse's qualifications for employment. 
This information is important because it tells employers that you can start immediately or that they would have to wait for the licensing process to finish before hiring you.
Certifications and credentials
ATS systems may not be programmed to pick up acronyms or abbreviations, so you must list and spell  of your certifications and credentials. You will want to include the accrediting body, credential/certificate number, and when the license expires.
For example, Pediatric Advanced Life Support (PALS), American Red Cross, expires 2/10/25, instead of just "PALS Certified".
Work history
Employers need to understand what you can bring to the organization. Nurse recruiters look for tangible evidence in this portion of your resume that supports statements made in your professional summary – strong proof is key! Employers require quantifiable facts and figures that vouch for your professional accomplishments.
Arrange your relevant experience in reverse chronological order. 
This will show employers your most recent role and responsibilities and how long you were in that role. For each role, include the following information:
Facility name

Employment dates

Unit-specific information (patient demographics, total unit beds, EMR/EHR, awards or designations, etc.)

Primary duties/responsibilities included within the role
Showcase your best nursing duties, achievements, and accomplishments on a bulleted list of no more than six points. Being specific regarding your role's responsibilities will be far more beneficial than being ambiguous or simply repeating a few generic duties. Utilize the space wisely on your resume so potential employers can learn about you and your skillset and experience.
Here is a list of a few prompts to help you brainstorm specific details for the primary role/responsibility section of your resume: 
What medical issues do you specialize in treating?

What illnesses or injuries do you work on?

What medications can you administer?

What treatments/therapies/interventions can you perform?

What equipment are you proficient in using?

What is your greatest accomplishment in each role you have held?

Have you been publically acknowledged for an achievement? If so, what was it?

Are there any statistics or data that support the impact you have?
Important note:
When listing your primary responsibilities, start the sentence with a strong verb, and include quantifiable data or information regarding a specific and relevant responsibility.
Achieved

Amplified

Attained

Capitalized

Chaired

Consolidated

Deciphered

Decreased

Discerned

Drove

Enacted

Endeavored

Established

Exceeded

Founded

Pioneered

Outperformed

Overhauled

Sharpened

Shattered

Sparked

Spearheaded

Steered

Stimulated

Streamlined

Strengthened

Supervised

Surpassed
Source: Indeed
Action verbs to bolster the responsibilities section
Accelerated

Accomplished

Analyzed

Assembled

Built

Charted

Created

Constructed

Coordinated

Delivered

Developed

Executed

Expanded

Facilitated

Finalized

Forged

Guided

Handled

Headed

Improved

Increased

Initiated

Implemented

Instituted

Operated

Organized

Produced

Reached

Simplified

Volunteered
Source: Indeed
Strong, positive adjectives for your nursing resume
Productive

Attentive

Hard-working

Professional

Balanced

Honest

Qualified

Broad-minded

Independent

Realistic

Cheerful

Inventive

Reliable

Committed

Knowledgeable

Resourceful

Compassionate

Mature

Responsible

Conscientious

Motivated

Consistent

Objective

Tenacious

Creative

Patient

Persistent

Trustworthy

Dynamic

Proactive 
Source: Nurse.org
Education
For nurses, the importance of education and training cannot be overstated. If you have experience in the field, this section can simply list your qualifications chronologically. Showcase any academic achievements that you have acquired throughout your career to show potential employers your commitment to professional development and growth.
We suggest listing your degree or certificate before the institution in which you received it. For example:
Bachelor of Science in Nursing (BSN), Aspen University
It is up to you whether to include your graduation year, but remember, age discrimination is real. So, if you graduated more than 10-15 years ago, you may want to leave out that information. The same goes for GPA; it is optional to include, and you can list it if you feel it will give you a competitive edge.
Also, it is optional to include degrees or certifications unrelated to nursing, should you possess one. However, some nurses who make a career transition will include this information if it brings value.
Lastly, if you are currently in higher education to advance your nursing career, it should be listed on your resume as either pending or in progress. However, if you began a graduate program but do not plan on finishing – or never did – then there is no need to include that information.
Awards, accomplishments, and affiliations
While this area is not mandatory, it is a great idea to include any awards and accomplishments related to nursing in your application. This will provide the employer with more evidence regarding who you are as a nurse and demonstrate your commitment and dedication to the profession.
Awards and recognitions from the facility where you work, like Employee of the Month or Nursing Excellence Award.

Memberships to professional 

organizations

 relating to nursing/healthcare 

Volunteering (make sure it relates to nursing) 
Saving and naming your nursing resume
Saving your resume and properly naming it is essential – it saves time for employers who must screen multiple resumes from various applicants. Make sure to indicate which document contains your resume. This way, you will easily stand out in their inbox and ensure they can quickly find what matters most: your qualifications!
Many recruiters prefer to classify these documents by specialty, so we suggest saving and naming your file as: FirstandLastName_Specialty_resume.doc – so it reads like, FlorenceNightingale_NICU_resume.doc

Common nursing resume mistakes
Misspellings and grammar

Revealing age/birthday

Including salary details

Including personal information such as religion, marital status, kids, etc.

Using ONLY a nickname

Outdated information

Including first-person pronouns

Contact information in the header (ATS will not register this)

Unprofessional email address

Inappropriate voicemail greetings

Misnaming a resume document
FAQs
1. What should be included in a nursing resume?
When it comes to crafting a great nursing resume, there are certain key elements you must include. Most importantly, list your certifications and qualifications as a nurse so that recruiters know you have the necessary skills and knowledge for the job. You should also list any specializations such as geriatrics or pediatrics, as well as relevant experience in health administration, patient care management, and other areas of specialization. Additionally, include your education history and make sure to highlight accomplishments such as awards or recognition you have received. Lastly, don't forget to add in any additional skills that could set you apart from other candidates. 
2. Does every employer use ATS? 
Understanding the use of applicant tracking systems (ATS) is an important part of job hunting. However, not all employers utilize them as part of their recruitment process. Some employers still prefer to evaluate resumes and review candidates manually, while others have embraced technology and use ATS technology to streamline their recruitment processes. Before applying for a job it can be beneficial to ask potential employers whether they make use of an ATS or other automated technology in order to make sure your resume reaches the right person. Even if you don't land a job with them, networking can still provide valuable opportunities for future endeavors.
3. How to spot an ATS?
One of the best ways to spot an Applicant Tracking System (ATS) is by understanding how employers may use them. When you apply for a job online, your application is typically routed through an ATS. In many cases, it's nearly impossible to identify that your information has been processed by an ATS unless the employer lets you know. However, if you are sent a computer-generated email or get an automated response after submitting your application, there's a good chance that they are using an ATS. Another indicator might be if paying attention to the language used in the job description or even the website – if it feels too robotic and lacks personality, then there's likely some automation at play. Knowing how to spot an ATS can help inform when, where and how to craft applications that will have the highest chance of success.
4. How far back should a resume go?
The length of a resume should be tailored to the type of job you are applying for. Most resumes for entry-level positions should include the last 10 years of experience, whereas executive resumes need to list 20+ years of employment history because those roles often require specialized and extensive experience. Additionally, think about what specific experiences you want to highlight on your resume – it should include enough information that demonstrates your career progression without becoming too long or overwhelming. A well-organized and focused resume will clearly outline your qualifications in a manner that impresses potential employers while still not going too far back in time.
5. How long should a nurse's resume be?
When it comes to resumes, length matters. A resume that is too long can overwhelm employers, while one that is too short can underwhelm them or give the impression that you don't have much to offer. The best approach is to keep your resume concise and focused; sticking to one page unless absolutely necessary. When in doubt, edit out any unnecessary words or information and focus on the experiences and skills you possess that relate most closely to the job you're applying for. By doing this, you'll make sure employers get everything they need from your resume, without wasting their time on irrelevant details.
6. What does a resume-building service do? 
A resume-building service can provide invaluable assistance in outlining a job seeker's experiences, qualifications, and skills in a concise and effective way. They specialize in making sure your resume is up to date and formatted correctly for the position you're applying for. It's more than writing; it's creating a professional profile tailored to your specific industry. A resume-building service can help you stand out from the competition by drawing attention to accomplishments, strengths, and other elements that hiring managers are looking for when reviewing resumes. In addition, they can identify words or phrases that need to be included to appeal to potential employers, as well as suggest sections that need refinement. For those who wish to customize their own resumes, these services offer advice on what content should be included while giving useful tips on how each section should look. With a resume-building service at your side, you can have confidence knowing your resume will represent the best version of yourself!
7. Is it worth paying for a resume-building service?
When considering whether or not to invest in a resume-building service, it's important to consider the potential benefits of such an investment. Not only will a professional resume impress potential employers and help you stand out from other applicants, but these services often also offer comprehensive support throughout the hiring process, such as providing interview advice and feedback on how to make your application stronger. Additionally, many of these programs bolster confidence by helping job seekers think more strategically about their experiences, abilities and qualifications. With all this in mind, for those considering investing in a resume-building service, it may be an invaluable job-hunting tool that can enhance the effectiveness of your materials and potentially make landing a dream job more achievable!
Conclusion
Now that you have all the information necessary to craft a strong resume, remember to update it when you apply for other jobs. You always want to customize your resume for the position you are applying for, which may include changing your keywords or adding relevant accomplishments or clinical rotations. 
Your resume is your chance to market yourself and stand out from other applicants. Use this as an opportunity to highlight what you have to offer. Leverage your resume to do more than just reiterate job descriptions. Use it to sell yourself. And if you have limited nursing experience, focus on the clinical skills that will benefit your new role. 
Next steps
Once you get past the application process and land your first (or next) job interview, here are some common nursing interview questions to consider in your preparation. 
If you want to expand your resume further, consider Aspen University's online RN to BSN, MSN, and DNP programs to help you advance your nursing career.
Resources for nursing resumes