Home health nursing, or an in-home care nurse, is an amazing career for those who want to make a difference in patients' lives. In-home care nursing allows you to work one-on-one with patients in their homes, providing them with the care and support they need to recover and maintain their health. If you're thinking about pursuing a career in-home health nursing, read on for more information about what this job entails, the necessary qualifications, and the optimistic job outlook.
Table of contents
TLDR
Home health or in-home care nursing allows registered nurses to provide medical treatments and interventions in the homes of patients.
The career outlook for in-home care nurses is positive with a 25% expected growth over the next 10 years, and an average annual salary of $87,359 
You do not need to have a bachelor's degree to be a home health nurse, but it will help advance your career and provide greater opportunities and earnings over the course of your career.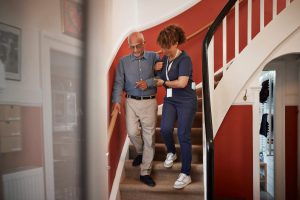 What is home health? 
Home health care covers a lot of ground. It can be any kind of health service that you need in your home to treat an illness, injury, or condition. Home health care is usually less expensive, more convenient, and often just as good as what you get in the hospital or from a skilled nursing facility (SNF).
Home health care is synonymous with in-home care, both terms can be used interchangeably (same as these terms as well: Medicare-certified home health care, intermittent skilled care, or visiting nurse services). 
What is an
in-home care nurse (aka a
home health nurse)?
Home health nurses offer an invaluable service to their patients and the wider medical community. Home health nurses are specialized medical professionals whose job it is to provide medical care to individuals in their homes, either as part of a prescribed course of treatment or as a preventative measure. 
What do in-home care nurses do? 
If you choose to work as an in-home care nurse, there is a lot of flexibility in terms of patients and specialties. You can visit multiple patients each day or focus on one long-term patient. You can also specialize in one area or select several areas to focus on, such as gerontology, pediatrics, medical or surgical nursing, community or public health nursing, and psychiatric or mental health nursing. 
Home health offers personalized care plans tailored to meet each individual's needs while providing the opportunity to remain in the environment they know best – home. 
It is important to note that the type of care a home health nurse can provide is based on their credentials. For instance, a registered nurse (RN) will have different abilities, limitations, and restrictions than a licensed vocational nurse (LVN) or a nurse assistant (NA), but all three are capable of providing in-home nursing care. 
Depending on licensure, in-home nurse care can provide a wide range of services, such as: 
Assistance with activities of daily living

Wound care (pressure sores or surgical wounds)

Nursing interventions/Skilled nursing care

Helping patients with mobility issues 

Developing medication management plans

Medial monitoring and treatments

Home health aide services 

Medical social work

Educate and counsel patients and family members on topics such as nutrition, basic nursing skills, and everyday life support 

And many other duties
In-home care nurses aim to improve the quality of life and patient outcome. With in-home care becoming increasingly important in today's world, the expertise of in-home care nurses is more valuable than ever before.
The objectives of an in-home health nurse:
Heal

Maintain or improve the level of function

Prolong mental/physical decline

Recover independence
How to become an in-home care nurse
Educational requirements to be a home health nurse
The education required to become a home health nurse includes either an associate's or bachelor's degree in nursing from an accredited university or a diploma from a credible nursing program. Some nurses choose to attend a master's degree in nursing (MSN) for additional or specialized training which could really have a large impact on career opportunities and earnings. 
Work experience necessary to become an in-home care nurse
Though not required, in-home care nurses will benefit from several years of experience working in the field before committing to becoming an in-home care nurse. An in-home care nurse needs to know what to do and how to do it alone – because it is likely that they will be the only medical professional around if a medical emergency should arise. Therefore, they need experience, technical skill, and knowledge to navigate these, often, unpredictable assignments.
Certifications needed to
be a home health nurse
Generally, home health nurses must also pass the National Council Licensure Examination for Registered Nurses (NCLEX-RN) and obtain their RN license from the state board of nursing. Additionally, home health nurses can opt to become certified in specialty areas such as geriatrics, hospice care, and long-term care, requiring additional professional certifications. 
However, Licensed Practical Nurses (LPNs) will need to pass the National Council Licensure Examination for Practical Nurses (NCLEX-PN) in order to practice as an in-home care nurse. And Certified Nurse Assistants (CNAs) can obtain certification but are unlicensed. 
Skills required to be a home health nurse
Positive attitude

Able to work alone

Excellent problem solving

Integrity

Endurance 

Compassion

Communication

Documentation

Detail-oriented 

Interpersonal skills

Career outlook for home health registered nurses
The job growth for in-home nursing is projected to be around 25% over the next ten years. The annual salaries in the US for home health nurses range from as low as $39,000 to as high as $143,500. The average salary falls between $67,000 (25th percentile) and $100,000 (75th percentile), but top earners make upwards of  $124,900 (90th percentile). Your potential earnings depend on various factors such as location and experience level; however, there may be many opportunities for advancement and increased pay based on skill level.
Average annual salary for an in-home care nurse with an RN license:
Salary range for in-home care nurses with an RN license: 
Top

5 states

with the highest average annual salary for in-home care nurses
California – $101,520

Hawaii – $94,000

District of Colombia – $86,480

Massachusetts – $84,600

Oregon – $84,600
Top

10 cities

with the highest annual salary for in-home care nurses
Green River, WY – $108,903

Atkinson, NE – $108,023

San Francisco – $100,735

Bolinas, CA – $100, 429

Cool Valley, MO – $100, 279

Washington, DC – $99,939

Fremont, CA – $98,512

Los Angeles, CA – $98,489

Brownsboro, TX – $98,327

Jersey City, NJ – $98,325
Source: ZipRecruiter; BLS; Vivian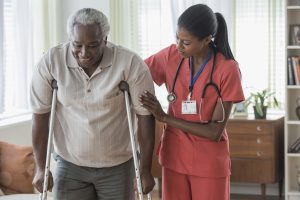 The different types of in-home care nursing careers available
Home health nursing is an incredibly rewarding career field full of diverse opportunities. From assessing patients' medical needs and administering treatments, to offering support and providing education, there's something for everyone. Generally, the three main types of home health nurses are Online Nurse Consultants, Home Health Care Nurses, and Geriatric Care Managers. Online Nurse Consultants offer invaluable resources such as patient symptom education and preventive care advice through virtual visits or video calls. Home Health Care Nurses use a hands-on approach to address comprehensive healthcare specific to each individual they visit. This includes assessment and monitoring of patients, medication management, wound care, and more. Finally, Geriatric Care Managers provide a holistic approach to care by taking into account all aspects of their elderly clients' lives including social stressors, physical activities mandates, financial status–you name it! In-home nursing is a truly special calling indeed—who wouldn't want to help those in need from the comfort of their homes?
The benefits of working as an
in-home care
nurse
Working as a home health nurse offers numerous benefits, both personal and professional. It allows you to develop relationships with patients and their families that extend beyond the typical visit since you become part of the family. You can also see progress over the course of care instead of discharging a patient when they are no longer acutely affected. As an in-home care nurse, you can work with fewer staff members than when in a hospital setting, giving you more autonomy and allowing you to take leadership roles. Additionally, there is job security in working as a home health nurse since there will always be a need for these services. Home health nursing allows nurses to provide compassionate care while making an impact on the lives of patients and their families without sacrificing one's career goals or growth opportunities.
More career opportunities and flexibility

More independence

Rewarding relationships with patients 

Larger impact on individual patients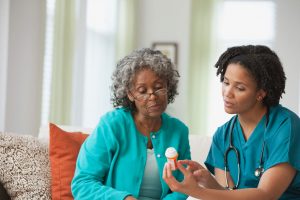 The challenges of working as an in-home care nurse
Working as a home health nurse can be incredibly rewarding, however, it also presents some major challenges. Home health nurses must have exceptional organizational skills, as they are often managing multiple patients in different locations on their own with limited access to other healthcare personnel. Additionally, they must be prepared to respond to emergency situations quickly and efficiently while working in unpredictable environments such as private residences or outdoor settings. Finally, home health nurses need to face the responsibility of providing safe and trusted care while respecting the patient's privacy and dignity in their own physical space. It is an honor and privilege to work alongside clients providing them with safe and quality care in the comfort of their own homes.
How to find a job as a home health nurse
Being a home health nurse can be a rewarding career, as you have the ability to help people within their own homes. Finding the right job for you can take some time, but there are a few key steps to help get you started. Think about what areas you'd be interested in specializing in and what type of service or patient population you prefer to work with. It's also important to network and make connections with peers or supervisors who may be aware of suitable job openings. Make sure your resume is up-to-date, highlighting your experience while ensuring it looks professional and polished. You should also research job openings online, as many hiring companies will utilize internet postings – offering valuable insight into current opportunities that may not be marketed through traditional platforms. If all else fails, don't forget the power of patience – often times great jobs just need the right applicant to step forward! With these tips in mind, finding a role as a home health nurse can become one step closer to reality.

Conclusion 
Home health nurses are an important part of the healthcare system. They provide critical care to patients in their own homes and help them recover from illness or injury. The education and training required to become a home health nurse could be rigorous, but the benefits of this career are many. Home health nurses enjoy a flexible work schedule, the opportunity to make a real difference in people's lives, and job security. However, working as a home health nurse can also be challenging. Nurses must be able to manage difficult situations and communicate effectively with patients and their families. If you are interested in becoming a home health nurse, there are many resources available to help you find a job in this field.
FAQs
1. Can home health nurses work with a healthcare facility

?
Yes. There really is a lot of flexibility for in-home nurses, especially those with an RN license. You will be able to practice in just about any other healthcare setting where other registered nurses are employed. 
2. Do I need a bachelor's degree to be a home health nurse? 
While it will certainly help your career opportunities and earnings, you do not need a bachelor's degree to become a home health nurse. However, you will still need to obtain your RN license from the state in which you practice. LPNs and CNAs are also eligible to become in-home care nurses, however, they will also need to have their respective credentials from their practicing state, and their scope of practice will be limited based on their credentials. 
3. Different types of in-home nursing care:
Non-medical personal care (personal care and companionship): 

Personal care professionals help with regular activities of living, such as cooking and cleaning. They are

not medical personnel

but are educated to lend a hand with necessary everyday tasks for those who have difficulty completing them independently because of chronic illness, age, or disability.

Assistance with self-care, such as grooming, bathing, dressing, and using the toilet

Enabling safety at home by assisting with ambulation, transfer (eg, from bed to wheelchair, wheelchair to toilet), and fall prevention

Assistance with meal planning and preparation, light housekeeping, laundry, errands, medication reminders, and escorting to appointments

Companionship and engaging in hobbies and activities

Supervision for someone with dementia or Alzheimer's disease
Also known as: non-medical care, home health aide services, senior care, homemaker care, assistive care, or companion care
Private duty nursing care:

Home nursing care, which is sometimes called long-term nursing or home-based skilled nursing, helps seniors who have a chronic condition or disability. The people who provide this kind of care in someone's home are

RNs

(registered nurses) and

LPNs

(licensed practical nurses). In addition to helping with everyday tasks like eating and bathing, they often give medical care that requires training, like dressing a wound or giving shots. They also may check things like vital signs regularly.

Care for diseases and conditions such as Traumatic brain injury (TBI), Spinal cord injury (SCI), ALS, MS

Ventilator care

Tracheostomy care

Monitoring vital signs

Administering medications

Ostomy/gastrostomy care

Feeding tube care

Catheter care

 
Also known as: home-based skilled nursing, long-term nursing care, catastrophic care, tracheostomy care, ventilator care, nursing care, shift nursing, hourly nursing, or adult nursing
Home health care

Home health care is similar to nursing care in that it helps patients with short-term illnesses or injuries, but the focus is on allowing them to live independently again. Home health care professionals can include: 

Short-term nursing services

Physical therapy

Occupational therapy

Speech-language pathology

Medical social work

Home health aide services

physician assistants

 
Also known as: medicare-certified home health care, intermittent skilled care, or visiting nurse services.
Hospice and Palliative care

Care for pain and relief of symptoms for any stage of illness, including emotional and spiritual care at the end of life. 
Next steps
Resources
Home health nursing organizations
If you're looking to level up your nursing career, check out our affordable and accredited online nursing programs where our tuition payment plans start as low as $250 per month for our RN to BSN program, $325 per month for our MSN program, and $375 per month for our DNP program.