Dr. Zachary Nethers' career spans many areas, from the army and EMT to bedside nursing and academic leadership. But all of his accomplishments are driven by three things; his love for education, travel, and serving communities. Even though Dr. Nethers already obtained multiple advanced degrees, his own student journey continues as he currently pursues an Ed.D. in Higher Education Learning at Aspen. He hopes to create a new generation of nurses equipped to serve vulnerable patient populations. 
What's your role at Aspen? I'm the BSN-Pre Licensure program director at our Tampa campus location. My role entails overseeing the BSN program and the daily operations and all of the courses for the nursing program.
Are you from Florida? I'm originally from Ohio, a small town. I grew up on a farm with pigs and cows.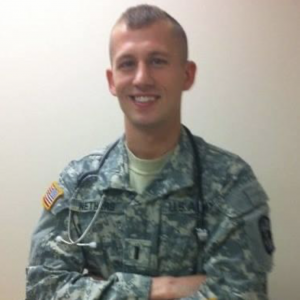 What was your career background before Aspen? I have experience in pre-licensure and post-licensure nursing programs, from associate through doctoral degree level, and directing on-ground and online hybrid nursing programs. I've held various staff nurse and leadership roles from acute care to patient safety. Also, I've served in the U.S. Army as a Captain and Combat Army Nurse. I joined because I had a passion for serving our community at an even broader level, and it felt like commissioning into the army would help me meet this goal.
What inspired you to get into nursing? Attaining a degree in healthcare was always a dream of mine since I was a little boy. Then, after a family tragedy occurred, my father was flown to a burn center. He spent many months recovering, with burns expanding more than 50% of his body. Seeing the compassion and great care that the nurses and staff provided to him is what really inspired me. I wanted to provide that same care to other individuals, and I knew that nursing was my calling.
Why is advancing your education important to you? Continuing with my education was really instilled and became important after my grandmother had a conversation with me. She stated that 'People can take so many different things away from you, but one thing that no one can ever take away is your education.' This stuck with me and was a starting point for why I continued my education and attained higher degree levels. Before that, I was just focused on staying as a bedside nurse. But each degree level then taught me that moving forward is very imperative.
What are your personal interests or passions? Education and travel are my biggest passions. Once I got into the military, I started to travel more, and I realized seeing different cultures was a great passion. I worked as a travel nurse and served a community in Texas. It was difficult for me to submerge myself into a different culture that had primarily Spanish-speaking clients. I learned a lot, and it was very linguistically competent for me as I did have a working proficiency in Spanish. My next goal is to travel the world and submerge myself in different cultures.
What do you think makes Aspen unique? I think Aspen University is special from other universities. The school focuses on the dedication and motivation of students, faculty, and staff. Our Tampa campus is brand new and offers state-of-the-art high-tech fidelity simulators and individual hospital simulator rooms, including a home health firm. The simulator is staged to look like an apartment so that students may receive real-life scenarios and practice implementing the care in a safe, educational environment.
Are there any specific healthcare needs in Florida the Tampa campus is addressing? In Florida, we have an aging population, as many individuals come to Florida to retire. So we have an older population that we need to care for, which creates a bigger need for nurses. We're especially seeing a greater need for home health care. It's very exciting that we have this home health [simulator] where students can actually practice the skill sets.
What is your educational philosophy? Creating and inspiring leaders and nurses equipped with the skill sets to improve the current state of education, healthcare, and the communities we all live with is vital.
You've focused on vulnerable populations throughout your career. Why is that an area of nursing you're particularly passionate about? When I was working in the ER and the ED, I had a personal situation where a client was having issues with being LGBT and was thinking of harming themselves. That experience created a passion for me to really focus on this community and look at interventions that can help improve outcomes. 
My doctoral manuscript focuses on addressing LGBT health disparities. And my work at a broader level focuses on providing both culturally and linguistically sensitive care to the population served.
Do you have any current goals for the campus? My personal goal for the Tampa campus is to create a diverse faculty, staff, and student body to better care for the diverse population and communities. Our nursing courses will implement cultural and linguistic care, which means caring for a client that does not primarily speak the same language as that nurse, and include LGBT culturally competent care. LGBT youth have a higher rate of suicide, and suicide prevention would be one of the goals and interventions that we want to focus on within the vulnerable population.
What would you tell prospective students who are considering the Pre-Licensure program? Our campus is beautiful. It's very warming and welcoming, and everything is new. We're looking for a diversity of populations with great backgrounds in nursing. If they don't have experience in nursing, we will provide that background to them.
Do you have any advice for current nursing students? Stay motivated and dedicated. Each student should start with generating a success plan at the beginning of each course. If they get off track, they just need to recognize that and create a plan to get back on track. I'm a very collaborative leader and offer active listening and consideration of all input. I invite anyone needing motivation to reach out.