Phyllis D. RN to MSN, Nursing Education
"We are caretakers, and bullying shouldn't occur in a hospital setting. I thought writing about it would help fellow nurses confront bullying activities and give additional resources so that supervisors are properly trained on spotting bullies."
Phyllis D. was a young mother of three children (ages 1, 3, & 5) when she graduated with an associate degree in nursing in 1993 from a local school in a small town in Tennessee. Phyllis wanted to continue her education but wanted to remain present for her kids. "Back then, we didn't have the option to go to school online."
After the Institute of Medicine (IOM) issued an initiative to increase the BSN workforce to 80% by 2020— Phyllis D. started researching online nursing programs. Phyllis worked as a Professional Development Coordinator in Greenville, NC. She wanted to grow as a nurse educator and felt Aspen's RN to MSN in Nursing Education would provide her with the comprehensive education needed to transform her nursing experience into teaching expertise.
Phyllis remembered her time at Aspen fondly and recalled the lessons she learned in courses such as Issues in Nursing Education; Teaching Strategies in Nursing Education; and Curriculum Development, Implementation, and Evaluation. "One of the beautiful aspects of the Nursing Education program is that each course builds upon work done in the previous one."
Phyllis covered nurse bullying for her Capstone project. Phyllis' research demonstrated that bullying behavior such as eye-rolling, exclusion, humiliation, withholding information, scapegoating, intimidation, and backstabbing affect employee retention and patient care.
Under the influence of Aspen's Dean of Nursing, Dr. Nina Beaman, Phyllis submitted a manuscript for a peer-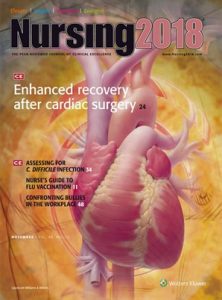 reviewed nursing magazine based on her Capstone research. Her article "On the Line: Confronting Isolation and Bullying in the Workplace," was featured in the November issue of Nursing 2018. The report identified 2 types of bullying behaviors and discussed anti-bullying strategies to eliminate incivility in nursing departments.
"We are caretakers, and bullying shouldn't occur in a hospital setting. I thought writing about it would help fellow nurses confront bullying activities and give additional resources so that supervisors are properly trained on spotting bullies."
Phyllis credits Aspen University for the confidence she needed to get her message to the nursing community.
Now that Phyllis has completed the MSN program, she wants to teach online. "I published an article that helps people I have never met. I want to keep that going and provide a foundation for students and assist my fellow nurses and in the wonderful world of nursing."
Phyllis currently works as the Director of Home Care Services at Middlesboro Appalachian Regional Healthcare.