People say being a mother is the most challenging and most rewarding job you will ever have. Nursing will undoubtedly come in as a close second. Being a mom has also likely prepared you well for nursing school, but you will face demands that your classmates without children simply don't have. Do not let this deter you. You can succeed in nursing school as a mom, but it will take grit, big goals, and lots of prep to get you there. 
Surviving nursing school as a mom will be a lot like the life of a working mom, so it's important to know that practice will make perfect as you figure out how to balance everything. These tips also apply to life as a mom and nurse when you are done with school and practicing professionally. Try not to get overwhelmed because you will take this one step at a time and refine what works for you. You're peeling away what doesn't fit your life and specific circumstances and honing in on what really helps. Lean into what seems to make life easier. 
Five actionable tips for being a mom in nursing school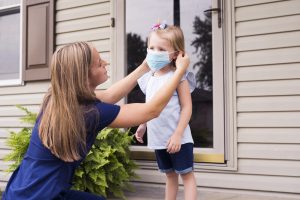 1. Get a planner – on your phone, computer, or paper
It doesn't matter how you choose to keep track of the details; the point is to create and use a system. Nursing school comes with SO MANY dates and deadlines to keep track of. So do children. Therefore, nursing school moms should write everything down as soon as they become aware of it. Erasable pens and highlighters can be helpful when using paper planners. If you choose to go electronic, ensure you can keep your device with you at all times so you can refer to your calendar and make adjustments. Lastly, write it all down, or you will forget something (or someone!). 
2. Schedule downtime for yourself – and don't cancel your appointment
This goes without saying, but moms usually fill their cup last after caring for everyone else. In nursing school, you will be busy with class, clinicals, studying, and assignments – not to mention all your mom duties after class. Schedule in time for things that light you up. Take time to plan leisure activities. This might look like yoga, meditation, coffee with a friend, or dinner with your partner or spouse. Make time and show up for yourself. It is important to manage your stress responsibly while being a mom in nursing school. 
3. Multitasking isn't really a thing – so don't try and do it all at once
For moms in nursing school, multitasking might seem like a great idea. After all, you are a mom- multitasking is second nature. "I'm writing my care plan and watching my daughter's soccer game at the same time– great!" But in reality, you are probably paying very little attention to the game and not focusing fully on finishing your care plan. In other words, it's taking more time than it otherwise would and neither your daughter nor your care plan is receiving your complete attention (the attention each deserves).
Try time blocking instead. For instance, set aside time to finish your care plans when you will be uninterrupted, give yourself enough time to complete the task, and then put it away when your time is up. This way, you can show up to the game and be present, even if just for an hour. Ultimately, you'll find you are more efficient and able to fully relax when you have downtime. Win, win. 
4. Moms in nursing school will miss a few important events – and that's ok
It is safe to assume, nursing school will take priority over almost everything in your life. But, thankfully, it is a small period of time. Therefore, it may be useful to have an age-appropriate conversation with your children before starting school to discuss what that will look like for your family. Maybe your spouse will be attending games or events in your absence. You can also try to attend anything that doesn't conflict with your clinical schedule. In today's world of technology, having someone take a video or engaging in a video chat are reasonable substitutes when you can't be there in person. Just remember, this isn't forever, and your kids are resilient and understanding. 
5. Moms in nursing school ask for help. Period. 
Nursing school is tough, but so are you. You've got competing priorities, and it's time to call reinforcements. Ask for help – from your spouse, family, neighbors, classmates, and kids. It goes without question, friends and family want to see you succeed. So, let them help and be a part of your journey. Delegate tasks that can be outsourced. For instance, hire a laundry service to help tackle that mountain of dirty clothes. Also, you could ask a teenage neighbor for help with babysitting so you can study. Get your groceries delivered, so you don't have to waste time at the market. When it comes to childcare, those students that are moms could coordinate or work together with classmates who also have children to maximize their support.  Your time is precious. Let go of what is unimportant and do not be afraid to ask for help.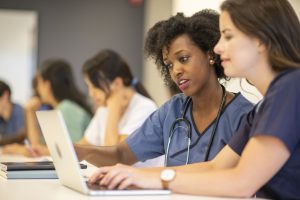 Bottom line
How do you stay motivated while juggling an ocean of family and school commitments? Remember your why. Being a mom in nursing school is a lot to handle. Your kids will look up to you and see you working hard to achieve your goals. Don't underestimate the value in that, even when you miss school functions or sporting events. Take some time every morning or evening to practice gratitude – writing down what you are grateful for is a wonderful way to shift your perspective. 
What if you're considering going back to school for your MSN or FNP, but now kids have entered the picture? All the tips above will still apply. Look for flexible programs like a hybrid or 100% online program. Finally, it's important to consider whether you will keep working or focus entirely on school. The age of your children and the amount of support you have can be big factors in this decision, so try to lay all your options on the table.
Being a mom is hard, and being a mom in nursing school is even harder. You will need to be smart about your time and diligent about caring for yourself and your family. With the right mindset and support, you can do it and thrive.
Want to become an RN? Consider Aspen University's BSN Pre-Licensure program where you can become an RN in as little as 36 months in a hybrid learning environment. Aspen University can also help you advance your career with our affordable online RN to BSN, MSN, and DNP degree programs. Come check us out!
Alex lives in Southern California and has spent her decade-long nursing career in cardiac critical care and loves all things heart-related. She's currently a pediatric ICU nurse in Los Angeles and has worked in both adult and pediatric cardiac surgery as well as the cardiac cath lab. After getting her degree in immunology and genetics from UCLA, she studied nursing at Mount St. Mary's University. As a mom to five in her blended family and married to her firefighter husband, her house is generally chaotic. When not at the hospital Alex loves traveling with her family, surfing, and doing her kids' laundry.