Teaching nursing students from the comfort of your home can be an excellent way to take your nursing career in a new direction. But how can you find a job as an online nursing instructor or educator? What kind of responsibilities does a nurse educator have? As more and more nurses transition to remote nursing jobs, you may wonder if online nursing instruction fits your career goals as an aspiring or experienced nurse educator.
Let's explore what it's like to be a teacher for online nursing classes and how to find the best online nursing instructor jobs for you. 
What does an online nursing instructor do?
Online nursing instructors are registered nurses or advanced practice registered nurses who teach nursing students through internet courses and lessons. They're also commonly called remote nursing instructors or educators. These instructors must teach a curriculum pre-approved by their nursing program's leadership and in accordance with accreditation requirements. Although they don't teach in a traditional classroom setting, they still have the same responsibilities as traditional in-person educators. 
Some of the responsibilities of an online nursing instructor include:
Giving lectures

Administering exams

Assigning homework

Grading assignments

Developing courses or lessons 

Serve as mentors for nursing students

Developing lesson plans

Teaching courses
Courses can be live, prerecorded, or a combination of both. Often the lectures are presented in modules, where students read through their lessons online or in books, complete assignments, and participate in discussion boards before a specified due date. Like traditional in-person staff, online instructors should be available to their students by holding regular office hours and communicating with their students by email and phone.
As any industry leader would, instructors should also make it a point to stay updated on healthcare policies and trends in the nursing industry. Many online nurse educators continue to practice as bedside nurses, using their first-hand experience to lead their students. 
How to become an online nursing instructor 
You'll sharpen your skills and help lead the next generation of nurses as an online nursing instructor. But first, here's what steps you'll need to take to qualify for the role.
Nurse educators are either bachelor-prepared registered nurses or nurse practitioners. The first step to obtaining these credentials is to earn a BSN and then successfully pass the NCLEX-RN. If you're already a registered nurse with an associate's degree, you can earn your BSN through an accredited RN to BSN program.
2. Gain teaching experience.
As with any nursing role, gaining experience is essential and will build your confidence as a teacher. If you're an aspiring instructor, try building your practical skills as an educator in the clinical setting first. Poise and tenacity as a clinician can prepare you for teaching in an academic setting. Ask your current facility if there is an opportunity for you to be a preceptor or a clinical nurse educator.
RNs with two to three years of experience may qualify:
To teach practical or vocational nursing students

As adjunct instructors for clinical sites

As an adjunct or guest lecturer for Associate Degree in Nursing (ADN) programs
Obtaining this kind of hands-on teaching experience will strengthen your resume and make you an appealing candidate to potential employers. 
While community colleges often employ bachelor-prepared nurses as instructors—with the condition that you earn your MSN in a specific timeframe—colleges and universities seek MSN-prepared nurses or nurse practitioners. A master's degree prepares all nurses for advanced roles. But an MSN in Nursing Education specifically prepares nurses to become educators.
The MSN in Nursing Education is a specialized degree that equips registered nurses with:
Education grounded in nursing theory and research
Specialized skills in teaching strategies and curriculum development
Enrolling in an accredited MSN in Nursing Education program will prepare you to use technology to teach and develop and manage an engaging nursing curriculum. Also, it's important to note that some programs require nurse educators to hold a DNP or Ph.D.
4. Consider certification.
Obtaining certification helps set you apart from other candidates. The National League of Nursing offers the certified academic nurse educator (CNE-CL) option. To qualify, you must pass an exam and meet their eligibility requirements:
Hold an active, unrestricted RN license

Hold an MSN or

DNP

with an emphasis on nursing education. Or hold a post-master's certificate in nursing education or a minimum of nine credit hours of graduate-level education courses
Salary and career outlook for nurse educators
As of 2020, the U.S. Bureau of Labor Statistics (BLS) reports that 61,100 nurses work as nursing teachers and educators nationally. Most of them work in colleges, universities, and professional schools, but community and local colleges also employ nurse educators. The BLS projects the fast-growing field of nursing teachers will grow by 18% by 2029.
Your salary as a nurse educator will depend on your job location, education level, experience, and organization. However, the mean salary of nurse teachers and educators is $84,060, according to the BLS. And the highest-paid nurse educators can earn $133,420.
How to find online nursing instructor jobs
Here are a few tips for finding and applying for nursing instructor jobs
Browse online job boards such as Indeed and ZipRecruiter

Reach out to local colleges or universities

Become an adjunct professor first

Become a clinical instructor for a nursing program

Network with other nurse educators

Reach out to your alma mater's student or alumni services about opportunities 

Keep in contact with instructors, deans, and directors at your alma mater

Look on colleges' and universities' websites for open positions 
Check out Aspen University's LinkedIn page for job openings!
You also want to ensure that your resume and cover letter show you in the best light. Tailor your resume to include keywords found in the job description and create a professional summary that explains why you're qualified for the position. 
Nurses are in demand, which means there's also a need for nurse educators and instructors. As nursing programs adapt over time, online nursing programs like Aspen University's are becoming more popular, creating more opportunities for online nursing instructors. 
Want to become a nursing instructor? Consider Aspen University's BSN, MSN in Nursing Education, DNP, and Ed.D. programs to help you reach your educator goals.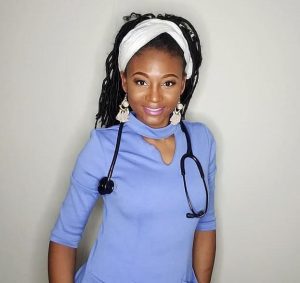 Portia Wofford is an award-winning nurse, writer, and digital marketer. After dedicating her nursing career to creating content and solutions for employers that affected patient outcomes, these days, Portia empowers health practices to increase growth opportunities and become the number one providers in their communities through engaging content that connects and converts. Follow her on Instagram and Twitter for her latest.