Completing the RN to BSN program with a perfect GPA was a professional and personal victory for Gayle Coyne. Decades earlier, when she applied to a music program in Wisconsin, the university would not accept her hard-earned nursing diploma and told her she wasn't college material. She triumphantly proved them wrong. Now at 75 years old, Gayle's accomplishments range from being a nurse and 2021 Aspen University graduate to being a published author and even an opera singer. Gayle shared her winding educational path with Aspen, including the new opportunities within every detour she discovered along the way. 
My educational journey has provided valuable lessons both in my professional and personal development. Becoming a nurse has been my goal since early childhood. Today, at 75 years of age, I like to say I am more "chronologically gifted" than others receiving their college degree today.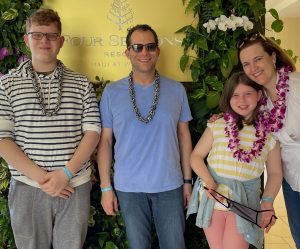 It began when I graduated from a three-year RN diploma school in 1967. That year my nursing career paralleled the development of cardiac care units (CCU) across the country. The CCU was my first nursing job, and that learning curve went straight up. In addition to working, I attended night school, intending to earn my BSN. The 1960s saw the educational transition away from diploma nursing to a university BSN approach. Unfortunately, in 1967 I had to start all over again to obtain my BSN, which I could not afford at that time.
My husband's career also required us to move frequently, which interrupted my attempts to attend a brick-and-mortar program. I stopped nursing for nine years, owned my own business, and cared for a child with learning differences. These detours taught me a great deal about the many diverse ways we learn and achieve success in life. I also studied music, and even though I didn't finish that degree, I went on to sing opera in New Orleans and was a regional winner of the city's Metropolitan Opera competition in 1973. I sang professionally in St. Louis, Indianapolis, Illinois, St. Paul, and Minneapolis. Life lessons change our becoming. 
"When you think something is complete, new beginnings emerge with alternative pathways of discovery and opportunities."
In 2015, I chose Aspen University's online RN to BSN program to achieve my elusive BSN dream. Many times the Aspen advisors would talk me off the ledge of despair with solutions and encouragement. My advisors were the interpersonal connection that helped me through any rough patches. Amber was my advisor for several years and was always very supportive and encouraging when I had technical issues or wondered how to approach a professor with a question. She made me feel that I truly mattered. My husband had several illnesses, including cancer, and while I had to occasionally pause my journey I always felt like Amber supported me. 
And, Aspen's essay requirements honed my writing ability. My educational goal was to complete my BSN and find a job in drug safety. However, the journey to becoming who we are moves us in mysterious ways. In 2020, my 100-year-old friend Harriett Bannon wrote a poem on the 1920 ratification of the 19th amendment granting women the right to vote. Together we turned it into a children's book, Suffragettes: A Read, Color, and Learn Book.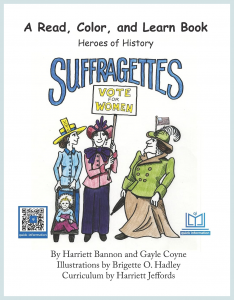 Neither of us had ever written something like this before. But I said, 'What can we lose? If we only sell three books, we will have surpassed Charlotte Bronte's first book of poems that only sold two copies.' Our book was published in the fall of 2020, but that's not the end of the story. Just when you think something is complete, new beginnings emerge with alternative pathways of discovery and opportunities.

This past March, I met Dr. James Broselow. Dr. Broselow is the inventor of the pediatric Broselow tape system, an emergency lifesaving tool for children in distress. He asked us to add his newest quick information (QI) learning system to our book [which gives readers access to an audio version and relevant videos through a barcode]. The book was reissued with the technology, and now I'm working with Dr. Broselow on his patient safety QI technology.
Aspen has helped me achieve my professional goals in ways that I did not anticipate. Writing, research, technology, and exploration of new ideas and processes were all part of my Aspen University experience. 
My original belief was that the BSN degree was a pathway for a better job. However, a degree is also a pathway to new endeavors that we do not anticipate when pursuing a dream. 
Chasing a dream requires advancing our thinking, our educational experiences, and applying our knowledge to various arenas. I will continue to follow my dreams and act on them. I encourage all of you to as well. As Susan B. Anthony, the famed suffrage movement leader, stated, 'Failure is impossible.'
Learn more about Aspen's RN to BSN (Completion) program and all our amazing students and alumni.