A career in administrative healthcare is a smart move. With the aging of the baby boomer generation, the healthcare industry is expected to see unprecedented growth in the coming years. This means that there will be plenty of opportunities and high demand for those qualified individuals looking to pursue a career in healthcare administration. But where do you start? What is required? And what can you expect once you're working in the field? Our new guide covers all of this and more, providing you with everything you need to know about a career in administrative healthcare.
Table of Contents
TLDR
Administrative healthcare refers to the various tasks related to running a healthcare organization.
The job market and job demand for healthcare administrators are optimistic (28% growth projected over the next ten years) and the median annual salary is $101,340.
To become an administrative healthcare worker you will need at least a bachelor's degree in healthcare administration, many in the field hold a master's degree, and there is no national certificate required (but there are certifications that are recommended).

What is administrative healthcare?
Administrative healthcare is a broad field that encompasses many different types of occupations that all contribute toward forming and managing the operations of a healthcare facility. From hospital administrators to insurance executives, healthcare administration plays a vital role in ensuring that our healthcare system runs smoothly by managing budgets, coordinating patient care, and forming policies, along with many other important duties we will discuss in more depth below. 
What do healthcare administrators do?
Healthcare administrators are responsible for the efficient delivery of healthcare services in any setting. From hospitals to nursing homes, and even travel nurses, they ensure that medical staff has the resources they need to deliver effective care. 
The day-to-day responsibilities of workers with admin health care jobs vary based on factors like location, size of their facility, and type of services offered. Generally speaking, however, they work closely with physicians, nurses, and other staff members to ensure the facility is compliant with regulations and properly equipped to offer the highest quality care.
Some of a healthcare administrator's job duties could be:  
Patient registration 

Collecting payments 

Processing and maintaining patient and facility records and claims

Managing and tracking financial resources, including departmental budgets and the facilities

Inform staff of new policies and changes to existing policies

Outlining regulations

Adhering to quality standards

Develop strategies for marketing and public relations strategies

Joining policy development teams on important decisions that affect patients and/or providers

Staffing care teams/Recruit and train staff

Suggest cost-reduction strategies

Ensure the facility maintains compliance with federal, state and local health care regulations

Develop work schedules

Represent the facility before governing boards meeting

And more!
Organizations often rely on administrative professionals for their deep understanding of healthcare policies, billing processes, and office systems. As technology advances and digital medical records become increasingly widespread, administration in healthcare continues to evolve with the times in order to meet the demands of today's complex medical environments. It is without a doubt that administrative healthcare is a cornerstone of the modern healthcare industry.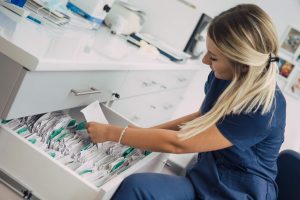 2022

Administrative healthcare

career outlook and salary
The career outlook for administrative healthcare workers is very positive, with projected growth over the next decade at 28%. 
According to BLS.com, in May 2021, the median annual wage for administrative healthcare workers was $101,340. The lowest 10 percent earned less than $60,780, while the highest 10 percent earned more than $205,620. The salary range for administrative healthcare jobs vary greatly by skill level, location, and years of experience.
Average median salary for healthcare administrators: 
New York –

$78,484

New Hampshire –

$74,432

Vermont –

$71,779

Hawaii –

$68,564

Massachusetts –

$68,533
Top 10

highest paying cities

for administrative healthcare jobs: 
Atkinson, NE –

$86,501

San Francisco, CA –

$84,488

Bolinas, CA –

$83,970

Frankston, TX –

$79,834

San Jose, CA –

$79,485

Jackson, WY –

$78,960

Diamond Ridge, AK –

$77,940

Inverness, CA –

$77,744

Barnstable Town, MA –

$76,996

Seattle, WA –

$76,948
Source: ZipRecruiter
Administrative healthcare workers occupy a critical role in the healthcare system, overseeing the daily operations of healthcare facilities while ensuring they meet federal and state regulations. 
These roles provide many opportunities for career growth, particularly due to the increased demand for qualified personnel as technology continues to advance in the medical field. As more and more people gain access to advanced medical services and treatments, healthcare administrators will be needed to manage its delivery efficiently. Those who specialize in information management are especially in high demand, as hospitals increasingly move their data onto digital platforms. 
Additionally, concerning budgetary and marketing issues, there is increasing recognition of the value of having expertly-trained administrators leading these responsibilities within healthcare facilities. Ultimately, for motivated individuals who possess excellent communication skills and are eager to cultivate meaningful connections across multiple departments within a clinic or hospital setting – a career in healthcare administration could prove to be rewarding.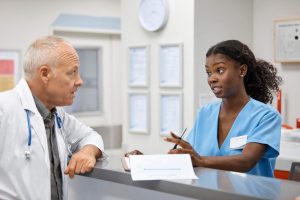 How to become a healthcare administrator
1. Obtain a degree in healthcare administration or a relevant field
Typically, administrative healthcare workers are required to have at least a bachelor's degree in healthcare management or a related field, though many hold a master's or doctoral degree. 
These programs can focus on healthcare policy, healthcare planning, health systems, economics, epidemiology, healthcare law and policy, accounting and finance, information management systems, leadership, patient safety, ethics, human resources management, and more!
| Type of Degree | Program Length | Job Titles and 2021 Annual Salaries according to BLS |
| --- | --- | --- |
| Associate's degree or relevant certificate | 2 years | |
| Bachelor's degree | 4 years | |
| Master's degree (or bachelor's degree + experience) | 2-4 years | |
| Doctoral degree (or master's + experience) | 3-5 years | |
2. Gain relevant professional experience in a healthcare administration job 
You can do this by working as an intern or as an employee in a related field such as Public Health, Health Sciences, or Health Informatics, before pursuing full-time employment as a healthcare administrator. 
3. Consider a master's degree in administrative healthcare
Though a graduate degree is not necessary to have a healthcare administration role, many of the higher-level roles do require it. 
It is very important to choose a program with certification from the Commission on Accreditation of Healthcare Management Education (CAHME) to ensure that you receive adequate preparation for a future career in healthcare management. CAHME is recognized by the Council on Higher Education Accreditation as the only certifying organization in this industry. This accreditation lets you and employers know that the program meets the academic requirements established by the national council board. 
4. Consider obtaining healthcare management certificates 
Obtaining certificates are not mandatory, however, they could help advance your career and create new opportunities. Obtaining certificates will set you apart from those who have not earned a certificate, thereby establishing you as a greater expert in the matter, which will increase your hirability.    
5. Get hired!

 
Sharpen your resume and hit the ground running. Start by looking at job sites for healthcare administration jobs.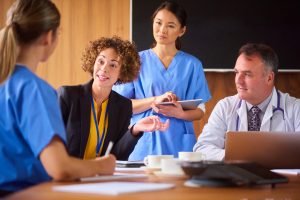 What certifications are required to become a healthcare administrator? 
There are no required national certifications for healthcare administration workers, however, there are several certifications in healthcare administration you could obtain that could help advance your career as stated above. These certificates are an effective way to gain qualifications, credentials, and skills that could help qualify or advance you for a position as a healthcare administrator.
Certification is available in many areas of practice. For instance, the Professional Association of Health Care Office Management (PAHCOM) offers certification in medical management, and the American Health Information Management Association (AHIMA) provides health information management certification. Alternatively, the American College of Health Care Administrators (ACHCA) has distinctions such as the Certified Nursing Home Administrator or Certified Assisted Living Administrator titles and the American Association of Healthcare Administrative Management (AAHAM) which offers many certifications to choose from. 
Here's a list of

industry certifications

for administrative healthcare professionals: 
Healthcare management: 
Informatics and tech: 
Finance: 
Quality control: 
*note: many of these certifications require continuing education to remain certified.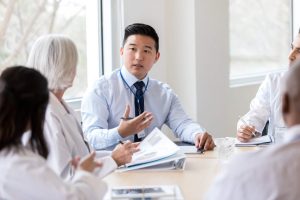 What skills are necessary to succeed as a healthcare administrator? 
If you want to have a successful career as a healthcare administrator, it is essential that you not only have universal soft skills like empathy and communication, but also be well-versed in business and healthcare policy. With this knowledge, you will be able to make positive changes within your facility that will improve the quality of care for patients. Some other skills you may need to succeed as a healthcare administrator include: 
Business administration 

Budgeting & scheduling 

Leadership

Tech proficiency

Billing and coding

Adaptability

Problem-solving skills

Teamwork

Interpersonal skills

Detail-oriented

Strong knowledge of patient care

Strong knowledge of healthcare law, policy, and regulations, including HIPPA 

And many others

  
FAQs
1. How long does it take to become a healthcare administrator? 
A healthcare administrator typically has a six- to eight-year journey before becoming qualified. This includes completing an undergraduate degree, which takes four years. Additionally, most recommend getting a Master's degree as well–which can take two to four more years depending on class load.
2. Where can healthcare administrators work? 
Administration in healthcare can work in just about every medical setting available, here are a few examples:
Healthcare facilities, like hospitals, health clinics, or physician offices
Government facilities (like the VA) 
Healthcare organizations
Laboratories
Community clinics
Health insurance agencies
Nursing and residential care facilities
Private practice
and so many more!
3. Do healthcare administrators need to do continuing education? 
Technically, no, healthcare administration jobs do not require CE. However, if you hold certification(s), then you may have to complete continuing education requirements to remain certified. Despite the lack of formal requirements for CE, many administrators in healthcare choose to complete extra courses.  
There are many professional organizations that offer conferences, certifications, and webinars with advanced education for hospital executives and other healthcare administrators. To learn more about these opportunities, please follow the links below: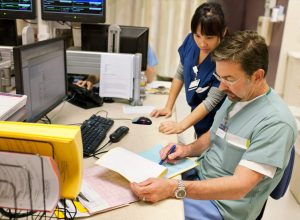 Conclusion
Administrative healthcare is a valuable tool for both healthcare providers and patients alike. By streamlining operational processes, administrative healthcare makes it possible for organizations to operate more efficiently and effectively. Administrative care also allows providers to focus on delivering the highest quality care with less overhead costs. In addition, thanks to the use of technology, it's now possible for providers to monitor patient health statistics online in real time and employ predictive analytics or machine learning algorithms to assess a patient's risk factors as well as personalize recommendations based on medical history. With these advantages of administrative healthcare in mind, it's easy to see why this practice is becoming increasingly popular on many levels. A reliable administrative healthcare system should be an essential part of any organization's infrastructure and operations today.
To best decide if administrative healthcare is the right profession for you, speak to a healthcare administrator who has experience in the role. For best results, speak to as many administrators as possible so you can gather a greater idea of what to expect. 
Next steps and resources