Do you have a love for technology and nursing? Does the thought of analyzing data that affects patient care and outcomes excite you? If you answered "yes" to either question, then nursing informatics might be the specialty for you.
What is Nursing Informatics?
According to the Healthcare Information and Management Systems Society (HIMSS) and the American Nurses Association, Nursing Informatics is "the specialty that integrates nursing science with multiple information and analytical sciences to identify, define, manage and communicate data, information, knowledge, and wisdom in nursing practice." 
Dr. Maurice Abney DNP, MSN, MBA, PMP, a nurse of 14 years from Georgia,  explains nursing informatics as "the integration of nursing science, technology, evidence-based medicine, and people to identify, manage, and exchange data electronically throughout an organization." 
Abney adds, "Within the acute setting, nurses gather information from their patients during the admission process and throughout their shifts. That information (data) is entered into the Electronic Medical Record (EMR). As care is rendered, and various clinicians enter data into the EMR, it is stored with the patient's medical records. 
The nursing informaticist is pivotal in the creation of nursing-related modules within the EMR:
They identify the needs of nurses and ensure that the system is created, so the nursing documentation that was once on paper is available within the EMR.  

By leveraging the technology developed in the background of the EMR — data such as immunizations — are sent to the appropriate state agencies; patient information is sent to their primary care physician, and billings are generated and sent to the insurance companies, etc.

Whenever there are new technological advances or systems changes:
Some nursing informaticists manage the initiative or project.

Some develop and build the necessary technology.

Others act as trainers and superusers." 
Nursing Informatics education requirements and training
A Master's Degree in Nursing Informatics is a good foundation for an aspiring nurse informaticist. Master's degree programs require completion of general advanced-practice courses and courses specific to nursing informatics. While courses may vary, a curriculum for the nursing informatics track may include:
Management of Information Systems

Information Systems Strategic Planning

Customers, Markets, and Technology

Advanced Health Care Informatics

Healthcare Systems

Healthcare Informatics
Aspen University offers two tracks for nurses interested in pursuing an informatics degree:
Certification and examination
The American Nurses Credentialing Center offers the Informatics Nursing Certification. Nurses are eligible if they:
Hold a current, active RN license in a state or territory of the United States or hold the professional, legally recognized equivalent in another country

Hold a bachelor's or higher degree in nursing or a bachelor's degree in a relevant field

Have practiced the equivalent of two years full-time as a registered nurse

Have completed 30 hours of continuing education in informatics nursing within the last three years

Meet one of the following practice hour requirements:

Have practiced a minimum of 2,000 hours in informatics nursing within the last three years

Have practiced a minimum of 1,000 hours in informatics nursing in the last three years and completed a minimum of 12 semester hours of academic credit in informatics courses that are part of a graduate-level informatics nursing program

Have completed a graduate program in informatics nursing containing a minimum of 200 hours of faculty-supervised practicum in informatics nursing.
Once eligibility is met, and the certification examination successfully passed, nurses are awarded the credential: Registered Nurse-Board Certified (RN-BC).
If you are interested in bridging the love of technology and nursing, an Informatics specialty might be the perfect path for you. 
Q&A with a nursing informaticist: We asked Dr. Abney about his journey into nursing informatics.
What do you do in your current role?
I'm the Clinical Informatics Officer responsible for overseeing clinical informatics, evidence-based medicine, clinical applications, and project management for 89 facilities across thirty states! I also teach graduate-level MBA, MSN, and MHI students.  
Why did you choose nursing and what career and educational steps did you take toward being a nursing informaticist? 
My nursing journey was a bit unorthodox! I started my healthcare career as an active duty US Navy hospital corpsman. As a corpsman, I worked alongside many nurses. Frequently, I performed many of the same duties as the nurses to a degree. Throughout my enlistment, I took college courses that lead to my BS in Computer Science and Business Administration. After completing several years in the Navy and my degree, I worked full time as a systems engineer. Although I enjoyed my job, I missed caring for patients. I soon enrolled in classes and completed my ADN. 
I was able to quickly navigate the nursing opportunities available to me since I had years of military healthcare experience.  
I started as a Progressive Cardiac Stepdown staff nurse.  

Within the year, I moved to the Medical Intensive Care Unit (MICU), which was my full-time specialty. 

I also worked in the Emergency Department, Interventional Radiology, PACU, and psychiatric nursing.  
I later received my MSN in Acute Care and Adult Health Clinical Nurse Specialist, MBA, and DNP, which allowed me to work as an advanced practice registered nurse (APRN), nursing leader and executive, and adjunct professor.
What drew you to nursing informatics?
Nursing informatics really found me when I was working as a systems engineer. In this role, I was working for the state healthcare division. Given my systems engineering and nursing experience, informatics was a natural progression for me. It gave me insight that informatics was a thriving new discipline that would later determine the nomenclature, workflows, and technical requires that affected the nursing industry
Nomenclature –

As new federal requirements are identified, the clinical system naming convention must be created and defined to align with the clinical applications.

Technical Requirements –

Each time there is a new request for system modification or implementation of new technology, there are steps outlining the needs and objectives. 

Workflows –

When a nurse arrives on the unit and takes a report from another nurse and then completes a head-to-toe assessment — all while using the electronic medical record. These steps define a part of the nursing workflow.

As federal programs, such as promoting interoperability, require new technology or functionality, it impacts the way clinicians complete their work. The impact of that technology must be defined to accommodate the requirements. 
What roles do nurses with a concentration in informatics play?
Informatic nurses:
Work in each phase of the systems implemented to ensure that the clinical workflows are captured and created within the electronic medical record.

Are valuable in training nursing and other clinical disciplines during system implementation.

Serve as the nursing subject-matter experts who work with the technologist to ensure that the system is built to meet the clinical needs of fellow nurses.

Provide guidance and often develop and build clinical systems.

Can act as project managers after years of implementation experience.
 What are some jobs nurses may find in this specialty?
Clinical analysts

Nursing informaticists

Nursing informaticians

Clinical nursing informatics specialists

Chief Nursing Informatics Officer

Clinical Informatics trainer

Project leads and managers
 What advice would you give to nurses seeking this field?
Before seeking a formal education in informatics, attend some of the professional organizations' meetings and network:
American Nursing Informatics Association (

ANIA

)

Healthcare Information and Management Systems Society (

HIMSS)

Project Management Institute

(PMI

)
Attend local chapters, seek information, and network. If they're helpful, then seek membership and certification, which is offered by HIMSS (CAHIMS and CPHIMS) or PMI (CAPM).
 How should nurses prepare to transition into this role?
Volunteer for IT projects within your facilities

.

Volunteer to be a superuser for IT projects.

Learn as much as you can about the electronic medical record. 

Train others on the EMR.
These experiences will provide you enough exposure to help you gain at least an entry-level position. After you have gained experience, then look at a graduate degree. 
If you're interested in pursuing a career in nursing informatics, consider Aspen University's online MSN (or RN to MSN) program with a specialization in Informatics.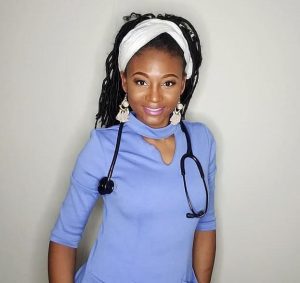 Portia Wofford is a nurse, writer, content manager, and a coach for nurse writers. After dedicating her nursing career to creating content and solutions for employers that affected patient outcomes, these days Wofford strives to empower nurses by offering resources for mental wellbeing–while helping healthcare organizations and entrepreneurs create engaging content that connects and converts. Follow her on Instagram and Twitter for her latest.