Remote nursing jobs are becoming increasingly popular, thanks to technology making healthcare more accessible. Along with the need for positions to become virtual, and the COVID-19 pandemic highlighting the role of nurses, more nurses are using their skills in work-from-home positions. Here are some online nursing jobs that allow you to use your skills and experience from the comfort of your home. 
Table of Contents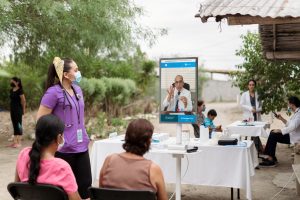 10 Remote Nursing Jobs
1. Telehealth nurse
With more people choosing to stay home, telehealth is on the rise. Telehealth nurses provide remote nursing care for patients using telecommunication such as phone, video, or messaging. They monitor health concerns, triage patients, and guide patients on seeking emergency care or making an in-person appointment with their provider. 
Telehealth nurses use remote patient monitoring to assess and evaluate patients. Sometimes this involves reading devices that measure and wirelessly transmit readings such as blood glucose, blood pressure, heart rate, weight, or blood glucose. Remote patient monitoring often replaces routine visits to providers. And because telehealth nurses have easy access to the patient's vital health information, there is more contact between the patient and the nurse. The nurse can answer questions and educate the patient on how to care for themselves properly. Frequent contact and proper education also result in fewer hospital readmissions and allow the patient to manage their condition adequately. 
For patients who live in underserved areas, it can be challenging to receive health care services. Telenursing can help bridge the gap and allow patients to have access to care from their homes. 
WFH nursing jobs can work remotely as telehealth nurses for hospitals, home health agencies, practices, insurance companies, crisis hotlines, outpatient care facilities, poison control centers, and trauma centers. These nurses need to be able to utilize technology in multiple ways to serve their patients, therefore they are not only responsible for providing primary care, but also they contribute towards a growing digital library of patient resources. 
2. Case manager
Case managers are nurses who serve as patient liaisons and manage their care. They coordinate care, establish resources, monitor patient progress, and evaluate healthcare options with patients. As a case manager, you are the central point of contact for your patients' health needs and concerns. Case managers serve in different roles, such as care advocates for hospital organizations and care coordinators for insurance companies.
They also help to manage healthcare costs while making healthcare more accessible to patients. Like telehealth nurses, case managers work for various entities, including home health agencies, hospitals, hospice agencies, insurance companies, practices, and medical supply companies.  
3. Online instructor or nurse educator
As colleges and universities continue to move to virtual learning, nurse educators are in demand. Instructors can offer high-quality education safely, especially amid the COVID-19 pandemic. Nurse educators also provide the fundamental information that students will build upon in their nursing careers. 
Nurses with an interest in education may work as instructors, but keep in mind that teaching positions at some colleges and universities require a Master of Science in Nursing (MSN), or others may require a Ph.D. 
4. Writer
Nurses interested in education and remote nursing jobs—but have no desire to teach on the collegiate level—may consider working for companies developing course curriculum or education material. Businesses such as medical supply companies, pharmaceutical companies, home health agencies, drug manufacturers, and health tech companies hire nurses to write patient education, articles, and other well-researched material. 
Nurses who can take complicated content and simplify it will do well in these roles. To ensure you have a good chance of landing a position as a writer, start building your portfolio and be ready to submit it when asked. 
5. Nurse recruiter
Recruiters help staff organizations with the best employees. Because the nursing field is so competitive and requires competent, experienced nurses with skills that are in high demand, nurses make excellent recruiters. They have a deeper understanding of the industry and the day-to-day tasks that a nurse must complete. 
As a recruiter, your job will consist of reviewing resumes and CVs and scheduling phone interviews with candidates. Nurse recruiters should have great communication skills, organization, and an excellent level of discernment. Since you are working remotely, you must pick up on cues from a phone conversation on whether a candidate is a good fit for the position. 
Recruiters can work for hospitals, staffing agencies, travel nurse agencies, and insurance companies. 
6. Quality improvement nurse
A quality improvement nurse is a nurse who combines their expertise and training to make systems, processes, and healthcare improvements. They review nurses' documentation and processes and educate when there are gaps in care. As a quality improvement nurse, you will assess current trends and data and compare them against your organization's current practices. Then, you will create a plan and provide feedback and recommendations to executives and nursing leaders. Quality improvement nurses are vital in keeping the nursing department updated on the latest evidence-based practices and changing industry standards.
Quality improvement nurses may also serve as clinical nurse leaders, clinical documentation specialists, quality assurance nurses, or data abstractors. They may work for hospitals, skilled nursing facilities, or home health agencies. 
7. Billing and coding nurses
Many RNs can become billing and coding nurses (or RN Coder) who apply reimbursement policy and review patient charts and supply codes that correlate to specific diagnoses. This a growing role, especially for RNs looking to leave the bedside, since they already have the education and skills to read medical records. Billing and coding nurses are expecting the role to grow by nearly 10% between 2020 and 2030. 
8. Health coaching
A health coach is similar to a life coach, however, their role is more specific. Many RNs can become a health coach because they have the experience and education to provide help with many health issues, like losing weight, improving diet and exercise, reducing stress, improving sleep, managing chronic conditions, addiction, etc. A health coach will help their clients create and track health-related goals and figure out what is preventing them from reaching those goals. 
9. Nurse Informatics 
An informatics nurse is a specialty role that integrates the science of nursing with computer and information sciences, including analytical science, to identify, define, manage, and communicate data, information, and knowledge in nursing practice. In other words, these nurses help to develop and maintain technologies and software that improve patient care outcomes. Informatics Nurses have a crucial role in the development and improvement of healthcare technology. These are the healthcare professionals who work with developers and coders to bring us software that communicates information from patent to provider and vice versa. This could be the tracking of patients' medical records or technology that providers have sought for years to solve a specific problem. Nonetheless, their work has contributed greatly towards reducing medical errors and lowering healthcare costs.
10. Legal nurse consultant
If you're an RN, you can transition into being a legal nurse consultant (LNC). Legal nurse consultants need to be experts of the nursing profession, including the nursing process, expectations, regulations, etc. because they will be put in the position to analyze the performance of other healthcare providers. Attorneys will turn to LNCs for consultation and expertise about medical issues and/or relevant information in legal cases. LNCs can work in private practice, with insurance companies or legal firms, or independent practices.  
How to get work from home nursing jobs
Remote nursing jobs are in high demand. Here's what to consider on your search:
Make your resume stand out

. Read the job description on the posting and notice which words appear multiple times. If a skill is listed more than once, include it on your resume. Don't send a generic resume. Tailor your resume so that it is specific to the job you're applying for.

Reach out to the recruiter or hiring manager

. Send an email letting them know you applied and attach your resume. 

Consider getting a Bachelor of Science in Nursing (BSN) degree

.

To stay competitive and stand apart from the crowd of applicants. You could also consider getting your MSN in a specialization of your choice. 
3 keys for success for working a remote nursing job
As we all know, the COVID-19 pandemic caused a large shift in the workforce. Specifically, many, many more people are now working remotely and that trend seems to be permanent, including online jobs for nursing. Online nursing jobs can come with challenges and distractions that are absent in the clinic (or office). Here are a few work-from-home tips to help you navigate these new waters:
Time management/organization: Structure your days! It is important to organize the hours of your day to remain on schedule, optimize production, and maintain a healthy work-life balance. To successfully work from home, it will be extremely beneficial to create to-do lists, set goals, use smart phone apps to help you track your responsibilities, and make sure you build in time for you to take a break. The better structured your days are, the better you'll be at working from home (assuming you stick to it!). 
Communication: Any working professional will tell you that communication is one of the most important skills to develop, especially in a work-from-home scenario. Since you're not sharing physical space with your boss and teammates, it is important to consistently communicate with them. A successful remote nurse will over-communicate, be proactive, and remain respectful and reliable. 
Ethical behavior: Working from home comes with the responsibility of behaving ethically. Since your boss and teammates are not around to hold you accountable, you will need to do so yourself. As an employee, you have an obligation to your employer to be honest, trustworthy, and reliable. Furthermore, as a nurse, you have an obligation to uphold the nursing code of ethics. 
Licensing requirements for remote nursing jobs
Most job descriptions will specify state licensing requirements. Some jobs require a compact license or specific state license, and others require a nursing license from any state. The licensing requirement is also dependent on the company. Advanced practice nurses have stricter license requirements, which may include one or several state licenses. Whether a supervising physician is required will depend on each state's requirements.
Remote nursing jobs allow you the flexibility and safety of working from home while putting your degree, experience, and skills to use. You can provide nursing care and make a difference, from home, at a convenient time for your patient.
If you're looking to make a nursing career change, Aspen University's BSN, MSN, and DNP programs have something to offer for all nurses.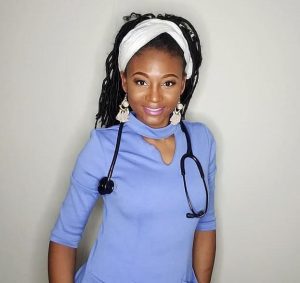 Portia Wofford is an award-winning nurse, writer, and digital marketer. After dedicating her nursing career to creating content and solutions for employers that affected patient outcomes, these days, Portia empowers health practices to grow their communities through engaging content that connects and converts. Follow her on Instagram and Twitter for her latest.