Please enjoy this guest post from Sarah Jividen of Mother Nurse Love:
Are you almost done with nursing school? Your first year out of nursing school will be an exciting one! You will finally be in charge of your own patient assignments, with exciting opportunities to utilize your clinical and hands-on nursing skillset. 
But there are always challenges to working motherhood — and fatherhood — especially as a nurse.
Here are five helpful tips to help you make it through your first year out of nursing school as a parent.
Be patient until you find a work-life schedule that works for you and your family.
Many new nurses graduates do not get the ideal work schedules at their first job. Often, novice nurses are required to start off working night shifts or an alternating night and day shift schedule, which can make it challenging to organize regular childcare.
If you have family living close-by that can help fill in with your child care needs, now is the time to ask for help. You may have to find a nanny or sitter to watch your children during unusual hours, as nurses are needed 24 hours a day. Many nurses have to find a reliable caregiver that can drive the kids to school, pick them up, and watch them until they get home from a shift.
Many nurse moms who work the night shift find that it works well with their schedules, at least for a while. They can eat dinner as a family every night and then leave for work right around the time the kids go to bed. It also may even be possible to drive your kids to school in the morning after a night shift, and then go back to sleep until the kids have completed their school day.
Is nursing a good career for mom? Absolutely! Once you have a little more experience under your belt, you can ask for a schedule that works well for your family. Or even look around for other jobs that can meet your work hour needs. But until then, try to be patient until you figure out what type of schedule works best for your family.
Consider working per diem.
Working per diem as a nurse may give you the flexibility and life-balance you need as a nurse and mom. Per diem means "by the day." Per-diem nurses help to fill in staffing needs when there otherwise wouldn't be a nurse available to work. As a result, many institutions find per-diem nurses very valuable.
One of the perks of working per diem is the ability to make your schedule precisely the way you want it. In addition, per diem nurses can unschedule themselves within 24 hours of a shift, if, for example, something urgent comes up at home. Because per diem nurses must be flexible with work schedules, and they often make a higher hourly wage as well.
One drawback of working as a per diem nurse is that you might also be canceled within a few hours of your shift.  Due to high staffing needs, that usually does not happen; however, it can be frustrating when it does. That is especially true if you already have childcare in place that you have already paid for in advance. Most per diem nurses who are also moms still find that the benefits of working per-diem significantly outweigh the downside.  
Bring a change of clothes and shoes with you to change into after your shift at work.
A frequent concern of many nurses who are moms is bringing germs from the hospital to their children at home. After all, the hospital is full of sick patients!
One way to combat that is to bring a change of clothes and shoes to work with you. When you work with patients who have known infections, your facility will provide personal protective equipment (PPE), such as gowns, hair bonnets, shoe coverings, and gloves. But it is still possible to carry germs home on your scrubs and shoes.
Change your clothes before leaving the hospital, and then change your shoes when you get in the car. It's also a good idea to have a designated spot for your shoes, so that little ones don't find them – thus exposing themselves to hospital germs. It's best to leave them in the trunk of the car or the garage.
Bond with nurses who are also moms in the workplace.
Nurse moms have unique struggles from the rest of the working population. They manage a significant amount of caregivers' burden at work, often working odd hours, while also trying to run a household. It is essential to look for support and friendship from others who understand your unique struggle.
Also, bonding with other nurse moms may come in handy if one of you has a child care issue.  Some nurses can help each other out by working opposite days from one another and then filling in each other's child care gaps. 
Make a list of essentials that your nanny or sitter will need from you. 
Being comfortable with your little ones in the hands of someone else while you go to care for patients can be difficult.  After all, mom knows best! 
But in time, you will get used to it, and your caregiver will develop a new routine that your children will be comfortable with. Leave important contact information visible on the refrigerator while you are at the hospital, such as:
Your cell phone, and the location where you will be working

Another emergency contact number in case you can't be reached.

Local phone numbers for fire, poison control, and emergency services

A list of your children's allergies (if any)
Lastly, show your sitter where to find emergency supplies, such as flashlights, fire extinguisher, and the first aid kit.
How do you talk to your kids about being a nurse?
Your kids may be a little too young to recognize it at the time, but mommy is a superhero who helps humankind in its darkest hours. One day when they're old enough, you can explain it to them in more detail, and inspire them to recognize that there is a much bigger world out there beyond themselves.
This is a great teaching opportunity for altruism and hard work. Focus on mom's dedication to a greater cause and to helping others who need it. 
Explain that mom's job is "to help sick people get better."
Kids (even teens) don't understand consequences the way that adults do. Keep your job description simple. Don't go into detail about disease states, complex injuries, or pain management. That will seem very scary to them.
Let them know that your job may require working evenings, weekends, and holidays.
Explain to your kids that patients need care around-the-clock. As a result, you may have to miss the occasional weekend get-together, birthday party, or other events. This is also true if you end up returning to school for an advanced degree such as an MSN.  
Talking to your kids about your work hours allows them to express frustrations about your occasional absence that you may not know they even have. You can arrange to do another special activity with them instead.  
Working as a nurse and a mom takes determination, hard work, and a whole lot of time management. But if you are determined and tough enough to make it through nursing school as a mom, you are going to have an incredible nursing career ahead of you!
In fact, in some ways, becoming a nurse will give you an edge in motherhood. Nurses see many disturbing, gross, and all-around unpleasant things that would make the average person go bonkers. There is less likelihood that your kids will freak you out, and you will know when a childhood injury is something serious or nothing to worry about.  
In essence, the patience and grit you will develop during your first year as a nurse will extend beyond the wall of the hospital and into your home. It will make you a stronger human. Take advantage of this new, thick skin. It will serve you better than you know.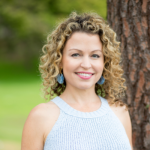 Guest author Sarah Jividen, RN, BSN, SCRN is a second-career nurse, freelance writer, mother of two, and founder of Mother Nurse Love, a resource for busy mom RN's. Her nursing specialties include emergency room, neuro/trauma, and critical care. In a rare moment of spare time, you might find Sarah practicing yoga, writing, or attending a local concert venue with her husband.