If you're considering a role in labor and delivery, but desire more direct involvement, then obtaining your nurse midwife certification may be the perfect option for you. This field allows nurses to combine their skills in caring for expecting mothers and being present during deliveries (and afterward). If you're passionate about gynecology and nursing, obtaining your nurse midwife certification is an ideal next step in your career.
Table of contents
TLDR: 
Certified nurse midwives are experts on women's health issues and play a large role in providing care during the entire pregnancy process
The job outlook is promising with high salaries and a large increase in projected job growth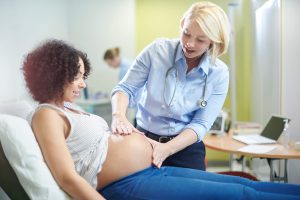 What is a certified nurse midwife?
A certified nurse midwife (CNM) is an advanced practice nurse (APRN) who provides primary care to women throughout their lives, from birth to adolescence, and through menopause.
Certified nurse midwives provide comprehensive care for pregnant women, including labor and delivery, prenatal care, health screenings, family planning services, and gynecological checkups. CNMs assist physicians during cesarean births and manage emergency room situations during labor. They also play an important role in educating families about sexual and reproductive health. 
Nurse midwives must complete a graduate-level nurse midwife certification program, and are certified by The American Midwifery Certification Board (AMCB). 
What does a
certified nurse midwife
do? 
Although the scope of their duties varies by state, many nurse-midwives work independently, prescribe many medications (like birth control), provide treatments, and order laboratory tests. The list below highlights more duties a CNM may be responsible for during a shift (typical shifts are 8-12 hours, but will vary by employer): 
Provide prenatal care
Educate patients regarding birth options
Monitor maternal health and fetal growth
Take and record patients' medical histories and symptoms
Evaluate a patient's response to medicines and treatments
Create a birth plan and other treatment plans
Analyze test results or changes in a patient's condition and alter treatment plans, as needed
Assist medical doctors and specialists
Consult with doctors and other healthcare professionals, as needed
Assist with breastfeeding and postpartum care
Treat routine, non-critical health conditions during pregnancy
Assist in low-intervention labor and pain relief
Attend natural births and offer delivery coaching
Order tests and review lab results
Perform physical examinations on women
Counsel and educate patients and their families about reproductive and sexual health.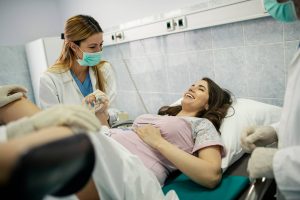 Certified Nurse Midwife job outlook
The employment outlook for nurse midwives is positive as the role is expected to grow 40% through 2031, which is very quick compared to the national average for other occupations. That means thousands of nurse midwives jobs will be created each year. 
Certified nurse midwife salary: 
Median annual pay: $114,210 ($54.91 per hour)
Salary breakdown 
Entry-level salary:

Hourly: $29.57/Annual: $61,500

Mid-level salary:

Hourly: $54.24/Annual: $112,830 

Top-level salary:

Hourly: $62.72/Annual: $130,450
States with the highest certified nurse midwife employment level
California 

New York

Texas

Pennsylvania

Massachusetts
Highest paying states for nurse midwives
Source: BLS
Highest paying

cities

for certified nurse midwives
Cities
Hourly
Annual

Charleston, WV

$81.47

$

169,460

San Francisco-Oakland-Hayward, CA

$78.27

$162,800

San Jose-Sunnyvale-Santa Clara, CA

$75.76

$157,570

Sacramento–Roseville-Arcade, CA

$72.59

$150,990

Salt Lake City, UT

$64.40

$133,950

Los Angeles-Long Beach-Anaheim, CA

$64.26

$133,660

Milwaukee-Waukesha-West Allis, WI

$63.26

$131,580

Boston-Cambridge-Nashua, MA-NH

$62.36

$129,720

New York-Newark-Jersey City, NY-NJ-PA

$62.01

$128,970
Source: BLS

How to obtain a nurse midwife certification
In order to be eligible to obtain a nurse midwife certification from the American Midwifery Certification Board, you must:
Earn a

bachelor's of science in nursing 

through an accredited nursing program (either bachelor's or associate's)

Pass the National Council Licensure Examination (NCLEX) and obtain RN license

Apply to a Certified Nurse-Midwife program, accredited through the

Accreditation Commission for Midwifery Education

(ACME). (There are currently 39 accredited CNMs programs.)
4. After completing the education requirements and obtaining their RN license, candidates must apply for the national certification exam administered by the American Midwifery Certification Board

(AMCB). To be eligible for certifications, candidates must:

Show proof of an active and current U.S. license as a Registered Nurse.

Have satisfactory completion of a graduate degree or have met the institutional requirements for a graduate degree from a program accredited by or with pre-accreditation status from the ACME.

Have verification by the nurse-midwifery program director confirming the candidate has met the institutional requirements for a graduate degree and the date completed.

Have an attestation by the director of the nurse-midwifery program that the candidate performs at a safe, beginning practitioner level.
Candidates who pass the certification examination are awarded the CNM credential and can practice as a certified nurse midwife in all 50 states. 
Some programs admit non-RNs (also non-BSNs) or offer accelerated entry. Student prospects can explore the requirements for different nurse midwife certification programs using this resource list.
If you did not earn a BSN, but rather an associate's degree in nursing (ADN), you can find a bridge program that allows you to apply for a graduate-level nurse midwifery program. 
Nurse midwives must renew their certification every 5 years through the AMCB, and must meet specific requirements regarding continuing education. 
What are the benefits of being a certified nurse midwife?
Nurses benefit from having their nurse midwife certification in many ways that could contribute to a very rewarding experience; some of those benefits include:
Certified n

urse midwives are widely respected members of the healthcare community and are often looked to as experts on women's health issues.

CNMs play an important role in educating patients, families, and communities about health and wellness.

By taking a holistic approach to patient care, CNMs help women live healthier, happier lives, and improve patient outcomes overall.

Certified nurse midwives enjoy a high degree of autonomy and flexibility in their practice. They are able to set their own schedules and work closely with other members of the healthcare team, allowing them to give the best possible care for their patients.
Nurse midwives can provide continuity of care, meaning that they can follow a woman throughout her pregnancy, labor and delivery, and postpartum period.
Some CNMs have the unique ability to care for patients through all stages of life, from infancy to adolescence to menopause. This allows them to build strong relationships with their patients and better understand their individual needs.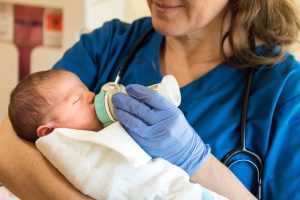 Why certified nurse midwives are important 
Certified nurse midwives approach treatment holistically – they are not only concerned about treating the physical needs, but also the mental and pyschosocial needs of a patient, too.    
The benefits of a CNM assisted birth include:
Lower rates of c-section births
Lower rates of labor induction/augmentation
Significant reduction of third and fourth-degree perineal tears
Less use of regional anesthesia
Higher rates of breastfeeding
CNMs provide:
Prenatal education
More hands-on approach
Closer relationships with their patients
Increased access to care
Less invasive medical interventions
Limited use of pharmacological pain management interventions
FAQs
1. Where do certified midwives work?
Certified nurse midwives can work in a different healthcare settings including hospitals (university and military, too), private practices, medical relief organizations, birthing centers, health clinics, or home birth services.
2. What are the benefits of having a nurse midwife certificate?
With a nurse midwife certification, you have the opportunity to be an expert of women's health issues, in addition to being a widely respected member of the healthcare community. Your nurse midwife certification is valid in all 50 states and acts a proof that you're a highly trained medical professional.  
3. Can you earn your nurse midwife certification without an RN license? 
No, you cannot earn a CNM certification without an RN license. However, as long as you graduate from an accredited nursing program, whether you earn a BSN or ADN does not matter because there are several bridge programs that allow ADNs with their RN license to attend graduate school (MSN).  
4. How long does it take to become a certified nurse-midwife?

 
Assuming you attend and graduate a four-year college for your bachelor's degree in nursing, it will likely take between 6-8 years to become a certified nurse midwife. 
5. What are the

CE

requirements for CNMs?
Continuing education requirements for certified nurse midwives vary from state to state, but be sure to check out the AMCB's Continuing Education Policy to get a better understanding of what is required in your state. 
6. What is the certifying body for nurse-midwifery candidates? 
The American Midwifery Certification Board (AMCB) is the national certifying body that administers the certification exam, and the Accreditation Commission for Midwifery Education (ACME) is the body that accredits graduate-level midwifery programs. 
7. Are there fees for the exam?
Yes, there are fees to take the national certification exam, the fee is $500 but you can find out more information here. 
8. Do certified nurse midwives have specialties?
A certified nurse midwife is a specialty role, however CNMs may choose to focus on a clinical area such as: 
Birth centers
Hospitals
Community Health Clinics
Research
Education
9. What is the difference between a Certified Nurse Midwife, Certified midwives, Doulas, and Nurse Practitioners? 
There are some key differences in nurse-midwives and other maternal professionals:
Certified Nurse-Midwife: Certified nurse-midwives are graduate-prepared registered nurses trained in the disciplines of nursing and midwifery. CNMs legally practice in all 50 states, including the District of Columbia. 
Certified Midwife: Certified midwives are masters-prepared healthcare professionals trained in the discipline of midwifery. They do not hold a nursing degree. Certified Midwives only practice in Delaware, Maine, Hawaii, New Jersey, New York, and Rhode Island.
Doulas: Doulas meet the requirements of a certification program. They provide support to mothers during childbirth, and many give support to mother and baby in the weeks following childbirth. Doulas are trained in the birthing process and postnatal care, but they are not maternity care providers. They do not provide clinical or medical care. Doulas primarily focus on the emotional and physical needs during labor. 
Nurse Practitioners: While Women's Health Nurse Practitioners (WHNP) and some Family Nurse Practitioners (FNP) treat women with both chronic and acute illnesses, the nurse-midwife's primary focus is on well-woman. WHNPs and FNPs do not deliver babies.
Also, check out this resource the ACMN put together to help distinguish the roles apart. 

Conclusion
Obtaining your nurse midwife certification could open the doors to limitless career opportunities. Certified nurse midwives undergo rigorous training to become experts in women's health issues. They provide precious care for pregnant women as they are in a unique position to combine their passion for delivering babies with technical nursing skills, bed-side experience, and medical knowledge. 
The job outlook for the next decade is very optimistic, with 40% projected growth and an median annual salary climbing above $114,000.
To learn more about the nurse midwife certification process, visit the ACNM website. 
Next steps
Helpful Organizations, Societies, & Agencies
If you're interested in leveling up your nursing career, check out our affordable and accredited online nursing programs, where we offer tuition payment plans starting as low as $250 per month for our RN to BSN program, $325 per month for our MSN program, and $375 per month for our DNP program.