Aspen invites you to meet our faculty — Anny Dionne! 
Canadian-born, Dr. Anny Dionne, not only teaches Aspen BSN nurses, she's also a proud BSN alumnus. She believes nurses can do anything! 
What is your name: Anny Dionne DNP, MSN-Ed., RN 
Where are you from? Québec, Canada, but has lived in Florida since 2005. 
Who lives at home with you? My hubby and my two boys. 
What do you teach? I teach multiple undergraduate courses for Aspen's RN to BSN program.
What are some of your favorite hobbies? Cooking, reading, spinning, watching Billions.
What is your hidden talent? Ability to read people. 
What inspires you? Dr. Nina Beaman (Dean, Aspen University School of Nursing and Health Sciences), as a leader and, most importantly, as a person. I have seen her generosity first hand. Once in London, in a bookstore, a lady was getting ready to pay for her book. She expressed she had been saving and waiting for this book to be released; she appears to be going through hardship. Dr. Beaman paid for her purchases, and the lady started crying, Dr. Beaman has an instinct to recognize human suffering. I have seen how she is just at another level; she is smart, wise, super funny, and so down to earth with an incredible sense of planning and organizing. It is rare to see an academic leader with so much passion and generosity of her time and talent.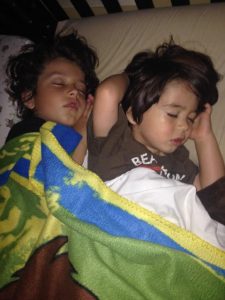 What's your professional and educational background? I graduated from Cegep de Drummondville in Québec in 2003. In 2005 I moved to Miami and continued working ED. It took me 10 years to finally return to school to pursue the RN to MSN in Nursing Education at Aspen University. I also completed a DNP in Healthcare Systems Leadership at Chamberlain University. I am currently in the process of earning an MBA with Aspen. I have always worked ED, including 10 years of ED leadership. Last year, I was given an opportunity to focus on academia, so I left my hospital position, for now, to spend more time with my family. 
What do you enjoy about teaching at Aspen? I enjoy giving hope to the students and letting them know that this degree is life-changing. Aspen students are so dedicated. There are other schools with an easier curriculum, and it takes a driven type of student to succeed here. As a professor, I learn something every week from my students!
What should a student expect when enrolling in your course(s)? Students should expect to succeed. They are nurses. They can do anything!
What advice do you have for a student just starting at Aspen? Take it one week at the time and trust the process, do not look ahead to the upcoming weeks because you will get overwhelmed. Aspen will change your life in ways you cannot yet imagine. 
What is your favorite holiday, and why? I love Thanksgiving. Because living in South Florida, I miss the fall colors every year. 
If you had to be shipwrecked on a deserted island, but all of your human needs — such as food and water — were taken care of, what two items would you want to have with you? Music and a bible. 
Anny Dionne and our other teachers are outstanding educators — committed, compassionate, and knowledgeable. In this new series, get to know some of our faculty members up close and personal. 
Learn more about what makes our faculty so special.