Friend of Aspen, Sarah Jividen of Mother Nurse Love shares her advice on what to highlight should your son or daughter say they want to be a nurse like you:
My children love to emulate me. I see it when they wear my shoes around the house and insist on using the same type of lotion as I do. They also have a knack for repeating my phrases verbatim, which can be endearing, but it also shows that I need to choose my words more carefully.
Therefore, it won't be a surprise if they announced that they want to be a nurse like me too.
In nursing school, several of my peers said they chose nursing because they had a parent in the profession. This provided them with a more realistic expectation of the nursing lifestyle. For instance, they recalled their nurse mom or dad working long hours, graveyard shifts, or alternating day and night shifts. Holidays like Christmas or Easter were also often celebrated on alternative days to allow the whole family to be there. 
Additionally, there were few taboo topics when it came to discussing the human body at home. They explained that their nurse-parent lacked a filter when talking about bodily fluids or the scariest-looking injuries, which could be shocking for others. (Those were also the kids who said their parents never fell for them faking illness to miss school).
A little over a decade later, I am now one of those parents, too.
It is reassuring to know that long before my kids are old enough to know which career path they wish to pursue, I have some influence over their future decisions. However, if one or both of my kids consider pursuing nursing school, I will give them an honest outlook on what the nursing profession will offer them.   
Even during these challenging times, I would encourage my child to pursue nursing.
Becoming a nurse helped me understand the power of gratitude in a way that nothing else ever could.

I believe this is because nurses often see people who are in a constant state of struggle. Examples include parents dealing with a chronically sick child, a patient-facing a debilitating illness, the staggering number of low socio-economic patients who have never received preventative medical care, and a range of other traumatic events. These situations make you realize just how fragile life is. 
As a result of this experience, my nursing career has forced me to become resilient and overcome challenges that would scare (or disgust) the crap out of most people. Nurses learn how to not only react to a crisis but respond to it with intention. They excel at rising above challenges because they have to for the good of the patients they serve. Due to the nature of their work, nurses know first-hand how unfair life can be for so many people. 
Although 2020 has been a daily source of frustration in so many ways due to the COVID-19 pandemic, I still feel lucky. As a nurse, I'm reminded that not everyone gets to be so fortunate during this time.  
Demonstrating compassion for others and serving as solution-finders are common characteristics of nurses. I want my children to build resilience and understand gratitude in the way that the nursing profession can show them. The bigger the challenge, the more resilience there is to gain.
Real-world advice I want to give my kids about becoming a nurse:
Take as many science classes as you can in high school.
Kids who are interested in pursuing any kind of science-based career can benefit from starting their studies early. Acceptance into a nursing program requires the completion of a series of challenging science classes. These include anatomy and physiology with labs, biology, nutrition, chemistry, microbiology, and biomedical statistics (my least favorite class ever). You may also be required to complete a few years of a foreign language. Students who learn a second language often have additional nursing career opportunities, and it also helps them provide more culturally competent nursing care as well.
In addition to giving aspiring nurses an idea of what they will be studying in college, it also helps them determine whether or not they like science in the first place. Becoming a registered nurse requires lifelong learning – both on the job and continuing education required to renew your nursing license every two years. The BSN is a growing requirement for many nursing roles, which leads me to my next piece of advice.

Go straight for a BSN.
When I graduated from nursing school in 2012, it was nearly impossible to secure a nursing job in a hospital as a new graduate without a BSN. That is still true today in most states. I am surprised by how many students still go to school for an Associates Degree in Nursing (ADN). 
After months of frustration and no job, many end up back in school for another year or two to earn a BSN, which ultimately wasted a lot of time and money. Like myself, many nurses say that earning a BSN was one of their most challenging — yet rewarding — achievements.
In a BSN Pre-Licensure program, students prepare to be RNs and earn a BSN. Get it done in one shot. You won't regret it.
Nursing school can be grueling. That is by design. 

I thought that my first degree in journalism was hard, but that was nothing compared to attending nursing school ten years later.

During the first week of nursing school, a professor told my class that many of us wouldn't graduate and said that some would be "weeded out." My nursing program considered any grade below 80% to be an F. Nearly one-third of my cohort flunked out of school for achieving what other college degree programs would consider a B-. 

All accredited nursing programs work to ensure that their students are prepared to pass the NCLEX the first time and demonstrate their competency in the nursing field.  Some other nursing school expectations I would share with my children are:

You will pull all-nighters to study for exams and write papers.

Many students ended their relationships or lost touch with family and friends to focus on their studies. Nursing school is temporary, and you will get your social life back after graduation.  

It is your responsibility to manage your health during nursing school.  

Even nursing school can require night shift clinical rotations. 

You don't have to be a bedside nurse if you don't want to.
Like most nurses, I began my career as a floor nurse. I started as a neuro/trauma RN and then became an ER nurse. 
However, I would explain to my children that they don't need to start their nursing career as bedside nurses. In fact, they don't even have to start their careers in a hospital setting if they don't want to.   
For the record, I believe that there are many benefits to working at the bedside – particularly in terms of learning clinical skills, understanding time management, and working as a part of a team. However, it's not mandatory, and you can have a successful nursing career on the terms of your choice. 
Read about Nurse Keith's alternative pathway into the nursing field without ever being a bedside nurse. His nursing career path involved working as a nurse writer, career coach, podcaster, and entrepreneur, among other roles. 
There are many non-bedside nurse career options, which include the following:

Aesthetics nursing

Case management

Telehealth nursing

Medical writing

Home health nurse

Medical or pharmaceutical sales

Nurse educator for a medical device company

Who you work for has a lot to do with how happy you will be in your career.
Work for managers who value your efforts as well as encourage teamwork among nursing staff. You can often tell which facilities have the best leadership by discovering answers to the following questions:

How do the nurses talk about their jobs?

How do the nurses treat each other?

What is the nurse retention rate?
There is a good chance that you will experience poor management at some point in your nursing career. The goal is to find a facility where your expertise is highly valued, and you are treated with respect by your managers.
Take care of your own health needs first.
Nurse burnout in the profession is common. 
I don't want to show my children that I am a martyr by not standing up for my rights and well-being as a nurse. Over the years, I have learned that taking care of others requires taking care of yourself first.
As a part of my goal to establish a better work-life balance and put my own health needs first, I made the difficult decision to leave ER nursing this year. I decided to instead focus on healthcare content writing, and have since created a business where I can use my nursing degree to write from my kitchen table.
This month, I am starting a whole new chapter of my nursing career as an aesthetic nurse. My latest work schedule consists of shorter hours, which gives me more time to spend with my kids at home. I couldn't be more excited about this next step in my nursing career.   
One day, one of my children may decide that they want to be a nurse like me. I hope they see that despite the ever-changing workflow and dynamic environment, my nursing career has given me a way to put their needs first. And to me, that's what really matters. 
Does your child talk about being a nurse like you? What conversations will you have with them about the profession?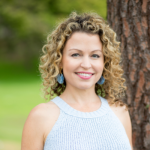 Guest author Sarah Jividen, RN, BSN, SCRN is a second-career nurse, freelance writer, mother of two, and founder of Mother Nurse Love, a resource for busy mom RN's. Her nursing specialties include emergency room, neuro/trauma, and critical care. In a rare moment of spare time, you might find Sarah practicing yoga, writing, or attending a local concert venue with her husband.