Becoming an attorney was the initial plan for Alona Roldan. But when hefty education costs left her looking for a different career path, she fell in love with nursing. Now Alona, who works as a program manager for a Medicare Advantage Health Plan, wants to grow her nursing career even more and push the envelope for the best patient care possible. Despite the pandemic and a full-time job, she successfully obtained her BSN from Aspen University in 2021 and enrolled in a nurse practitioner graduate program in the same year. And like for many of us, finding this determination didn't come easy for Alona. 
"It took me almost 17 years to actually go from my associate degree to back to school and go for the bachelor's," Alona tells Aspen. "It wasn't always feasible. I had my excuses not to do so. The moment I stepped foot at Aspen, it completely changed my life. They made it easier for me to achieve it, and now I want to do more."
Alona channeled her nursing and BSN experiences into a heartfelt poem that she shared with Aspen, encouraging every nurse to soar high in the face of any challenge.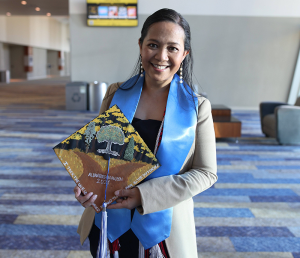 It is not impossible for someone who is highly motivated.
The journey that took 17 years to complete, from an associate degree in nursing to a bachelor's in nursing.
The journey, as the great American poet Robert Frost said, "Two roads diverged in a wood, and I took the one less traveled by, and that has made all the difference."
My journey began with learning how to be a nurse first
Despite the struggles and trying times along the way.
Felt the wrath of what was called "nurses eat their young"
The first time I ever questioned my purpose of becoming a nurse.
And as I cried through the painful experience,
I persevered and learned everything along the way.
Then came how to be a better nurse
For the delivery of high-quality care.
Erasing the painful memories of my nursing beginning
As I elevated myself and my expectations in the field that I love.
And never have to look back to the once was.
And then came how to be the best nurse that I could ever be
For all the patients and their families who deserve my best.
All because it is the right thing to do.
Then came another road in obtaining a higher education,
In hopes of achieving a nursing goal.
But more importantly, completing a promise that I made for myself.
And Aspen University made it all possible for me to fly.
Accomplishing a goal that took years but made it all worth the while.
Self-doubt loomed, and pondered what success was.
They have assisted and motivated me to achieve that goal
So that I can impart the knowledge, skills, and experiences that I have mastered along the way.
And share them with fellow nurses so they too can continue to fly high.
Then, the COVID-19 pandemic happened.
Where the United States saw the vulnerability in the healthcare system.
We cried, we got scared, we questioned our purpose, some stayed while others left.
I, on the other hand, found myself on a different road
Making a difference in servicing the vulnerable populations.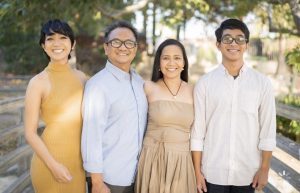 But the journey does not stop there.  
I am soaring high once again
Fulfilling a lifelong dream of becoming a Nurse Practitioner.
A journey that would take a thousand steps
But it all started with one.
For me, a wife, a mother of two, and having a full-time job.
Dreaming and achieving
Are now within my grasp.
For someone like me who dreamt of leaving footprints wherever I go
I know I am making a difference.
To my fellow graduates
I will leave you all with this.
We all have 24 hours in a day
What you do with it will determine your journey.
You are going to be your greatest challenge and your own barrier.
But if you focus on your goal, one step at a time
You, too, will reach your destination.
Taking with you all that you have learned along the way
In the journey where few have dared.
Learn more about Aspen's RN to BSN (Completion) program and all our amazing students and alumni.