Master of Science in Information Systems – Web Development
---
Focus on online and cloud-based solution skills for the full range of commonly used websites and applications.

Most businesses depend on Information Systems to implement critical aspects of their Knowledge Management process. Understanding the information management needs of a client is just the starting point. Aspen's M.S. in Information Systems – Web Development specialization is designed to provide you with an array of online and cloud-based solution skills appropriate for the full range of commonly used websites and web applications.
Finish Fast – Can complete in 18 months
Enjoy Flexibility – 12 courses with start dates every 2 weeks
Choose Where You Learn – 100% online courses
Affordable Monthly Payments – Opt to pay $325 per month
Focus On Your Passion – Choose your Capstone
Our Master of Science in Information Systems programs are designed to provide computing professionals with the knowledge and skills required to be productive contributors to all aspects of the information systems lifecycle from business needs and requirements, through acquisition and development, to deployment, installation, test, and operations, with a focus on development.
Students who complete the Master of Information Systems degree with a specialization in Web Development graduate with a solid foundation in essential areas of database design and project management as well as the technical skills central to careers in web programming and design.
Follow a customized study track that modifies the program's core curriculum, which includes:
Management of Information Systems

e-Business

Website Development with HTML and JavaScript
Incorporate web development-specific classes on topics such as:
ASP.NET Programming
PHP Programming Perl
Programming and CGI Scripting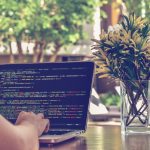 In addition to helping you build a targeted set of skills through traditional coursework, before graduation, M.S. in Information Systems – Web Development students will complete an individualized project that will allow them to apply the knowledge and skills they have acquired to create an integrated, sophisticated project that is suitable for inclusion in their portfolio.
Is The M.S. in Information Systems – Web Development Program for Me?
This program is designed for learners with a technical bachelor's degree (in some computing discipline, engineering, mathematics, or statistics) or any bachelor's degree and professional experience in the proposed area of study.
Learn more about our other M.S. in Information Systems specialities. 
M.S. in Information Systems – Web Development Graduate Capstone
Graduate students are required to complete a Capstone project. This individualized project allows students to apply knowledge and skills acquired in their courses and real-world experiences.
Get in touch to learn more.
Admission Requirements
Application – A completed application.
Bachelor's Degree Transcripts – Official transcript demonstrating a conferred bachelor's degree from an institution that is accredited by a CHEA recognized accrediting body or an international equivalent.
Military Documentation (Optional) – A copy of the most recent orders; or a copy of DD214 (This can be requested from the National Archives.)
Applicants must demonstrate one of the following:

Successful completion of two undergraduate level information systems courses
Successful completion of undergraduate information systems program at an appropriately accredited university
Courses:
CIS515 - Management of Information Systems

CIS680 - Object Oriented Analysis & Design with UML

CIS670 - C++ Programming for C Programmers

CIS656 - Relational Database Design

CIS650 - ASP.Net Programming

CIS685 - eBusiness

CIS660 - Website Development with HTML/JavaScript

CIS653 - Perl Programming and CGI Scripting

CIS655 - XML Programming

CIS654 - PHP Programming

MGT649 - Information Technology Project Management

SIS799 - Graduate Capstone