A PACU nurse, or a post-anesthesia care unit nurse, is a Registered Nurse (RN) who specializes in caring for post-anesthesia patients. Post-anesthesia care unit nurses work in hospitals, surgical centers, and clinics to provide care for patients who have undergone surgery or other medical procedures. This guide will cover everything you need to know about becoming a post-anesthesia care unit nurse, from the educational requirements to the job duties and salary potential. If you are looking for a challenging and rewarding career in nursing, then read on! 
Table of Contents
TLDR
A PACU nurse helps patients who are recovering from anesthesia and/or surgical procedures.
To become a p

ost-anesthesia care unit

 nurse you will need to have an ADN or BSN in nursing and your RN licensure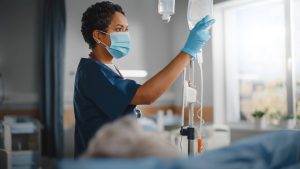 What is a PACU nurse?
PACU nurses, or post-anesthesia care unit (PACU) nurses, are essential members of the healthcare team who provide vital patient support after surgery or other medical procedures.
PACU nurse j
ob description
What does a PACU nurse do?
PACU nurses are highly-trained professionals keen on assessing, monitoring, and providing care for post-operative patients. A post-anesthesia care unit nurse is responsible for ensuring the comfort and safety of patients who have just undergone surgery.
Post-anesthesia care unit nurses tailor patient care plans that consider both clinical treatments and emotional support. As a PACU nurse, you will monitor and observe your patients closely to ensure they receive optimal comfort and care. You will assess any pain, manage medications, ventilators, and IV fluids, watch signs of infection or abnormal heart rates, and assist patients in transitioning out of sedation to alertness.
A post-anesthesia care unit nurse must possess strong communication skills for effective collaboration with medical professionals such as surgeons, physicians, and anesthesiologists. If a patient experiences any adverse reaction to the anesthesia (such as nausea or pain), a post-anesthesia care unit nurse will administer fluids or pain medication while communicating these concerns with doctors. They also must provide education regarding the potential side effects of medications and aftercare for complications that may occur post-surgery. Those who work in the post-anesthesia care unit shoulder tremendous responsibility while simultaneously managing high-stress environments.
This is a critical role that requires nursing expertise, patience, and empathy to ensure the best healing outcomes for patients.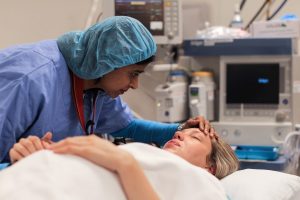 Where can PACU nurses work?
Some of the most dynamic and rewarding places for post-anesthesia care unit nurses to practice their craft are surgical centers, hospitals, ambulatory centers, and private offices. 
The diversity in setting allows post-anesthesia care unit nurses to acquire invaluable insights through all stages of their careers. Working in an ambulatory surgery center or private office environment offers the chance to strengthen patient triage and management skills; while working in a hospital, post-anesthesia care unit nurses can gather a truly comprehensive understanding of perioperative clinical processes. Providing evidence-based, high-quality patient care in various settings expands the nurse's versatility as a clinician, giving them a deep appreciation for how core principles underpin all areas of nursing and healthcare service delivery.
Job outlook for PACU nurses
From ZipRecruiter's research, the annual average PACU nurse salary in the United States currently ranges from $51,500 to $156,000. Most nurses fall within the 25-75th percentile range of $72,000-$104,000 annually, with top earners (90th percentile) making around $124,500 yearly. However, it is important to note that there is a large variation in pay depending on factors such as skill level and location. This means that there are ample opportunities for career growth and increased earning potential.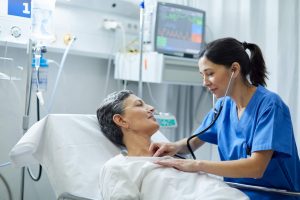 Average annual PACU nurse salary: 
Tennessee – $98,779

Hawaii – $97,171

Massachusetts – $95,993

Minnesota – $95,825

Nevada – $95,392
The top 10 highest-paying cities for PACU nurse salaries
Atkinson, NE – $120,449

Frankston, TX – $117,595

Sunnyvale, CA – $112,706

Dimondale, MI – $109,653

Manhattan, NY – $109,608

Santa Rosa, CA – $109,176

Cambridge, MA – $105,935

Skyline-Ganipa, NM – $105,392

Arlington, VA – $104,780

Williston, ND – $104,677
How to become a PACU nurse
Educational requirements
An associate's or bachelor's degree in nursing satisfies the educational requirements for becoming a PACU nurse; however, you will need to obtain your RN licensure by passing The National Council of State Boards of Nursing (NCLEX-RN) exam. 
Certifications necessary
Becoming a PACU nurse requires a unique set of skills, training, and educational qualifications. While the registered nurse (RN) license is the most essential certification, there are other ones necessary for this role.
All post-anesthesia care unit nurses must also have formalized perioperative training, and they often pursue additional certifications such as a Certified Post Anesthesia Nurse (CPAN) or Certified Post Anesthesia Nurse Practitioner (CAPA). 
The CPAN certification is focused on adult medical-surgical patients, while the CAPA certification covers outpatient ambulatory settings. Both certifications give you specialized expertise in pre-operative assessment, post-operative monitoring, and pain management. These certs help to ensure that you are providing the highest levels of care for patients at all times.
Furthermore, many states require PACU nurses to acquire an Advanced Cardiovascular Life Support (ACLS) certificate due to the critical nature of this specialty. Obtaining certifications can be challenging yet rewarding, as they help create more opportunities for you within the profession and serve as tangible evidence of your professional commitment.
Essential skills
Compassion

Excellent communication ability

Responsible

Critical thinking

Integrity

Interpersonal skills

Attention to detail

Ability to be proactive

Comfortable working in high-pressure environments
FAQs
1. What is the difference between PACU nurses vs. operating room nurses? 
Operating Room Nurses work in the OR with surgeons and anesthesiologists to ensure that all necessary medical equipment is well maintained and that patients are prepped for operations. PACU nurses monitor patients after surgery, ensuring that their vital signs remain stable before being transferred to other areas within the hospital or released. Both roles must have the ability to remain calm in urgent situations. Utilizing both advanced skillsets, in conjunction with a highly adaptive teamwork ability, PACU and Operating Room Nurses help deliver exceptional care from start to finish for their patients each day.
2. What is the difference between PACU nurses vs nurse anesthetists?
Post-anesthesia care unit nurses provide care to surgical patients before and after operations; their specialties include monitoring vital signs, pain management, and other post-operative needs. Meanwhile, nurse anesthetists specialize in administering anesthesia and providing pain control throughout the surgery. Both fields are extremely rewarding as they give healthcare professionals a chance to make a real difference in the well-being of their patients. 
3. Are there continuing education requirements for PACU nurses?
All post-anesthesia care unit nurses must maintain an RN license which usually requires state-mandated continuing education. This is technically the only CE requirement for post-anesthesia care unit nurses; however, the CPAN certification does have specific CE requirements. 
For the CPAN certification, you must complete 1,200 hours of direct clinical experience over the course of two years before applying for credentialing.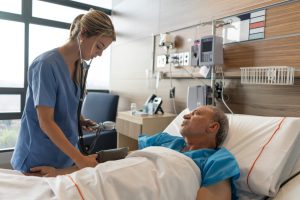 Conclusion
A career as a post-anesthesia care unit nurse can be extremely rewarding. You will have the opportunity to work in a variety of settings and help patients during a critical time in their treatment. If you are interested in becoming a post-anesthesia care unit nurse, research the different educational requirements and certification options available to you. The salary and job outlook for PACU nurses are very positive, it really is a great time to consider this career!
Next steps
Resources
If you're looking to level up your nursing career, check out our affordable and accredited online nursing programs where our tuition payment plans start as low as $250 per month for our RN to BSN program, $325 per month for our MSN program, and $375 per month for our DNP program.