NICU nurses play a critical role in caring for premature and critically ill newborns. NICU nurses must have specialized knowledge and skills to care for these young and fragile patients. If you are interested in becoming a NICU nurse, this article is for you! In this post, we will discuss the education and training required to become a NICU nurse and the duties and responsibilities of this critical nursing specialty.
Table of contents
TLDR
A NICU nurse is a registered nurse who specializes in the care of sick or premature newborn babies in a neonatal intensive care unit (NICU)
The average annual NICU nurse salary is 

$126,854

and the job growth is expected to grow 6% over the next ten years
To become a NICU Nurse, you will need your RN license, though additional certification will benefit your career in many ways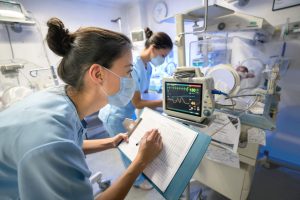 What is a NICU Nurse? 
Neonatal nursing is a specialized branch of nursing specifically devoted to working with newborns who have been born facing numerous complications, from premature birth, physical deformities, and illnesses, to cardiac problems or surgical issues. 
Neonatal nursing offers a unique set of challenges, including providing care for infants who suffer from short-term difficulties following birth and long-term issues due to prematurity and illness. While some neonatal nurses may provide services up to two years old, most will work with newborns until they are discharged home.
How to become a NICU nurse
Considering the vulnerable population (newborns) that neonatal nurses work with, they are required to have extensive knowledge and training in neonatology. Here are the requirements for becoming a NICU nurse:
Educational requirements for neonatal nurses
If you aspire to become a neonatal intensive care nurse, the first necessary step is graduating with an associate's (ADN) or bachelor's degree (BSN) in nursing. This will make you eligible to sit for the NCLEX-RN exam, the national certification exam for registered nurses seeking their state licensure. 
Word to the wise: hospitals often prefer those with BSN qualifications when hiring. 
Certifications necessary to become a NICU nurse
First and foremost, you must obtain your Registered Nurse licensure by graduating from an accredited nursing program and passing the NCLEX-RN exam. 
Though certification may not be necessary for all employers, many employers prefer NICU nurses who meet specific criteria, such as having experience working within a clinical setting over several years.
Neonatal nurses must be highly trained and knowledgeable in the care of newborns, including the pathophysiology and disease processes that pertain to them. Furthermore, these professionals need to have extensive training in correctly assessing the needs of neonates as well. As such, certification serves as a testament to their proficient expertise in this field.
NICU Nurse certification:
There are several certifications that NICU nurses may obtain, it is up to you to choose which certification you want to pursue based on the scope of the specialty. Also, it is common for employers to require specific certifications, and oftentimes they'll even pay for it. Several accrediting bodies provide national certification for NICU Nurses; here are the predominant two: 
– The American Association of Critical Care Nurses (AACN) offers three certifications for NICU nurses:
Critical Care RN (Neonatal) – CCRN

Critical Care RN Knowledge Professional (Neonatal) – CCRN-K

Acute Care Clinical Nurse Specialist (Neonatal) – ACCNS-N
– The National Certification Corporation (NCC) also provides NICU nurses with national certification: 
Neonatal Intensive Care Nursing – RNC-NIC

Inpatient Obstetric Nursing – RNC-OB

Maternal Newborn Nursing – RNC-MNN

Low-Risk Neonatal Nursing – RNC-LRN
The Certification Requirements & Eligibility for achieving your desired certification will vary depending on the specific credential.
Recommended experience for NICU Nursing
Most employers expect RNs to have several years of clinical experience caring for infants in neonatal facilities, hospitals, ICUs, or pediatric units. The requirements will vary from employer to employer. The more advanced the levels of care, the more experience and specialized skills are required of the nurse. 
Skills necessary to be a successful NICU Nurse
Becoming a successful Neonatal Intensive Care Unit (NICU) nurse requires unique skills and abilities to provide the best care. Compassion combined with expert clinical skills is essential when caring for these vulnerable newborns, as nurses must understand newborn physiology and the complications and medical issues these babies may experience. 
Nurses must also be quick-thinking, organized individuals who demonstrate competency in managing complex cases autonomously and collaboratively with other healthcare professionals. On top of that, NICU nurses need excellent communication skills as they interact with family members who are often in a state of distress or anxiety. Sound judgment, understanding of each patient's goals, and educating families about their baby's situation are important attributes that define successful NICU nurses.
Technical skills: 
Evaluation and treatment planning

Neonatology 

Patient and family education

Mechanical ventilator and incubator training
Soft skills:
Compassion

Communication

Critical thinking and problem-solving

Time management

Organization

Ability to remain calm in stressful situations

Proactive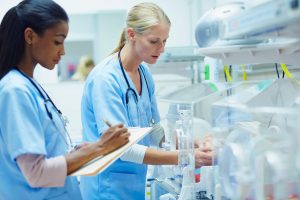 Different levels of NICU Nursing:
Level I (Basic Newborn Care) –

 Registered Nurses have the professional expertise to give quality postnatal care to healthy newborn babies. These facilities maintain an optimum level of stability for infants born at 35-37 weeks gestation and in good health. RNs also work hard to preserve the stability of premature or sickly infants until they can be transferred safely into a healthcare institution that offers proper neonatal care.

Level II (Advanced Neonatal Care) –

 Nurses at this level care for newborns who may require breathing, feeding assistance, and/or special medication; these infants are not as critically ill. Level II NICUs work in smaller healthcare facilities known as 'special care nurseries'.

Level III (Sub-specialty Newborn Care) –

 Nurses specializing in the care of infants at level III NICUs strive to provide patients with a comprehensive range of specialized pediatric services, including advanced imaging and respiratory support methods. These healthcare professionals are devoted to giving premature babies born before 32 weeks gestation and newborns suffering from acute issues the best possible treatment.

Level IV (Highest Level of Neonatal Care; Regional NICU) –

 Infants as young as 22 to 24 weeks gestational age receive specialized care at these facilities. Level IV NICUs have state-of-the-art equipment and offer mechanical ventilation, sophisticated surgeries (such as "open heart" procedures for congenital heart defects), and even ECMO or extracorporeal membrane oxygenation in some cases. Thus the highest level of healthcare is provided to deliver optimal results.
Job outlook for NICU nurses: 
ZipRecruiter has reported a wide range of NICU Nurse salaries, from as low as $32,500 to an incredible $274,500 annually. On average, most of these nurses make between $89,000 (25th percentile) and 135,500 (75th percentile), with top earners making up to 249,000 annually across America. The vast variance in salary ($46,500) implies that there are plenty of opportunities for growth depending on skill sets and experience; location is also playing its part!
NICU Nurse salary: 
The average annual salary for a NICU nurse is 

$126,854

.
NICU Nurse salary: Top 10 highest paying states 
Tennessee – $136,462

Hawaii – $134,240

Massachusetts – $132,612

Minnesota – $132,379

Nevada – $131,782

Connecticut – $130,490

Rhode Island – $128,218

Washington – $127,185

Wisconsin – $127,143

Oregon – $126,875
NICU Nurse salary: Top 10 highest paying cities
Atkinson, NE – $166,397

Frankston, TX – $162,455

Dimondale, MI – $151,483

Manhattan, NY – $151,421

Cambridge, MA – $146,347

Skyline-Ganipa, NM – $145,596

Arlington, VA – $144,752

Williston, ND – $144,609

Lake Marcel-Stillwater, WA – $144,178

New York City, NY – $143,185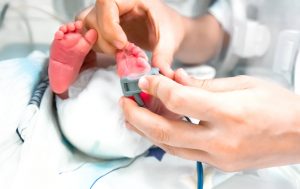 What do NICU Nurses do? 
Neonatal nurses and nurse practitioners focus on offering compassionate care to acutely or critically ill newborns, in addition to providing emotional support for newborn babies' families. They work in labor & delivery departments, neonatal ICUs, and other acute care settings where they make sure their little patients can fight off infections and develop adequately despite any congenital disorders or malformations they may have. 
They have specialized knowledge of the many conditions and challenges that premature, critically ill, or injured infants may face.
A NICU nurse's job responsibilities include providing holistic and evidence-based care for premature and critically ill infants in a Neonatal Intensive Care Unit setting. This includes assessing, developing, and carrying out plans of care; monitoring vital signs; working closely with physicians to develop the most suitable patient plan of care; managing respiratory functions and equipment; performing diagnostic tests; providing family education on the infant's condition; administering medications as prescribed in accordance with policies and regulations; maintaining patient records; initiating therapeutic procedures while adhering to professional standards; reporting any changes in a patient's condition or behavior promptly.
Where do NICU nurses work?
NICU nurses can expect employment in private and public hospitals, with the occasional opportunity for home-health service or medical emergency teams. In essence, these are the most popular places where you will come across NICU nurses:
Hospitals

Neonatal ICUs

Community Health Clinics

Med evac/transport services

Home health
FAQs
1. What career options are available as a neonatal nurse?
As your career advances, there will be more opportunities that become available to you. Neonatal nurses are able to work as:
Staff nurse

Nurse managers

Clinical nurse specialists

Developmental care specialists

Neonatal nurses practitioners (if you pursue an advanced degree/

MSN

)
2. Can you work as a NICU travel nurse? 
Yes! NICU nurses can work as travel nurses, though they will need to comply with the state and federal regulations that are in place that currently allow for travel nurses to work in compact nursing states with only one licensure. 
3. How long does it take to become a NICU Nurse? 
You can spend between 2-9 years becoming a NICU nurse, depending on your education path and the amount of time you choose to gain clinical experience. 
You can enter the field after obtaining your ADN and RN licensure, which would only take about two years to complete, which is an excellent way to begin your career as a neonatal nurse. However, investing the time for a Bachelor of Science in Nursing (BSN), which generally takes four years to complete, opens more doors and significantly increases earning potential. Further commitment to learning through an MSN or doctoral level program with neonatal specialization may take another 2-4 additional years of study, yet will undoubtedly increase opportunities even more.
Most employers expect RNs to have 2-5 years of clinical experience caring for infants in neonatal facilities, hospitals, the ICU, or on pediatric units.
Conclusion
NICU Nurses are entrusted with a precious responsibility– our newborn children. Success requires expert nursing knowledge and skill, compassion, critical thinking, and the ability to remain composed during stressful situations. A career as a NICU nurse can be gratifying. The most important thing is to ensure you have the temperament and personality to deal with the challenges of this demanding role. 
If you are looking for a challenging and rewarding career with good pay and job security, consider becoming a NICU Nurse. Research the different educational requirements and certification options and commit to your plan. The salary and job outlook for NICU nurses are excellent, making it a great time to consider this career!
Next steps
Get certified: 
Find NICU Nurse jobs:
Resources
If you're looking to level up your nursing career, check out our affordable and accredited online nursing programs, where our tuition payment plans start as low as $250 per month for our RN to BSN program, $325 per month for our MSN program, and $375 per month for our DNP program.