Never Too Late To Go Back to School
"Age shouldn't stop you from going after your goals. Learning is a lifelong process."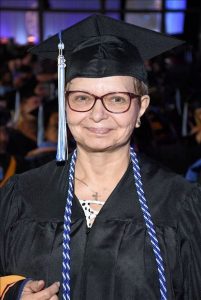 Bonnie W, a vibrant 77-year-old, is one of Aspen University's oldest graduates.   
A nurse for over 30 years, she has experience in critical care, emergency room, and clinics. Bonnie currently teaches nursing students working towards their ADN but wants an opportunity to teach at the Baccalaureate level. To do so, Bonnie must have an advanced degree.
Her love of teaching lead her to seek a Master's of Science in Nursing with a specializing in Nursing Education. "I love learning. I go to nursing seminars regularly, and I realized that if I am going to continue teaching at different levels of nursing, I needed to get my masters no matter how old I am."
Bonnie decided on Aspen. She liked taking courses on her own time and enjoyed her instructors. They are, "some of the best professors anywhere. They are tough but fair." They helped Bonnie examine her experiences on the field, and assisted her in framing those experiences as lessons she could pass on to her nursing students.
One course, in particular, Curriculum Development, stood out for Bonnie as especially helpful. During this 8-week online course, Bonnie had to develop a class curriculum, a practice she immediately put into effect when she developed an advanced phlebotomy class at her current teaching position.
Bonnie hopes to set an example for those who fear they may be too old to go back to school. She is not done living her best life, and she's not done with teaching. "If we wake up and we're breathing, we have more to do."
Bonnie is one of the Faces of Aspen.  We are proud to have her as an alumnus and look forward to her updates!