On this week's episode of the 2022 Doctoral Student Support Webinar Series, Dr. Heather Frederick welcomes Aspen University's professor, Dr. Andrea Novak, to discuss everything you need to know about APA. 
Dr. Novak teaches in Aspen's MSN and DNP programs. She has a Ph.D. in Public Health, and her background is in Emergency Nursing and Adult Continuing Professional Development. At AU, she is considered the APA expert and go-to person when you've got APA questions.  
If you're a doctoral student facing the inevitability of dissertation research, you'd be wise to listen to the entire webinar episode, take detailed notes, and bookmark it for later use. 
You can listen to the full episode here. 
Mastering APA 
You won't learn everything you need to know about APA in one webinar, but this presentation covers the basics to set you up for success. The name of the game is to reduce the absolute number of revisions you will make to your manuscript. Making sure you are using APA form and style will allow you to focus on content, reducing the total number of revisions you will be asked to do.
It is highly recommended that students take the responsibility to acquire a tangible copy of the APA 7 Style Guide. This is a vital tool that can be very helpful and serve as the source of truth, however, it is not available in digital format for libraries.
In this episode, you will learn how to cite and reference books, journals, and websites properly.
Top APA tips:
Use different types of tools and resources to check your APA formatting, including the

APA style guide

,

instructional aids

, and online materials like videos and downloadable worksheets. 

Don't be afraid to

email

the APA website if you cannot find an answer to your question.

The more you use your APA reference book, the easier it will be to navigate and comprehend it.

Use the "Quick Look" feature on the inside pamphlet of your APA style guide. 

BE CAREFUL when using online resources. Typically, there are flaws, even in advanced software, like Grammarly or Perla– *Remember* the software is only as good as the user. 
These are some great writing and citation tools available online: 
*Note: For a more in-depth take on each topic, please note the times in the parentheses, which correlate to when these topics are covered in the Webinar.  
Citations
(7:20)
All citations are basically the same– they must include the author and the year it was published.
List the names of one or two authors; however, if there are more than two authors, then use the "et. al." designation (which means there are more than two authors), followed by a comma and the year. *Don't forget the comma after the "et al."*

Use the "&" when listing two authors inside of parenthetical citations. 

If you are quoting a source, you'll need to identify the author, the year it was said and the source in which you found it. 

Be as specific as possible so that any reader, if they wished, could find the reference.

Don't forget, the "period" goes after the citation, not inside of the parentheses. 

For "unknown authors," do not use "anonymous" unless the work specifically states that exact word as the author. 

Use "Title Case" for the name of titles in citations and shorten long titles if possible. 

Groups and organizations are commonly cited as authors, but be sure to write out the entire name of the group (CDC/Centers for Disease Control and Prevention). 
Book references
(15:30)
Book references typically follow the same formula, which is one of many reasons why a book is a popular source to cite. 
Formula: 
Last name of author + initial of first name (with a "period"and "space" between each of the initials). (The year in parentheses).

The title, which is always in sentence case and italicized.

Then the publisher. DOI if one is listed but be sure NOT TO include a "period" after the DOI or URL, for it may skew search results. 

Ex: 

Turner, C. A. (2022).

Global health care: Issues and trends

(4th edition). Springer. 

Ebooks are the same, but instead, be sure to include the URL after listing the publisher.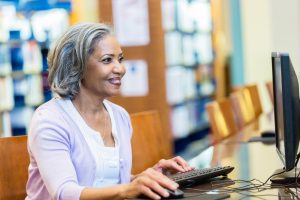 Website references: (
27:05)
When using website references, be sure they are evidence based (.gov; .edu; .org) and stay away from sources that are open-ended, like blogs, Wikipedia, Scribd, etc., which allow the general public to upload or publish information without any fact-checking. 
Important questions to ask yourself when using website references:
Is the website selling a product or a service? And are there many ads? If there are many, it is probably not a source you want to use for scholarly writing. 

Who is the author? 

Is there a publication date (not copyright date)?

How current is the information? 

Are there references on the site? 
Formatting journal articles (
32:40)
Author information goes first

If there are multiple authors, remember to include a comma after the author's first name initial and an ampersand (&) before the next authors last name. 

Title is written in sentence case and regular font

Capitalize any proper nouns

The name of the journal is always in italics and the title is title case.

If there is a "volume" number, put the number in italics, but do not use the word "volume" and if there is an "issue" number, just include that in parentheses next to the volume number, followed by a comma and the page numbers of the article. 

Include DOI or URL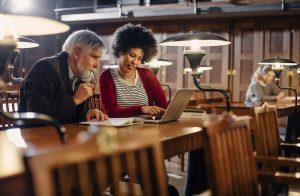 Bottom line
Mastering the art of APA takes time and effort. It's understandable if you feel overwhelmed from time to time, however, with the use of your tools and resources, you should feel more confident about the accuracy of your citations and references. 
Remember, the aim here is to reduce the number of revisions you make to your manuscript. Using APA form and style will assist you in this and it will allow you to focus on content, which again, should reduce the total number of revisions you are asked to do. 
Lastly, don't be afraid to seek help if you're unsure or stuck, there are many people available to help, you just need to ask. The librarians at Aspen University are here to help you 7 days a week! You can contact the library anytime for assistance here: 
Next week
Tune in next week when Dr. Michelle Whitman joins to present Doctoral Wisdom for our 7th episode of the 2022 Doctoral Student Support Webinar Series hosted by Dr. Heather Frederick. 
If you want to advance your career, consider Aspen University's online DNP or ED.D doctoral programs with start dates every two weeks and tuition starting at $375 per month!