Have you ever wondered what it takes to be a flight nurse? Flight nurses, also known as aircraft–, helicopter–, or transport nurses, are highly-skilled medical professionals who provide lifesaving medical care in the air, often in extreme and stressful conditions. As a transport nurse, you'll have the opportunity to make a difference in people's lives while working with an expert team of fellow healthcare professionals.
It takes stamina, dedication, and specialized training to excel as a flight nurse, but if you're looking for an adrenaline rush coupled with job satisfaction then this career could definitely be for you! In this article, we provide all the information you need to know to become a successful transport nurse, including the qualifications needed, skills required, and the current job market, with flight nurse salaries and career projections. 
Table of contents
TLDR
Flight nursing entails providing critical care to patients who are being transported in an aircraft to a healthcare facility for further treatment.
The job outlook for flight nursing is excellent, with an increasing annual salary ($86k) and thousands of new jobs projected to become available over the next decade.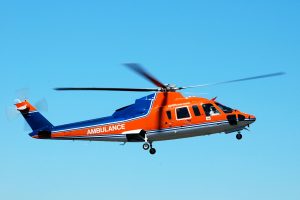 What is a flight nurse?
A flight nurse is an advanced healthcare professional responsible for the medical care of patients prior to and while being transported by airplane or helicopter. They are registered nurses (RNs) who have specialized training in critical care, trauma, and emergency management. Aircraft nurses possess invaluable skills that make them critical members of the aeromedical transport team. These nurses also have training in aviation and aviation safety.
Transport nurses will have the option to choose to practice as civilian flight nurses or as military flight nurses. Both share many responsibilities but differ dramatically in some ways, as we will highlight below. 
What does a flight nurse do?
Flight nursing goes beyond the duties of a traditional nursing role. In-flight nurses are part of a healthcare team that usually includes flight physicians and paramedics. These nurses are responsible for meticulous pre-hospital, emergency care while in transit to a healthcare facility. This emergency care encompasses nearly all patient populations. In addition, the duties of a transport nurse include a wide range of responsibilities, like in-flight monitoring of patient vitals, record keeping, medication administration, or executing a range of medical procedures, including life-saving interventions that require immediate attention – to name a few. 
Transport nurses must remain ready until their services are needed, much like the typical ambulatory services of an emergency medical technician (EMT) crew. 
They play an imperative role in patient care and status by staying connected with the ground crews. Maintaining ongoing communication, they ensure that patients can be transferred to their respective medical facilities quickly upon landing.
A transport nurse will basically perform all the duties of an ER or ICU nurse, however, with an added element of time-sensitive and urgent conditions, coupled with air travel, confined quarters, and limited resources. 
Civilian flight nursing: 
A civilian flight nurse will typically deal with situations that involve transporting newborn babies to a different hospital, moving patients from emergency situations (like a car accident) to a hospital, transferring ill patients to a new location, organ donation, and more.
Military flight nursing:
Military flight nursing is a specialized role that requires the enlistment of Air Force nurses to provide comprehensive care for military members during their transport from one destination to another. This could be anything from evacuating them away from a war zone and into medical safety, relocating them somewhere more appropriate with access to treatments, or even something as simple as transferring them back home. The work of these brave nurses should always be respected and admired, for caring for those wounded in battle is unlike any other task a civilian flight nurse will encounter. 
Career outlook for flight nurses
While ZipRecruiter is seeing annual salaries as high as $120,000 and as low as $59,500, the majority of Flight Nurse salaries currently range between $65,000 (25th percentile) to $102,000 (75th percentile), with top earners (90th percentile) making $109,000 annually across the United States. The average pay range for a Transport Nurse varies significantly by as much as $37,000, suggesting there may be many opportunities for advancement and increased pay based on skill level, location, and years of experience.
Average annual flight nurse salary
$86,070 per year
Highest 10 paying states for flight nurse salaries
New York – $102,225

New Hampshire – $97,072

Wyoming – $88,956

Arizona – $88,467

Montana – $87,827

Hawaii – $87,260

Massachusetts – $86,920

Tennessee – $86,757

West Virginia – $86,239

Indiana – $86,199
Highest 10 paying cities for flight nurse salaries
Atkinson, NE – $109,519

San Jose, CA – $103,335

Jackson, WY – $102,941

Frankston, TX – $102,784

Diamond Ridge, AK – $101,644

Inverness, CA – $100,210

Seattle, WA – $100,034

Barnstable Town, MA – $99,380

Concord, CA – $98,527

Norwalk, CT – $98,408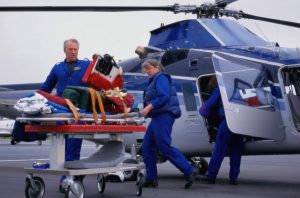 How to become a flight nurse
Educational requirements for flight nursing
You must obtain an RN licensure to practice as a transport nurse. You can earn your RN license by graduating with an associate (ADN) or bachelor's degree in nursing (BSN) from an accredited nursing program and passing the NCLEX-RN exam. Many flight nurses chose to continue their education by earning an MSN. This extra knowledge and training could elevate your job opportunities, earnings, and professional expertise.  
Experience required for flight nursing
For Registered Nurses wishing to pursue flight nursing, it is recommended you first develop expertise in the Emergency Room or Intensive Care Unit before venturing into transport nurse roles. This critical care experience will prove invaluable and increase your chances of becoming a successful flight nurse. Usually, employers seek 3-5 years of experience in the ICU/ER before seriously considering a candidate. 
Aspiring flight nurses should also have a foundational understanding of navigation and flying.
Certifications necessary to become a flight nurse
You will need to maintain your RN state licensure, first and foremost. To increase your employment chances, as well as to advance your career and provide the highest quality of patient care, employers suggest obtaining the Certified Flight Registered Nurse certification (CFRN) from the Board of Certification for Emergency Nursing (BCEN). 
Aside from that principal certification, a flight nurse is usually required to possess these certifications, too: 
The Air and Surface Transport Nurses Association (ASTNA) also offers certification programs for registered nurses, such as the Pediatric Advanced Transport course (PATC). 
Skills of a successful flight nurse
Flight nursing is a highly demanding job requiring strong interpersonal skills, including communication with other healthcare team members and family members. You will also need to acquire the expertise necessary to assess and treat medical and environmental conditions encountered during flight. This critical role helps to maintain patient safety throughout transport.
Technical skills
Soft skills
Physically fit

Strong leadership, particularly in stressful situations

Strong communication in all types of environments

Critical thinking and problem solving

Ability to remain composed during critical situations

Ability to multitask

Time management

Resourcefulness
What risks are involved with being a flight nurse?
It is vital to know these risks before deciding to become an in-flight nurse; after all, the Washington Post reported that "working on a medical helicopter is the second most dangerous job in America." 
These nurses often find themselves in perilous situations: during inclement weather with heavy rain, fog, or snow that hampers visibility; coming upon accident scenes where gas leaks, fires, and broken glass create dangers; enduring turbulence while tending to patients – all of these scenarios are possible during your work as a flight nurse. Not to mention, many transport nurses work in combat zones, transporting wounded soldiers away from dangerous situations and treating them at field hospitals. 
To protect yourself and best serve those you encounter, it is imperative that you be well-trained in emergency response protocols and vigilant in being aware of your environment. Your transport nurse training provides the skills necessary for such conditions so that you can safely and effectively do your job.
FAQs
Where do flight nurses work?
Flight nurses have a base at a healthcare facility where they will wait until the call for their services are needed.  
Hospitals/Trauma centers

Independent medical evac/transport businesses

Fire stations

Search and rescue operations

Federal or local government

U.S. Military (overseas or domestic) 
Is there a weight limit for flight nurses? 
Yes. Due to the nature of the job, most employers require that transport nurses not weigh more than 250 pounds. Also, the majority of these companies will do an annual strength/agility test to ensure you can lift 175 lbs from a squat to a standing position (lifting 175 lbs with the help of another person).
How long does it take to become a flight nurse?
Becoming a transport nurse requires immense dedication, which usually takes up to twelve years of preparation. With an ADN and three years of experience in the ICU/ER, one could become a transport nurse within five years – although, due to the intensity of the job, this is not advised. To be most successful and prepared for such duties, many nurses pursue a four-year bachelor's degree in nursing while simultaneously obtaining at least five years of clinical experience in the ICU/ER; nine total years are expected when combining education with hands-on training.
What is the difference between a flight nurse and a flight paramedic?
Flight nurses and flight paramedics may seem similar, and they are, but there is one significant distinction: while the flight medics are trained medical personnel responsible for patient care, flight nurses are too, but they have undergone extra aviation medicine training as registered nurses.
Conclusion
Flight nurses have a crucial role in the healthcare system, and every day they put their lives on the line to care for others during their darkest moments. Although the responsibilities of transport nurses can be intense, the role can be incredibly rewarding in many ways. The annual average flight nurse salary (about $86K) is increasing each year, as well as an excellent job growth projection of 6% over the next ten years. To become a successful transport nurse, you will need to be dedicated, selfless, and persistent. If you are up for the challenge, the world is waiting on you; be sure to do your research, take training seriously, and trust the lengthy process that the journey entails.
Next steps
Get certified:
Find flight nurse jobs:
Resources
If you're looking to level up your nursing career, check out our affordable and accredited online nursing programs where our tuition payment plans start as low as $250 per month for our RN to BSN program, $325 per month for our MSN program, and $375 per month for our DNP program.