Aspen University invites you to meet our faculty! Our teachers are outstanding educators — committed, compassionate, and knowledgeable. In this new series, get to know some of our faculty members up close and personal. 
Dr. McAfee credits her daily Bible readings as a source of inspiration and divine intervention for obtaining her teaching role at Aspen.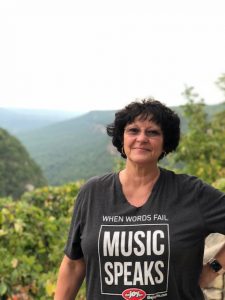 What is your name? Patricia McAfee, DNP, MSN, SMQTc, RN
Where are you from? Georgia
What do you teach? MSN and DNP courses
What are some of your favorite hobbies? Reading, reading, and reading. I collect antique books about health care, nursing, and old children's storybooks (like Dick and Jane) and other school readers.  
What inspires you? My daily Bible reading. The Bible is filled with stories of those before us who suffered incredible hardships and made huge mistakes and, yet, were used to lead and positively influence others.
Which superpower would you like to have and why? To bestow knowledge and understanding on others. Knowledge used in a positive way can change lives. 
Share an "aha!" moment that you've had within your discipline that made you feel passionate about your field? My "aha" moment occurred when I was in the 8th grade — I was mesmerized by our school nurse. She was the facilitator for the school Allied Medical Careers Club, and I thought she was an angel. She dressed in total white, with her white cap sitting upon her short-cropped black wavy hair. She took the club on a field trip to the large hospital in Atlanta, Ga, known as Grady, and we went into the burn unit. I knew I had to be a part of taking care of people, and I dreamed of being just like her someday. However, I was not an A-student, and my family was very poor by today's standards. I had no direction on how to become a nurse, so I became a nursing assistant. It was not until I had married and had children that I followed the dream that had burned within me all those years. It was a very long journey because financial aid was not as plentiful as it is today, and I had to pay for each class out of pocket.  
How did you get your start in teaching? Divine Intervention. I had lost my job at the hospital I had been at for 24 years due to a merger. I had worked for the state board of nursing and was working for the state's public health department. When I lost my job with the hospital, I lost my career pathway. I had been planning for and was being groomed for the hospital's CNO position, but when the merger occurred, everything changed. My daughter-in-law was flying for her job and happened to run into Dr. Nina Beaman (Dean for Aspen University School of Nursing and Health Sciences) at the airport. They struck up a conversation, and my daughter-in-law told her that her mother-in-law would love to teach. Dr. Beaman told her to have me send in my resume — I did — and I was hired as an adjunct in December 2015. I became full time in October of 2019.
What do you enjoy about teaching at Aspen? Everything, absolutely everything! Before I submitted my resume, I investigated Aspen, and I knew their philosophy for providing affordable education was where I wanted to be. 
What makes Aspen students special? They are from all over the world. As I interact with students, I learn about different cultures, and I get to help them achieve their dream of advanced education. They are thirsting for a dream that I have lived through, and I almost relive my struggles through them as I hear their stories of balancing work, family, and school in their quest for a better job, a better life, and a way to make a difference for others. 
What advice do you have for a student just starting at Aspen? Don't get so hung-up and focused on making an A that you miss out on the joy of learning.  
If someone wrote a biography about you, what do you think the title would be? "A Spiritual Being Having a Human Experience — And She Lived It Well"