Please enjoy this inspiring personal essay from nurse educator Peter Brooks — who earned his Doctorate of Education from Aspen University while traveling to 20 countries on seven continents! Peter's aunt gave him some great advice when he was just starting his higher education journey that still rings true today. 
My educational journey has been a long one. I dropped out of Ohio University in 1991 after two years of wasting money and still not knowing what I wanted to be when I grew up. My favorite aunt told me to stick with college, and take one class at a time. I protested, "At that rate, I'll be 30 before I get my degree!" She wisely replied, "In ten years you're going to be 30 anyway, so you may as well have a degree!"
So I ignored her advice and instead chose to taste all that life had to offer by working a series of seemingly unrelated jobs until I eventually found myself in nursing school at the age of 32. I had finally found my calling! I loved being a nurse! I started with an associate degree and worked for a few years before going back for my bachelor's degree. (Incidentally, I was 39 when I got my BSN, but my aunt was right, I would have been 39 then anyway!).
While still employed in a hospital, I began teaching clinicals for a local college. I learned a lot that year, most importantly that I really liked teaching. But in order to become full-time faculty, I had to have a master's degree, so back to school I went! Fast forward about seven years, I was a full-time, tenured faculty member at one of the top ten nursing schools in California! As I got more comfortable at my job, I found I had more time on my hands. Several of my coworkers already held a doctorate or were in the process of getting one, so I started researching programs. Here's where Aspen University comes in.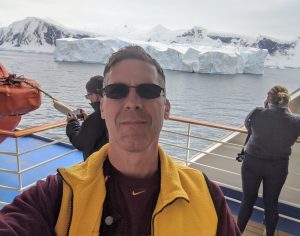 I made a spreadsheet to track the pros and cons of all the schools I was researching. My first priority was convenience. It had to be 100% online. As a professor, I have a lot of time off, and I take one or two major trips each year. Believe it or not, I completed this degree while traveling to 20 countries on seven continents! The flexibility and convenience of Aspen's online learning made this possible.
The next factor I considered was cost. There is a wide variety of prices for relatively similar degrees across the country. Aspen's program was competitively priced and reasonable. Their monthly payment plans and financial aid make it extremely doable. Lastly, I looked at time: 60 credits, 20 classes. I could be done in about three years. Where do I sign? Aspen was the clear winner for practical purposes, but I had no idea how outstanding the faculty would be, and how much I would truly enjoy learning with them. I wanted to learn more about higher education history, theories, and leadership from those who had been there, and Aspen's curriculum and faculty really met my needs. I was fortunate to have a few very knowledgeable professors who made a significant impact on me. The consistency of having the same professors for multiple classes was really helpful to me. It was like being guided along my path by trusted mentors.
So here I am, three and a half years later, with a doctorate in education! Where do I go from here? I plan to stay at my current job, but I will get a bit of a raise next year, and be called Dr. Brooks for the rest of my life! When I do decide to make a move, my EdD from Aspen University will definitely make me more marketable.
My words of wisdom to other graduates are "Never stop learning!" If you're getting a bachelor's degree today, when will you start on your master's? If you're getting a master's, how about that doctorate? Even if it takes you ten years, you'll be ten years older anyway, you may as well have a degree.