Aspen University DNP candidate Jennifer Ducko MSN, RN, CDN. wears her Nightingale pin to honor Florence Nightingale each day "as a reminder of all she asks us to be." In her essay, Jennifer shares why she became a nurse and what brought her to pursue a DNP.
I trained at The Florence Nightingale School of Nursing, St Thomas's hospital, London, England. Those who train at her school are known as Nightingales officially. 
I am humbled and honored to practice as a nurse, study in Aspen University DNP program, and be known as a Nightingale nurse. Celebrating "Year of the Nurse and the Midwife 2020" on the anniversary of Florence Nightingale's birthday (May 12, 1820) was incredibly special for me.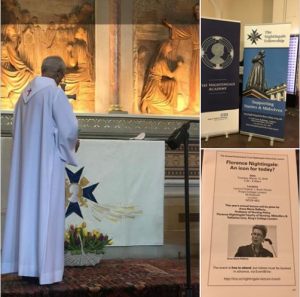 I watched the celebration service on the day of her birthday, performed by the Archbishop of Canterbury, where an altar cloth, lectern wrap, chaplain stole, and artwork was dedicated in her honor.  
As a young child, I was influenced by strong female role models. The first black matron (from Ghana) in the United Kingdom was a family friend, and the nurse who cared for me when I was hospitalized lived a few doors away. I was drawn to their qualities and aspired to be like them. When I was in high school, I worked in a home for elderly patients and loved my interactions with the patients. I loved serving others and living my motto, too, "Do a good turn every day." 
After my training, I moved to the USA (I married an American) and started my oncology career, moving eventually to nephrology. I have now found the corner of the world I love in nephrology education management. Although I left full-time employment to raise my children, I kept working part-time, which was a great way to keep up with industry changes. My small independent clinic was bought out by a large dialysis corporation, which afforded me many career growth opportunities. 
I took a role as a clinical educator when I returned to full-time work, and as I realized how much I enjoyed leadership and management and wanted to climb the management ladder, I knew I must return to school. Taking advantage of the tuition reimbursement available to me from my workplace and generous scholarships through professional organizations, I received my MSN in Leadership and Management. I discovered my passion for growing and developing others, and as a bonus, I made a lifelong friend along the way through my studies. 
I thought I was done with school and all that studying until my friend called and suggested we go through our Doctorate together at Aspen University. 
Here I am now working on my DNP project. COVID challenged the whole nursing world in 2020, and I have often wondered what Florence would have thought of all the statistics and evidence we now use daily, along with all the technology we have. Florence was such a proponent of sound practices, and she read extensively. I am sure she would participate in a DNP program if she were alive today. I still follow her example to promote the best quality care and outcomes for our patients and follow continuous quality improvement processes. I hope I do her proud and live up to the high bar she set. I wear my Nightingale pin each day as a reminder of all she asks us to be.