Please enjoy this personal essay from Shelby Custer, who will graduate from Aspen University's first BSN Pre-licensure cohort in July 2020. Shelby is this year's Vice President of Student Nurses of Association of Arizona. She is excited to take on this role with such an enthusiastic board. She is in her second year of serving on the SNAAz board, and is very excited to be involved again: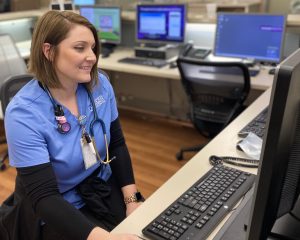 I have found that my educational journey is like many others. I started with a plan, that plan changed…and then changed again. 
I have always had a passion for being of service. The biggest struggle is, how do I turn this into a career? I obtained my EMT license, which I use for my current job as a patient care technician in a trauma intensive care unit. This is where I learned what the true profession of nursing is all about. I learned the art of nursing is not just fixing people or making them feel better but changing and improving their lives as a whole. Being a part of someone's healthcare journey in a role that no other person can fill, that is Nursing.
When I decided I wanted to be a part of this profession — this family — the first step was choosing a school. I started looking at traditional schools in Arizona, and as anyone who knows me will tell you, I am not a conventional girl. None of them seemed quite right…that and most of them had a waiting list of at least two years. As someone who had two Associate Degrees in different fields, I wanted to start as soon as possible. The thought of waiting was daunting to me. In May of 2018, just as I was accepting the fact that I wouldn't be starting nursing school for a while, my mother received an email from a woman, a past colleague of hers, who was spearheading this new and innovative nursing program in Arizona. She asked my mom, "Hey Tina, do you know anyone who is looking to start nursing school? The start date is July!" My mom's reply was, "As a matter of fact, I do!" 
I met with this person and then met with my academic advisor. It was then that I knew this program was the answer to my prayers. 
Aspen has been a key to the foundation of my nursing career. Not only was I able to start right away, but this program has helped me exceed my academic goals by encouraging involvement in professional nursing associations. One of my favorite quotes is from John F. Kennedy that says, "Leadership and learning are indispensable to each other." I have felt a sense of honor to be a student in the first cohort and committed to helping others succeed by initiating the Student Nurses Association of Aspen Phoenix with the help of a few other students in my class. That experience led me to two terms on the executive board of directors for the Student Nurses Association of Arizona, with whom I have traveled to different states as a delegate for Aspen University at national conventions, submitted resolutions to the House of Delegates, and expanded my knowledge and understanding of what it means to be an advocate for our profession. I was able to join the American Association of Critical Care nurses Greater Phoenix Area Chapter as a student where I attend the monthly lecture dinners to grow my education and learn innovations of nursing care. 
I must thank some people who have helped me make it to this point. My mother, for pushing me to keep going with the tough love I needed. The rest of my family for helping me pick up the slack with the other aspects of life so I could focus on school. My coworkers, who have encouraged and inspired me to get started. And my kids, for inspiring me to be better every day.
I am apprehensive as I prepare to pass my NCLEX, obtain my license, and begin my professional practice, but knowing I received a solid education from Aspen University gives me the confidence I may not have had otherwise. For those coming after our class, I encourage you to persevere and take things day by day. I created a motto that inspired me throughout this program. "I can do anything for one day!" And if I tell myself this every day, then I can accomplish anything.