An aesthetics nurse is a perfect nursing specialty if you have who have a passion for skin care and want to have a more direct impact on patient care. An aesthetics nurse, like all nurses, can truly make a big difference in the quality of life for many people. For aesthetic nurses, this could be boosting a patient's self-confidence with a cosmetic treatment, assisting in surgery, or educating a patient about a procedure so that they are capable of making the most informed decision about their health.
Table of contents
TLDR
Aesthetic nurses treat patients with cosmetic procedures to help with medical issues or improve appearances and boost self-confidence.
The job outlook for aesthetic nurses is projected to remain positive (+6%) over the course of the next decade, with promising job growth and competitive salary.
To become an aesthetic nurse you will need an RN license, but an aesthetic nurse national certification is not mandatory (though it is recommended and required for some procedures).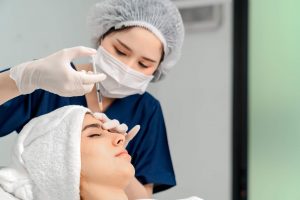 What is an aesthetics nurse?
An aesthetics nurse (also known as a cosmetic nurse) is a registered nurse (RN) who has specialized training in cosmetic procedures. Cosmetic nurses assist plastic surgeons and dermatologists in providing treatments for patients seeking to improve self-confidence. They can also perform many treatments themselves.  
An aesthetics nurse can perform or assist with many procedures, such as: 
Collagen replacement therapy

Non-surgical body contouring

Chemical peels

Micro-needling

Liposuction

Photofacials

Dermabrasion

Rhinoplasty

Abdominoplasty

Injections of dermal fillers

Injections of Botox neurotoxin

Laser hair removal

Tattoo removal

And others

 
Helpful tip: employers may use variations of "Aesthetics Nurse" in job postings, you may see "Esthetic Nurse" or "Esthetician's Nurse" but there is no difference in qualifications, certifications, nor responsibilities, just the spelling. 
What do aesthetics nurses do? 
An aesthetics nurse or cosmetic nurse can be essential in helping patients achieve their desired results, improve their appearance, and feel better about themselves. Aesthetic nursing provides highly trained nurses with the opportunity to establish long-term relationships with patients and play a key role in improving their self-esteem. The benefits of this type of nursing can be life-changing for both nurses and patients.
Aesthetics nurses must be able to assess a patient's needs and provide the best possible care. Which is why an aesthetics nurse must have a thorough understanding of human anatomy and physiology in order to safely and effectively administer treatments.
Aesthetics nurses also play an important role in educating patients on the risks and benefits of various cosmetic procedures so that they can make informed decisions about their health. In addition, they must be able to put patients at ease and provide them with instructions on how to care for their skin after a treatment.
Aesthetics nurses are also responsible for:
Consulting with patients and conducting a medical screening to get an idea of their needs

Pre- and post-operative patient care

Examining patients to assess health problems

Prep surgery suites and sterilize equipment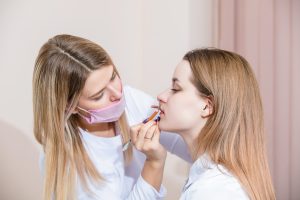 Aesthetics nurse 2023 job outlook and salary
The national average annual salary for an aesthetics nurse is $90,602 or $43.56 per hour. 
Aesthetic nurse salaries in the United States appear to be rising, with an annual salary ranging from $50,500 to as high as $138,500. However, most aesthetic nurses currently earn between $73,000 (25th percentile) and $105,000 (75th percentile), and those in the top 10% make over $125,500 annually. There exists potential for wage growth depending on individual skillset and experience level. There may also be chances for advancement and higher pay based upon one's location.
Aesthetics nurse salary breakdown
Entry salary:

Hourly: $26.86/Annual: $50,500

Mid-level salary:

Hourly: $38.83/Annual: $73,000

Top-level Salary:

Hourly: $55.85/Annual: $105,000
Tennessee – $99,237

Hawaii – $97,038

Minnesota – $96,213

Massachusetts – $95,643

Nevada – $95,185
Atkinson, NE – $119,873

Sunnyvale, CA –

$113,227

Dimondale, MI –

$110,161

Santa Rosa, CA –

$109,619

Cambridge, MA –

$106,426

Lake Marcel-Stillwater, WA –

$104,682

Vacaville, CA –

$103,945

New York City, NY –

$103,785

Bridgehampton, NY –

$103,155

Long Beach, CA –

$102,594
Source: ZipRecruiter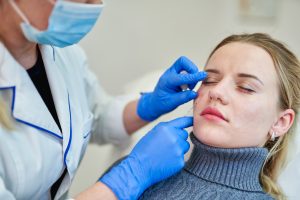 How to become an aesthetics nurse
Becoming an Aesthetic Nurse is a great way to help people feel better about themselves and their appearance. It can be a very rewarding career, but it takes hard work and dedication to become successful. Here is how to become an Aesthetic Nurse:
Get a degree in nursing.

This is the

most important step

, as you will need to be a registered nurse in order to practice as an aesthetics nurse. This means attending and graduating from an

accredited nursing program

and passing

The National Council of State Boards of Nursing

(NCLEX) and obtaining your state license. 

Gain experience in the field.

Once you have your nursing degree and state license,

start working as a nurse

and gain experience in the aesthetics field. This will give you the foundational knowledge and skillset you need to be successful as an cosmetic nurse. 
Keep in mind that the aesthetics industry is always evolving, so it is wise to consider continuing education programs to stay on top of current trends.  
Get certified as an aesthetics nurse.

Though certification is not required, it is still beneficial to become certified because you will have greater job opportunities and the opportunity to increase your knowledge, skills, and overall expertise. 
The The Plastic Surgical Nursing Certification Board (PSNCB) offers certification exams for nurses who want to specialize in aesthetics nursing. Passing this exam will show employers (and patients) that you have the necessary skills and knowledge to provide quality care to patients seeking aesthetic treatments.
Network with other professionals in the field

. Join professional organizations such as the

American Nurses Association

(ANA) or the

International Aesthetic Nursing Certification Board

(ISPAN), attend conferences, and meet other nurses who are interested in aesthetics nursing.
What certificates do you need to become an aesthetics nurse?
Like we stated above, certification is not mandatory, however, it could help your career by increasing your opportunities because certification helps to establish your credibility and reinforce your expertise. An Aesthetics Nurse Specialist certificate signifies that you poses the clinical competence required for providing quality, evidence-based clinical care. 
Be aware, in some states, an aesthetics nurse must have a special license in order to perform certain procedures. So, you may also need to complete additional training in some cases. For example, to perform any injection, you will need to be certified for that injection. 
Certifying bodies explained: 
The International Society of Plastic Surgical Nurses (ISPAN) established The Plastic Surgical Nursing Certification Board (PSNCB). The PSNCB is a partner of the Accreditation Board for Specialty Nursing Certification (ABSNC). The PSNCB developed the Certified Aesthetic Nurse Specialist Exam (CANS Exam). It is this exam that certifies an Aesthetic Nurse. 
Some of the top aesthetics nurse course providers: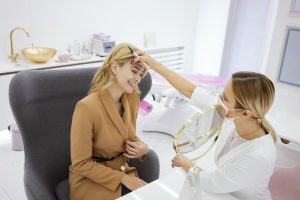 FAQs
1.
Do you need certification? 
Technically, no, you do not need a national certification to practice as an aesthetics nurse, but it will open doors for you and it will help to establish your credibility and reinforce your expertise. An Aesthetics Nurse Specialist certificate signifies that you poses the clinical competence required for providing quality, evidence-based clinical care. The PSNCB issues the CANS certification. 
2. What are recertification requirements for an aesthetics nurse? 
First and foremost, an aesthetic nurse must keep their RN license active and be in good standing, and then they can seek additional certifications, which are optional to practice as a nurse aesthetic. 
Certified Aesthetic Nurse Specialists (CANS) must renew their certification every three years. The requirements for recertification include accumulating 45 contact hours with at least two hours related specifically to patient safety, and 30 of those hours within the core specialties: plastic/aesthetic/cosmetic surgery, dermatology, facial plastic surgery, or ophthalmology. Nurses could also choose to retake the CANS exam once every three years as another way to maintain this certification. There is no required training course for recertification.
3.

Where do aesthetics nurses work?
An aesthetics nurse can work in a doctor's office, salon, private practice, health clinic, medical spa, or an outpatient surgery facility associated with plastic surgery or cometic dermatology practices.
4. How long does it take to become an aesthetics nurse?
It will likely take you 4-7 years to become an cosmetic nurse; depending on the degree(s) you choose to obtain and the amount of time it takes you to pass your board certification exams. 
5. What type of specialties are available to an aesthetics nurse? 
An aesthetics nurse is a specialty in-and-of-itself, still, some RNs choose to specialize in a particular area of aesthetics, such such as skin care, body contouring, botox injection, etc. 
Check out this list to see many of the subspecialties that an aesthetics nurse can assist with or perform. 
6. What are CE requirements for an aesthetics nurse? 
As an aesthetics nurse, you will need to meet the same CE requirements that are necessary to keep your RN license active in your practicing state. Aside from that, aesthetic nurses should always keep a finger on the pulse of the industry, but there are no legal CE requirements for aesthetic nurses. However, nurses who are Certified Aesthetic Nurse Specialists will need to retake the CANS exam every three years to remain certified and this includes a requirement of 45 contact hours with at least two hours related specifically to patient safety, and 30 of those hours within the core specialties listed above in FAQ question #1.
Medscape Education is a one-stop shop for continuous professional development, offering 30+ specialty-focused websites with thousands of free CME/CE courses (ranging from 0.25 credits to 2 credit AMA PRA), through a variety formats that include Clinical News Briefs, Patient Simulations, Clinical Cases & more.
Find CE courses here: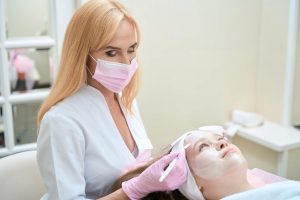 Conclusion 
To best decide if medical aesthetics is the right profession for you, speak to a cosmetic/aesthetic nurse who already works in a private practice or medical spa. You could also contact pharmaceutical companies that sell fillers or botox; many offer free resources for nurses, including training, with the goal of having those RNs then use and sell their product in places like medical spas.
Being an aesthetic nurse is incredibly beneficial for RNs who want to make others feel happier and more confident with themselves. Aesthetic nurses can raise the quality of life for their patients while also earn a salary that is more than double the national average, plus the field is in high demand and it's only going to continue to trend positively. If you're looking for a challenge, cosmetic nursing could be perfect for you. Ultimately, it's a rewarding profession that will bring fulfillment to your life as well as the lives of your patients. 
Next steps
Other resources 
If you're interested in leveling up your nursing career, check out our affordable and accredited online nursing programs where we offer tuition payment plans starting as low as $250 per month for our RN to BSN program, $325 per month for our MSN program, and $375 per month for our DNP program.