Have you ever felt that it's your calling to become a nurse? Deciding to go into nursing is exciting but can also be intimidating. As you begin planning for nursing school, you may be wondering what the lifestyle of a nursing student is really like. Before you make the leap, it's helpful to evaluate the commitment you'll be making and how it will impact your personal life. 
We answer your questions about what nursing school is like, including the amount of time studying, clinical requirements, and how to balance school with personal life.
How long does nursing school take?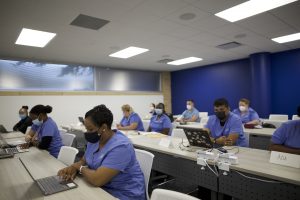 Nursing school is a time commitment. The amount of time you will spend in nursing school depends on which program you choose. Typically, an associate degree in nursing (ADN) is a 2-year degree, while a bachelor of science in nursing (BSN) is a 4-year degree. However, pre-licensure nursing programs like Aspen University allow you to earn a BSN degree in 36 months (9 semesters). This includes pre-professional nursing courses, core nursing courses, and clinical learning. 
For nurses who already have an associate degree, earning a BSN may take as little as 12 months in an RN to BSN program. You can become a registered nurse with either an ADN or BSN degree. Some hospitals prefer to hire BSN-prepared nurses, so be sure to check the job requirements in your area. The length of your nursing school journey depends on you, and there are many options to choose from.
Check out this quick guide for more info on how long it takes to complete nursing programs.
How hard is nursing school?
Nursing schools hold their students to a high standard. After all, a nurse has someone else's life in their hands. Be prepared to study hard and learn in new environments as you work toward becoming a nurse. 
You may be wondering how much time you will spend a week studying in nursing school. In general, the amount of time you spend studying should be about double the amount of hours you spend in a class. 
For example: If you are in a 3-hour pharmacology class, expect to spend about 6 hours a week studying its material. 
In nursing school, you will take different learning assessments like tests and quizzes. You may also take a standardized test at the end of a course, such as the HESI exam. These tests are developed to prepare you for the National Council Licensure Examination for Registered Nurses (NCLEX), an exam you will take after graduating to become certified as a registered nurse.
Here are six more nursing school challenges you should know about. 
What are the clinical requirements?
As you move into core nursing courses, you will get the chance to practice taking care of patients. You may start in a simulation lab, where you learn basic nursing skills on a mannequin. This is an exciting time as you begin applying concepts from class into nursing practice!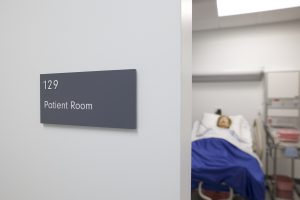 After you have learned the basic skills, you will begin clinical rotations, often referred to as "clinicals." Depending on your nursing program, you may care for patients in a clinical setting once or twice a week. Nursing clinicals often start in a long-term care setting and after that will move on to specialized units such as pediatrics. 
The typical clinical day is 8 hours long, but it's common to stay for 12 hours as you get closer to graduation. Keep in mind that your nursing school clinical hours include more than the time you spend with your patients. 
You may need to visit the hospital the day before to collect information about your patients. This will help you plan the care you will provide for your "shift." After your clinical day ends, you may be asked to submit a written or video assignment to reflect on what you learned that day. You will be expected to discuss topics like patient diagnosis and medication regimen. 
While it may seem like a heavy time commitment, clinicals help nursing students begin learning how to manage patients while on a shift. 
Balancing nursing school with personal life.
Being a nurse in the making is a huge commitment, but it doesn't mean you will have to give up your personal life. You will be spending much of your free time in nursing school studying and focused on completing your degree, so you may need to make sacrifices in other areas of your life.
Heidi Beck, a current nursing student, shares her experience as a second-career nurse.
"Nursing school is all about sacrifices," she says. "I chose not to work during my BSN program so that I could focus on my grades." 
Beck says that many of her peers work as patient care techs to help increase their nursing experiences. If you choose to work through school, make sure to be open with your manager about your schedule requirements. 
Your friends and family should also be kept in the loop about your schedule demands. Be sure to set clear expectations with your loved ones before starting nursing school so that everyone understands the nature of your schedule. You may be away from home for long hours or even overnight as a nursing student. Setting these expectations will help everyone adjust to the working hours of a professional nurse. 
Make the most of your time.
Nursing school is a journey, and thinking about the entire program can be overwhelming. Remember to plan your life one semester or course at a time and be patient as you learn.  
Beck says the toughest part at the beginning of nursing school is learning how to "talk like a nurse." There are so many medical terms and acronyms that you'll have to learn early on. They may seem foreign and confusing, but trust that you'll be speaking the nursing language in no time. 
As a nursing student, you will have many resources available to help you adjust. Aspen University offers student resources within the online classroom to help you better understand specific subjects. 
The nursing faculty will also have plenty of experiences to share to help you learn. Your peers are a great resource, too. Take advantage of time with other nursing students by:
Partnering up with a "study buddy" or accountability partner
Identifying a mentor – such as a student who's further along in the program 
Finding out what study schedule works for other students 
Beck shares that as a nursing student, the feeling of being a beginner is frustrating, but it gets better.
"Lean into being in the role of the learner," she says. "Take advantage of all the optional activities and free resources your nursing school offers. If there's an optional study session, go." 
When you keep an open mind throughout nursing school, you'll be able to learn more about yourself. You'll find out which nursing specialties you like and your strengths. It may surprise you how ready you are to start your nursing career! 
Learn more about Aspen's BSN-PL and RN to BSN nursing degrees.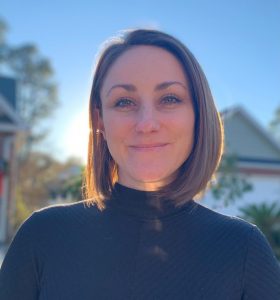 Alexa Davidson, MSN, RN
Alexa is a freelance health writer and registered nurse with over a decade of experience in neonatal and pediatric cardiac intensive care. As a travel nurse, she worked her way from the Atlantic to the Pacific to take care of some of the most inspiring kids in the country. When Alexa is not busy putting pen to paper, she can be found recreating dishes from her favorite restaurants at her home in Charleston, SC.