Nursing is an extremely rewarding and highly demanding career. While not for the faint of heart, life as a nurse can be fulfilling; providing the opportunity to live a balanced life outside of work and make an impact on the lives of your patients. Whether you are looking to change careers or are ready to fast-track your BSN but want to know what you're getting into, it is important to know what lies ahead. Think you want to live your life as a nurse? Read on about the good and the bad so you can decide for yourself whether or not it's a good fit.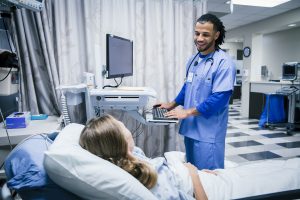 A nurse's life at work 
Working in the hospital or clinic can mean long hours. This means waking up early, having your coffee or breakfast before arriving at work, and being ready to go when your shift starts. Typically, at the beginning of each day, you'll review the schedule or report of the day's patients, and then it's game on. Nursing is a fast-paced environment where you are juggling a lot of different needs and tasks at once. 
Before you know it, it will be time for lunch. This cannot be stressed enough: don't skip your meal break! In some facilities, you will be given the opportunity to have a 30- or 60-minute break that's free from any responsibility. However, even if you aren't given this opportunity, try to make sure all your patients have what they need before you leave the floor so you can minimize the chance of getting pulled back. Also, let your coworkers know you're taking your lunch break. You can even let your patients know you'll be off the unit for your meal period. It's your break time and you are entitled to eat. 
End of shift as a nurse
As the day goes on, it is important to learn how to budget your time. What can you accomplish by the end of your shift? Are there outstanding tasks that should be completed before you go home? Furthermore, be sure to give yourself enough time for charting, so you don't get stuck staying late just to record what you've done throughout your shift.  It is important to remain mindful of your eating schedule. No matter how busy you are, you cannot forget to eat dinner, because skipping meals will slow you down and may negatively impact your health over time. Working long shifts means it's time to relax once you get home! Regardless, whether it's a nice hot shower, binging a few episodes of your favorite shows, or just getting some extra shut-eye, prioritize whatever makes you feel good so you can recharge and ready yourself for the next day. 
There are many aspects that make life as a nurse wonderful, including a seriously rewarding career. However it is important to also discuss the drawbacks Below we delve through the good and the bad, so you can make an informed decision about whether nursing is the right path for you. 
You can't beat the schedule

Bedside nurses often work 10-12 hour shifts, meaning to work full time, you only work 3-4 days a week. Even better? Some of those days may be on the weekend, meaning you have random weekdays off – it almost feels like playing hooky. When everyone you know is toiling away at their corporate job, you could be running errands, catching up on your favorite TV shows, or hitting the beach/lake/pool sans crowds. Even the grocery store is less crowded on a Tuesday morning. 
Some nurses choose to work nights, so they have days off, which gives you even more flexibility to have your days free. If you're not a night owl, don't worry. Depending on the unit you're in, you may be able to work a flex or swing shift and start later in the morning. If you work in a unit like pre-op, you could begin as early as 5 am (meaning you are done by dinner time!). Are you a working parent who needs to be able to pick up the kids after school? You can work as a school nurse and work at the same school as them. The point is that there is a ton of flexibility in the nursing profession and there are jobs that exist that will fit your specific needs. 
Different types of nursing schedules:
Three 12-hour shifts per week – most common in hospitals

Four 10-hour shifts per week – found in procedure areas like the operating room, interventional radiology, surgery centers

Five 8-hour shifts per week – clinic/office hours, occupational health

Late start (swing shift) – found in ER and procedure areas like Post Anesthesia Care Unit

Variable – work from home jobs like Utilization Review, clinical support for medical devices, school nurse … 
Your schedule will vary with every nursing job you take. For example, working 12-hour shifts means you could arrange your schedule to have a four-day weekend every weekend! This is one of the greatest aspects of nursing – there is so much flexibility in your schedule. For instance, you can often switch shifts with colleagues if you need a day off at the last minute. Or, there is always your bank of PTO. The possibilities are limitless.
Nursing is extremely rewarding
Working as a nurse can be extremely rewarding, no question. Every day, your actions save lives. There aren't a lot of jobs out there that can guarantee you the same. You will have countless opportunities to impact your patients' health and wellness, both in the short term and long term. Education is a big part of life as a nurse. You can break down complex topics in a way patients can understand so they can make changes after leaving their visit with you. 
You can have a good work/life balance
This goes along with the schedule, but if you manage your boundaries well, you can have an excellent work/life balance as a nurse. This can be a double-edged sword, but if you can resist the calls and texts to add on or come in for extra shifts when the unit is short, each week you will have more days off than working days (if you're working 12-hour shifts). The key here is to set firm boundaries and not feel obligated to work more than YOU want. If picking up extra shifts means you have extra money for a vacation, that's great! However, if you are picking up extra shifts because your manager is making you feel guilty, not so much. 
What are some challenges?
It wouldn't be fair to say nursing is always a fun and easy career because it isn't. What are some challenges you'll face as a nurse?
You will miss holidays with your family

. Depending on where you start as a nurse, you may have a schedule that requires you to work weekends and/or holidays. 

The work can be physically and emotionally exhausting.

Life as a nurse can be physically demanding work, you will be helping to transfer patients, as well as assist them with daily living activities, like feeding or mobility tasks or using the restroom. Even

working

as a

remote nurse

will require you to work closely with patients who may have very complex health situations. 

You see patients and families at their lowest point.

Patients will not always be appreciative of all you are doing, nor will their family members. You will walk family members through the process of losing a loved one. These are intense scenarios and can take a toll on you. It's even harder if you aren't getting the support or appreciation from your coworkers or management, which sometimes happens. If you find yourself getting

burned out

in a particular unit, or feeling down that your workplace culture is

too toxic

, you can always make a change and try something new or different. You are never stuck. 
Is nursing worth it?
In a word, yes. Nursing is a wildly rewarding career with flexibility and many opportunities to try new specialties and settings. You will help patients every day. In addition, you can have many different schedules and environments to keep your work fresh and interesting. No two days in the life as a nurse are alike, making it so exciting. Ultimately, your nursing career will be what you make of it, and there are so many different avenues you can pursue. 
Want to become an RN? Consider Aspen University's BSN Pre-Licensure program where you can become an RN in as little as 36 months in a hybrid learning environment. Aspen University can also help you advance your career with our affordable online RN to BSN, MSN, and DNP degree programs. Come check us out!
Alex lives in Southern California and has spent her decade-long nursing career in cardiac critical care and loves all things heart-related. Alex is currently a pediatric ICU nurse in Los Angeles. She has worked in both adult and pediatric cardiac surgery as well as the cardiac cath lab. After getting her degree in immunology and genetics from UCLA, she studied nursing at Mount St. Mary's University. As a mom to five in her blended family and married to her firefighter husband, her house is generally chaotic. When not at the hospital Alex loves traveling with her family, surfing, and doing her kids' laundry.