Dr. Rhonda Winegar has many titles: educator, longtime RN, published author, and owner of two dogs who happen to be commercial actors. Having traveled to over 90 countries, she brings her sense of adventure and love for learning to Aspen's new Austin campus. 
What is your role at Aspen? I'm the BSN Pre-Licensure Program Director in Austin, Texas. We got the Board of Nursing approval in July of 2020. We're very excited!
Where are you from originally? I'm a proud Okie [Oklahoma native] that resides in Texas now.
What courses are you teaching? Currently, I'm teaching a nursing seminar to our first cohort of students. Today, I was working with one of the students on their APA citation for their discussion board.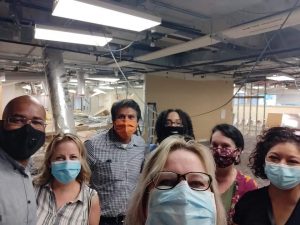 How did you find out about this role at Aspen? What made you pursue it? I got a call from Dr. Anne McNamara, the Chief Nursing Officer for Aspen, and she had some questions for me about the Board of Nursing for Texas for education. I started as a consultant. Then, I just really liked the curriculum. I liked the Aspen background and how it's affordable education. 
What was your background before Aspen? I've been a registered nurse for 30 years and a nurse practitioner for 20 years. I've taught across different programs on and off for 20 years; junior college, graduate school, nurse practitioner programs, and BSN programs.
What made you want to work in education? I've always loved teaching. I was in the military for several years. I was a medical education officer in the Air Force and a flight nurse in the Air National Guard. I love growing new nurses, getting them excited about the medical field, and seeing them at different learning levels.
What do you think makes Aspen unique? We have a lot of different things that make Aspen inviting. We enroll students multiple times a year. We also alternate with a day program and an evening program for those adult learners that may want to still work. 
Our didactics are all offered online. Students can do the discussion boards and assignments on their own time. We are capped at 30 students per cohort, so you get to know your peers, and get more one-on-one attention with your professors. 
Some nursing programs have difficulty getting clinical sites. Aspen has a Baylor Scott & White affiliation for clinical sites, guaranteeing us a hospital site.
Since you were in the military, do you like to travel? I do love to travel. My mother lived in Germany for 30 years, and I traveled throughout Europe. I think at last count I've been to 93 countries. Most recently, I went to Morocco, Turkey, and Jamaica. I like to make one big trip at least once a year with my children. I would rather have experiences than material items. Once my children were born, we started seeing the 50 states. I've done all the provinces of Canada, and I've done all of the States. 
Since you have a diverse background, would you say you can identify with many different students? I'm able to identify with several different types of students, from single parents to working mothers to military to veterans. I know that adult learner, but I also started college when I was in high school, so I know that young learner. 
What is your educational philosophy? I would say the most important thing is to make sure the student grasps the information. I don't want them to learn it and regurgitate that information for a test and then never understand it. I always make sure that I teach at the level the student is at. I give different examples from my real life, and I inject humor while students are learning. If they don't understand something, I'm always available. I'm what's known as a super-communicator. If a student texts me at 10:00 p.m., typically, I'm going to answer. If they send me an email and say they don't understand it, then I'll offer a video call or something.
What advice would you give to someone who wants to be a nurse but they're scared of going to school? I always tell students, just do it. Just enroll. Take that first step. It's like eating an elephant: you've got to take it a bite at a time. Take it week by week. Make a planner. Keep a calendar. Do things in small increments. 
If you put your butt in the seat today, you're making progress towards that degree. You've got to start now and get it done. Time goes by so fast, and it's a small time frame in your life that you can have great rewards with.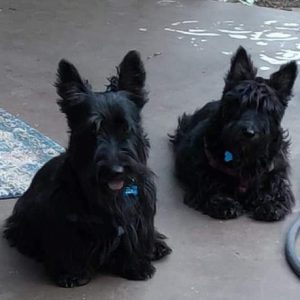 What's your life motto? I would say, never stop learning. I love to learn. Never stop reading those journals. Go back and get a certification. I like to challenge myself all the time. Right now, I'm writing a children's book that's about to be published, and that was an avenue I've never done. 
Do you have other passions or current projects? I work at an inpatient pediatric psych unit as an NP. They admit children from the age of 2 to 18, so, me and my husband like to dress up. We dress up as Santa and Mrs. Claus on Christmas, and we drive by on our red Harley and wave at the kids. My rescue dogs [Beau and Bessie] are actors. They're four years old. This opportunity fell in my lap for them to be a mascot for McCullough Heating & Air Conditioning. They're the spokesmen, and we've filmed commercials. Their pictures are on all the trucks. 
I'm one of those people to always say yes. You only get one life, so live it to the extreme.