With the ongoing pandemic, giving back to the community is more vital than ever this holiday season. Because so many vulnerable populations are facing unprecedented challenges, we support two great Phoenix, Arizona-based organizations that help those experiencing homelessness and food insecurity.
Aspen employees raised over $2,000 to support The Society St. Vincent de Paul Ozanam Manor and The Andre House during the Aspen Cares December 2020 outreach event. 
It is the second time Aspen Cares, Aspen University's philanthropy program, has supported Ozanam Manor. The organization provides boxes of essentials, including toiletries and non-perishable food, for veterans struggling with homelessness and transitioning to more stable environments. 
These essentials go a long way in helping vets start a new life, and in 2019 Aspen put together over ten full Home-in-a-Box sets for Ozanam Manor's "Home-in-a-Box" drive. The shelter also helps with counseling, food, hygiene, work training, and so much more.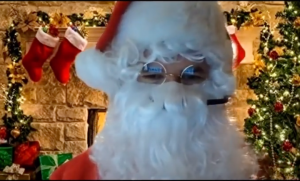 The Andre House serves those living with extreme poverty and homelessness in the downtown Phoenix area. Annually they serve 171,000 meals, and now the ministry is facing some of its biggest challenges, because food is just the beginning. The Andre House also provides clothing, shower, laundry, office, locker, legal, and transitional housing services for thousands of Phoenix's hardest-hit residents. 
In past years Aspen Cares has held fundraisers for Ozanam Manor in-person, but 2020 called for a more virtual effort. While collecting donations over Zoom, Santa stopped in to spread some joy to the Aspen Community.
Aspen Cares is committed to spreading hope where we can in these unprecedented times. We thank our community and everyone who participated, and we'll continue to collect donations for these organizations until the end of December. 
You can donate to Ozanam Manor here and The Andre House here.